Two major changes to traffic patterns are coming to Highway 1 in Lower Lynn.
Starting on Wednesday evening, the Ministry of Transportation and Infrastructure intends to have the new eastbound on-ramp from Mountain Highway to Highway 1 open for business. It is the last major component of the new Mountain Highway Interchange – the first phase of the $198-million Lower Lynn improvement project.
Project manager Jay Porter said the new on-ramp will primarily serve Lynn Valley residents looking to get on the highway eastbound but it will also have the knock-on effect of improving traffic flow by taking some pressure off Keith Road and Fern Street.
"The Fern Street on-ramp used to be a high-pressure point. Now it spreads out a bit," he said.
Drivers will barely have a chance to get used to the new pattern when it changes again, albeit temporarily. As of Nov. 23, the ministry will be shutting down the Fern Street on-ramp for two to three months while crews work to connect Keith Road to the new overpass crossing the highway.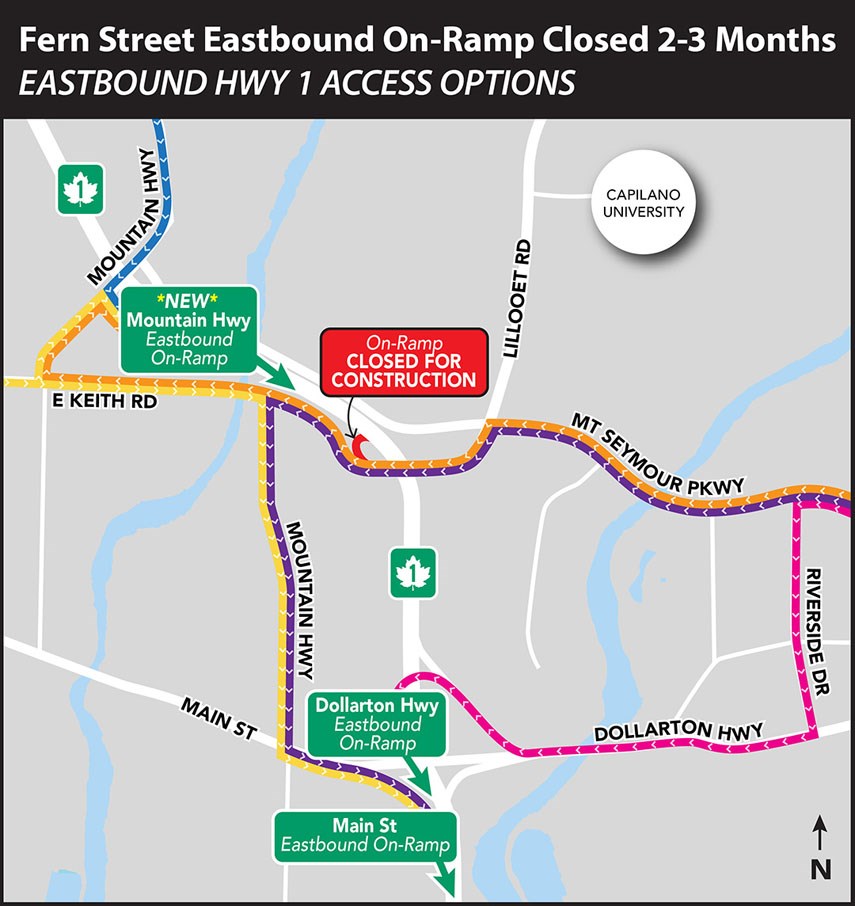 The change won't impact anyone trying to go west on the highway from the Seymour area but anyone headed for the Ironworkers Memorial Second Narrows Crossing will have to divert to the Main/Dollarton on-ramps or use Mountain Highway's new on-ramp, Porter said.
Some commuters have questioned why the new eastbound Mountain Highway off-ramp from The Cut doesn't allow drivers to turn left onto Mountain Highway. Porter said that option was thoroughly investigated but traffic engineers found adding an extra left-turn phase to the signal there would cause backups in all directions so bad, it would quickly negate any benefits the massive infrastructure project would have produced.