From the beach just outside the Department of Fisheries and Oceans' lab in West Vancouver, the waters of Sandy Cove sparkle in the sunlight.
But the picture-perfect scene masks a less pristine reality.
Not far from this site, mussels on the shores of West Bay measured the highest levels of dioxin and furan contamination among 54 sites in coastal B.C. sampled by scientists with the Coastal Ocean Research Institute who work in the lab.  Nearby, mussels off Eagle Harbour ranked second for dioxin and furan contamination and most contaminated for hydrocarbons. A site in Burrard Inlet off Altamont ranked No. 1 for mercury levels. Pesticides, pharmaceuticals, flame retardants and synthetic chemicals used in soaps and industrial processes were other common contaminants found in local mussel and sediment samples.
But the waters off Burrard Inlet and Howe Sound aren't unique.
Of the 54 sites sampled by scientists, "Every site in B.C. was contaminated by a variety of different pollutants, including remote locations" said Peter Ross, vice-president of research and executive director of the Coastal Ocean Research Institute.
Ross's research team, which works under the Vancouver Aquarium's Ocean Wise umbrella group, is now working in partnership with the federal Department of Fisheries and Oceans and other groups including the port authority, regional Metro Vancouver government and the Tsleil-Waututh Nation to more fully identify possible contaminants and their potential to impact the marine environment.
Data from the first round of sampling has now been mapped and can be viewed on an interactive online map at pollutiontracker.org.
On Monday, the federal government announced continued funding for the next phase of the $1.3-million project, which will further research contaminants in coastal waters, including micro plastics, and their impact on southern resident killer whales and other marine species.
The announcement was made at the West Vancouver lab by West Vancouver-Sunshine Coast-Sea to Sky Country MP Pamela Goldsmith-Jones and Burnaby North-Seymour MP Terry Beech, parliamentary secretary to the fisheries minister, along with Tsleil-Waututh Nation Chief Maureen Thomas.
Thomas said it's hard to believe looking at a beautiful scene in Burrard Inlet that there are "hurtful things in the water."
Thomas said her nation is keenly interested in finding out more about pollution in the inlet. "You think about all the industry along there. How much is too much?" she said. "How do you know that if you don't know what harm its doing underneath?"
Data from the first round of sampling can be viewed on this interactive map
According to the pollution tracker information, sediment off one site near Lonsdale Quay came back as the fourth most contaminated among the samples.
Even a site in the remote reaches of Indian Arm showed pesticides and heavy metals.
Ross, who has been studying marine pollutants for 30 years, said that's not surprising.
Some of the contaminants are coming from continuing industrial and household sources while in some cases substances being detected have been banned for decades but still persist in the environment.
Those include various kinds of pesticides and flame-retardants which are either being phased out or have already been banned.
Southern resident killer whales are "among the most PCB-contaminated marine mammals in the world," said Ross, even though PCBs were banned in North America 40 years ago.
That's because those pollutants persist in the environment and bio-accumulate at higher levels in the food chain.
In the case of many chemicals, "we really lack an understanding" of possible impacts, said Ross. "There is a bit of a big black box out there."
Tracing hydrocarbons from fossil fuels is one component of the research. Having a baseline of data is important because in the event of an oil spill, the fuel will leave a unique hydrocarbon "fingerprint," said Ross. In the case of the Marathassa English Bay oil spill in 2015, scientists traced the oil all the way to a beach in Port Moody.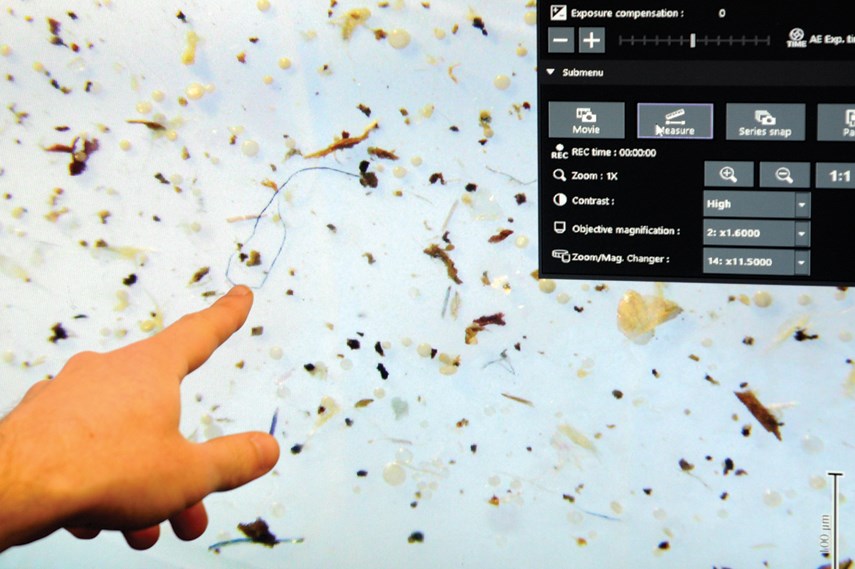 Another important focus of the research is examining micro-plastics and their role in the marine environment.
The ocean research institute published an earlier study showing there are about 3,200 plastic micro-particles per cubic metre of sea water in the Strait of Georgia.
More recent research has shown zooplankton at the bottom of the food chain are mistaking the micro-plastics for food.
"Where is it coming from? All of us," said Ross. "Estimates are most Canadians use two to three times their own body weight in plastic every year."
Much of that is plastic packaging that breaks down to tiny particles.
Some of it is fibre from clothing, ropes or nets.
Ross's research team is working with Metro Vancouver's sewer treatment operators and with companies like Arc'teryx, Mountain Equipment Co-op, REI and Patagonia to see how much fibre from polyester clothing like fleece is washing into the environment in laundry and makes it through the water treatment process.
Ross said having the scientific information on contaminants in the marine environment will be the start of "difficult conversations." But he added those are preferable to "naively and blindly assuming everything's going to be fine."