As his company's latest deep-ocean innovation was being presented to clients from a barge in the water at Horseshoe Bay last week, Phil Nuytten sat nearby, paraphrasing a quote from Jacques Cousteau.
"We must learn about the ocean because if you learn about it, you come to love it, and people protect what they love," said the president of North Vancouver's Nuytco Research, a world-renowned leader in undersea exploration technology.
And Nuytten is hoping the NewtROV – which was unveiled to potential clients and media Nov. 24 when it was placed in the water for the first time – will play a significant role in deepening our appreciation of what lies beneath the ocean surface.  
The NewtROV is an electric, remote-operated submersible that can reach a depth of two kilometres, and it's already being hailed as a breakthrough in how researchers may learn about the ocean in the future.
Unmanned vehicles of a similar size – the NewtROV weighs about 10,000 pounds, is more than three metres long and nearly two metres high and wide – are known as work-class ROVs, but Nuytco is trying to meet a growing demand by rolling out an all-electric version. 
"There are lots of work-class ROVs around the world, but all-electric ROVs are quite rare," said Nuytten. "The reason we want to go all-electric is because we think there's a huge market for it in fisheries and deep-ocean research."
Until recently, conventional ROVs were hydraulic, "like an excavator," said Nuytco engineer Mike Reay, technical lead on the NewtROV.
"They're dirtier, they're heavier, they're noisy, they're expensive," Reay said of hydraulic ROVs. "This is super-efficient. It probably uses half the power to generate as much thrust. … That's huge."
It's the relative silence of an electric ROV compared to a hydraulic one that could lead to major advances in underwater research. John Jo Lewis, a submarine pilot from Florida-based Sub Aviators, was on hand for the NewtROV demonstration and explained how the noise produced by hydraulic thrusters often scares away wildlife before an ROV can get close enough to study it.
"If you're down there with a marching band or a cacophony of industrial noises, they'd rather be someplace else," said Lewis. "Creatures like whales and dolphins, you can't very well study their behaviour if you've got this tank rolling around down there.
"It's really nice to see these thrusters and what they can do."
The NewtROV's capabilities appear to go well beyond helping to teach us about what's under the sea. ROVs are also widely used in the oil and gas industry, infrastructure development and other fields, so the NewtROV has the potential to make an impact beyond research. Reay described the vessel as a "fresh-look product" that has also omitted a lot of "antiquated techniques" from work-class designs. 
Several potential clients like Lewis who viewed the Nov. 24 demonstration commented on the ease at which the NewtROV manoeuvres with its joystick controller, and also the impressive amount of power the magnetically coupled thrusters can generate. Normally, a deep-water propeller needs an extremely tight seal around its shaft to keep water from getting into the motor, but much of the power is lost in simply turning the shaft against that seal. The NewtROV's thrusters don't have that same deterrent.
"They're more electrically efficient than any other underwater thruster motor that we know of. That's a big jump in our favour," said Nuytten. "If we could have bought a machine like this off the shelf, a machine that has this power and low noise level, we'd do it.
"But no such thing exists, so we have to make it."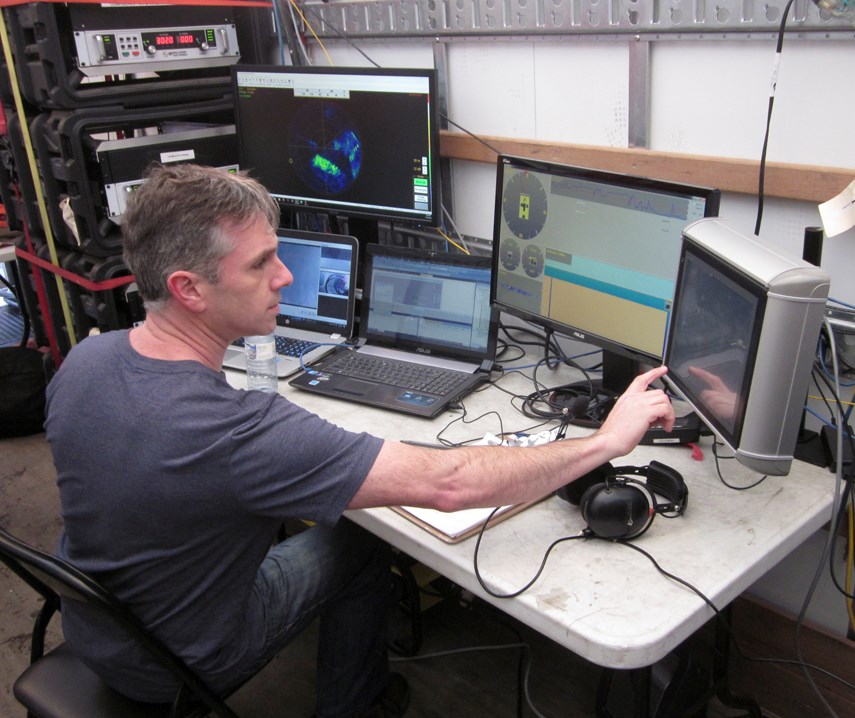 Reay said it's difficult to attach a value to the NewtROV, the base model of which was demonstrated for clients and potential government partners at Horseshoe Bay. A fully equipped version set up for a customer would be a multimillion-dollar piece of machinery.
"It's a modular beast. It'll take whatever you want," said Nuytten. "If you're going after gold on the north slope of Alaska, you'd equip it with a dredge. If you want to go work on dam faces to do a very detailed inspection of cracking and that sort of stuff, you'd equip it with ultra-high-resolution still cameras.
"We'd build it as a platform and say, 'Here it is … now, what's your mission?' And we will then equip it for that mission."
The federal government was a backer of the NewtROV's development through the Industrial Research Assistance Program, and could also become a future client through the Build in Canada Innovation Program, which provides funding for federal government branches to purchase and test new, domestically developed technologies. Reay said the Navy would be a "sweetheart client," while officials from Fisheries and Oceans Canada were among those who observed the NewtROV's maiden voyage.
"Everybody seems to be quite in awe of what they're seeing, which is a good sign," said Nuytten. "We'll just have to see where it goes from here."