Frustrated North Shore travellers say they're upset the B.C. government appears to be in the slow lane on allowing ride-hailing companies like Uber and Lyft to operate in the province.
Comments from local commuters come after news that it will be at least a year before ride hailing will come to B.C.
Transportation Minister Claire Trevena announced in July that the government plans to increase the number of taxis in B.C. by 15 per cent – including 300 taxis in the Lower Mainland.
But ride hailing appears to be stuck in traffic. Those services likely won't come to B.C. until the fall of 2019 at the earliest, the government indicated.
That's not soon enough for the North Shore, said North Vancouver-Seymour Liberal MLA Jane Thornthwaite.
"We absolutely need to get (ride hailing) in B.C.," said Thornthwaite, adding she's been advocating for companies like Uber and Lyft to be allowed to operate in the province for years.
"I was extremely disappointed to hear they were going to put it off for a year," she said.
Thornthwaite said the North Shore, in particular, needs an alternative service because it is ill served by both public transit and the current taxi companies.
Thornthwaite said residents tell her it's impossible to get a cab during busy times – a situation she's personally experienced. "They tell you they're just around the corner and they don't show up," she said. "I've missed a flight to Victoria because of being promised a cab that didn't show up."
Thornthwaite said she's heard frequently of instances where North Shore residents can't get a cab to take them home from downtown Vancouver.
Leah Hanvey is a North Vancouver woman who's fed up with the lack of ride hailing in the province. On Sunday afternoon, Hanvey said she tried to get a Black Top cab that had just dropped off a passenger at Lonsdale Quay to take her to Delbrook, but was refused by the driver.
In contrast, when she lived in Ottawa, "Uber was everywhere," she said. That service is "just so much more convenient," she said.
Jordan Back is another North Vancouver resident who'd like to see ride hailing sooner rather than later. "I called on a Friday evening to get a cab," he said. Back said he was put on hold for 20 minutes then told a cab would arrive in 45 minutes. But it never showed up. "I called back only to be told the driver had somehow cancelled the ride and I wasn't notified."
In contrast, Back said he's used Uber and Lyft in New York and Palm Desert where the service was easy and convenient.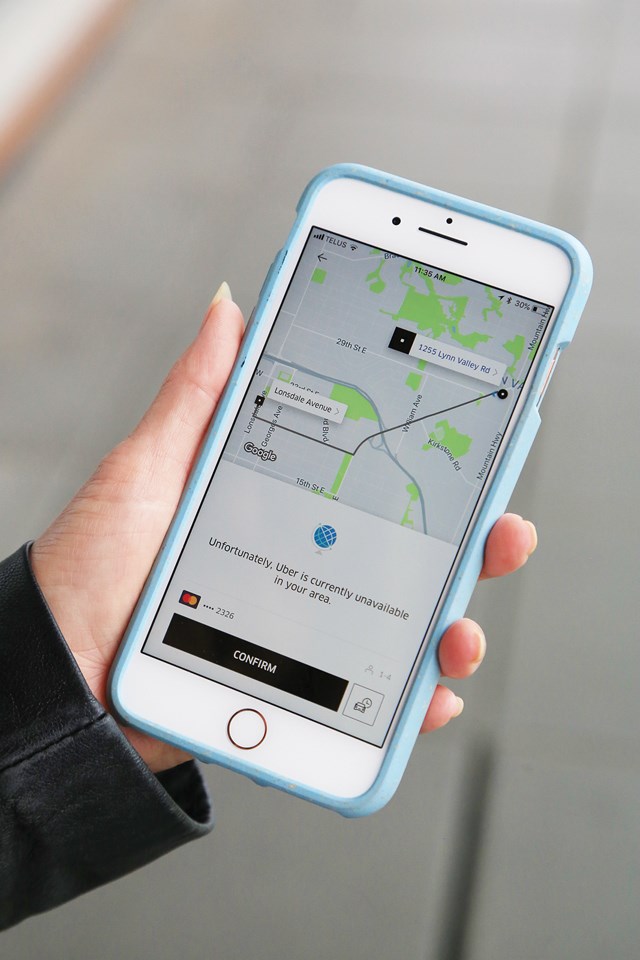 North Vancouver-Lonsdale MLA Bowinn Ma defended the government's approach in a lengthy discussion on her Facebook page. The local NDP MLA declined to comment directly, however, referring all questions to Trevena.
In an interview with the North Shore News, Trevena said the government is working on ride hailing but the changes needed to make it legal are complicated.
"If one of the (ride hailing) companies wanted to come to B.C. now and follow the rules we have now, they could," she said.
Currently, however, that would require ride-hailing companies to operate like taxis, in commercially registered vehicles that abide by rules about how much to charge passengers.
"They choose not to," said Trevena.
One key issue is coming up with an insurance scheme that would allow transport of passengers in private vehicles – something ICBC will work on over the next year, she said.
"What has to come first is people's safety," she said.
In the interim, Trevena said increasing the number of taxis on the road should ease some of the frustrations being voiced.
But critics have voiced skepticism that the heavily regulated taxi industry will be able to fill demand and questioned the need for government to control how many taxis are on the road.
"I think they're dragging their heels solely for political purposes," said Thornthwaite, whose own government also did not change regulations to allow ride hailing while the Liberals were in power.
Thornthwaite said the issue comes down to lobbying by the taxi industry in several key swing ridings in Surrey. "There's a lot of people connected to the taxi industry in a lot of those ridings," she said.
Further clouding the debate are recent studies showing that in cities where ride hailing has been introduced, the number of cars on the road has increased, adding to congestion and discouraging use of public transit.
But Thornthwaite said that argument doesn't work on the North Shore, which is already underserved by transit and taxis.
Scott Munro, a Lynn Valley resident in favour of ride hailing, said he accepts that coming up with new regulations may take time, but added, "There are so many jurisdictions (the government) could easily look to," to see how ride hailing has worked.
Munro said he has sympathy for taxi drivers, but added, "They've operated in what I consider a cartel environment for too long. They've had many years to innovate and change the customer experience and they've fallen short. Consumers deserve choice."