It was supposed to be North Vancouver's own exciting hub for foodies with up-and-coming new chefs and start-ups, craft beer, edible gardens and an outdoor plaza. But plans for Hawkers Wharf have been formally scrapped.
 Entrepreneur Chris Jerome and Concert Properties reached an agreement with the City of North Vancouver in 2015 to allow the "food incubator" as a temporary use for the empty lot at 925 Harbourside Dr. while it awaits redevelopment into condos.
 Tenants would have rented "Hawker boxes" – shipping containers converted into kitchens – to hone their offerings before starting larger restaurants elsewhere.
 After a series of delays and a promise in June that the site would be open in August and then later in the "winter of 2016," the developer and the proponent pulled the plug in September.
 "Both Hawkers and ourselves mutually decided we weren't going to move ahead with the plan," said Craig Watters, vice-president of development for Concert Properties.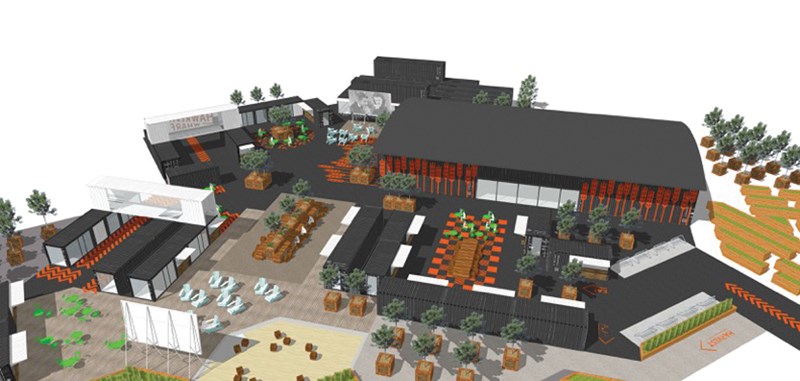 "At the end of the day, what we decided jointly was that the vision Hawkers had for their project – ultimately the objective they were looking to achieve, it just wasn't the right time or the site for us to proceed ahead with the project."
 Both Concert and Hawkers put up capital for the project and the mostly barren lot still holds more than a dozen Hawker boxes. The developer will be looking to redeploy those on the site in some fashion, but plans are too preliminary to discuss in any detail, Watters said. Eventually the development will hold roughly 800 strata and rental units and 300,000 square feet of commercial space. It received its official community plan amendment in 2012 and its rezoning in 2014. Today, the company is focusing on finalizing designs for the first phase of the commercial and condo project. Those should be coming to the city sometime in 2017, Watters said.
 "(Hawkers Wharf) was always a temporary use. That was the intent for the project. It would act as a food hub/incubator, certainly establishing Harbourside as a food destination. Our overall objective in terms of creating an active waterfront community still exists and we're committed to that vision for the overall site," he said.
 Jerome did not respond to a request for comment.