Cyclists hoping for a lift up were let down Monday.
City of North Vancouver council voted to scrap both the plans and the possibility of a Keith Road bike tow after a staff report estimated the cost at $4.24 million.
Faced with the prohibitive capital cost for the lift – which allows cyclists to put one sneaker on a footplate and be helped uphill – staff recommended keeping a portion of Keith Road clear for future installation.
Council decided cyclists will have to keep both feet on their pedals, defeating the motion 4-3 with Couns. Holly Back, Rod Clark, Pam Bookham and Don Bell opposed.
Coun. Linda Buchanan, herself an electric bike owner, appreciated the idea of keeping Keith Road clear for the lift.
"It's not a commitment to say we're moving forward with the lift today, tomorrow, or even in the next several years. It's just providing us with the flexibility of having that space available," she said.
Approximately $133,000 in annual maintenance costs plus steep capital costs make the plan "a non-starter," according to Clark.
Early estimates suggested the lift might cost as little as $2,400 per metre, but a recent staff report pegged the actual cost at slightly more than $6,800 per metre.
"I think it's time we put a stake in this craziness," Clark said.
Bookham agreed, suggesting the city would be better served by a Highway 1 overpass for pedestrians and cyclists.
The plan falls short in a cost/benefit analysis, agreed Bell.
Mayor Darrell Mussatto argued council should keep the Keith Road corridor clear just in case the bike lift technology became more affordable or, "the electric bike isn't everything we thought it was going to be."
City staff had been working with Leitner-Poma, a gondola and chairlift company that built a similar bike lift in Trondheim, Norway.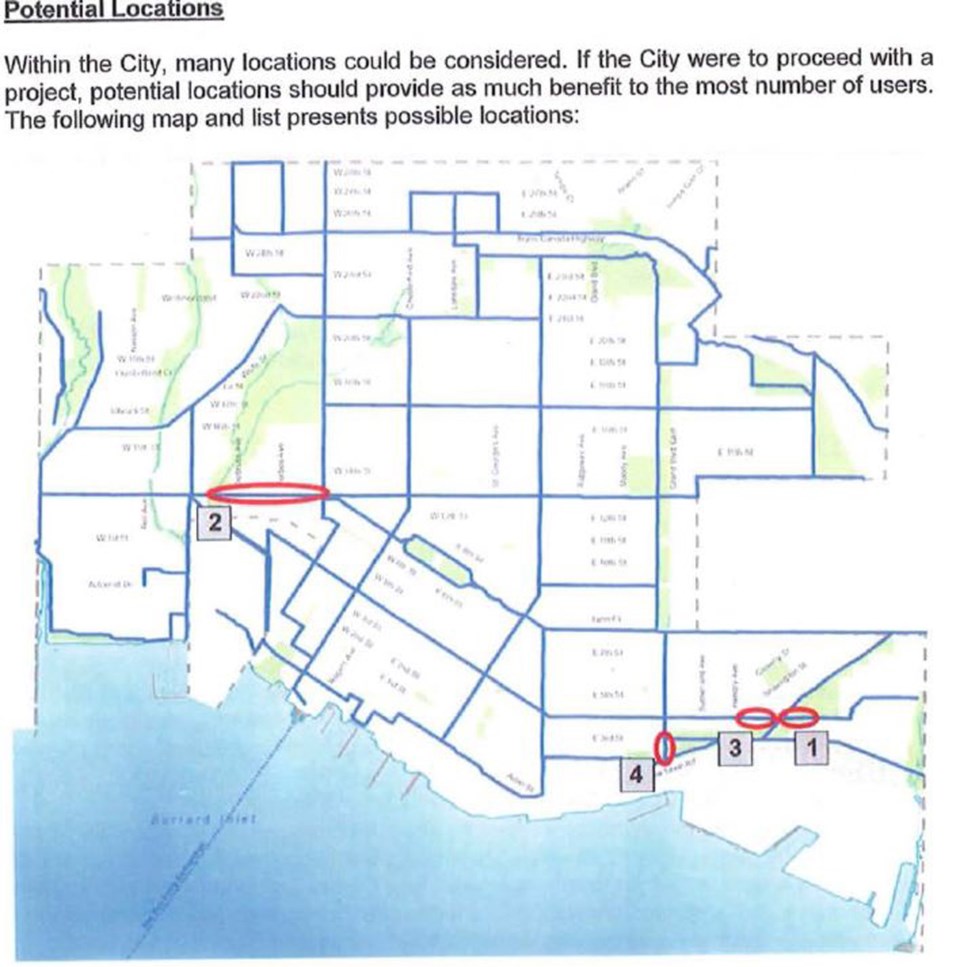 Mussatto, who flew to Norway at his own expense and tried out the tow last summer, seemed disappointed by the decision.
The mayor had touted the lift as a creative way to get people out of the cars, suggesting the lift benefited adults heading to work, kids going to school, and tourists.
The lift would have served an estimated 15,000 cyclists each year, taking riders 620 metres from Bewicke Avenue to Jones Avenue – with stops at Delbruck and Forbes – in about eight minutes.
Powered by 7.5-kilowatt engines, the lift would be broken into three segments and move at approximately walking speed.
Staff recommended eschewing lift tickets and letting cyclists ride for free, possibly selling advertising along the route to help fund the lift.
The B.C. Safety Authority would not regulate the lift, leaving the city to take full responsibility for safety.
But it wasn't all bad news for the two-wheel crowd Monday, as council voted unanimously to petition the province to restore the PST exemption for electric bikes.
Council has also pencilled in an electric bike rebate program for the 2017 budget. The rebate program would be similar to the cash offered back for homeowners who install high efficiency, low-flow toilets.