For North Vancouver-based actress Carmen Moore, portraying the mother of a missing Indigenous teenager in her latest film holds great importance – it's a story, often left untold, that she hopes will educate the masses.
Moore plays the powerful role of Susan, a mother trying to cope with the disappearance of her daughter, in the Canadian film Rustic Oracle – a 98-minute dramatic feature written and directed by award-winning Mohawk filmmaker Sonia Bonspille Boileau.
Filmed in Kanesatake Mohawk Territory, and set in the late 1990s, the story is seen through the eyes of Susan's eight-year-old daughter, Ivy, who tries to understand what happened to her big sister, Heather, who vanishes from their small First Nations community. With little help from the authorities, Ivy and Susan embark on a painful road trip to try and find Heather. Despite the difficult circumstances, and encountering ignorance and racism, the journey brings the two closer and strengthens their relationship.
The film had its world premiere at the Vancouver International Film Festival in September 2019 but was just released to video on demand sites this November.
Moore, an incredibly versatile television star, known for her lead role in the acclaimed series Blackstone, and for her parts in Artic Air, Cardinal, and Nancy Drew, said when she first received the script, she knew the film had a great purpose.
"The Missing and Murdered Indigenous Women and Girls epidemic has been going on for a really, really, long time, decades in fact, so when I had the opportunity to audition for this role, my initial thought was, 'a few stories have been done here and there about it, but there's still so many people that are unaware of Canada's history, for one thing, in regards to its Indigenous people, but who are also so unaware of what's actually happening in regards to violence against Indigenous women and people,'" she explained.
"In Canada, Indigenous women make up only four per cent of the female population, but they represent 25 per cent of the country's missing and murdered cases and 50 per cent of all sex trafficking victims.
"It was a about wanting to educate the masses as much as possible."
Some estimates suggest nearly 4,000 Indigenous women have been lost over the past few decades. According to the national inquiry examining the issue, a true number may never be known.
While Moore describes Rustic Oracle's story as devastating, the four-time LEO award winner said there was also a lightness to the film that shined through the mother and daughter relationship of Susan and Ivy, played by Lake Kahentawaks Delisle.
"When I got a hold of Sonja's script, I thought it was just such an interesting take on this issue," she said.
"It's not only addressing the issues, but it was a fresh take while offering hope, and there was a little bit more lightness around it being a mother-daughter movie and a road trip movie.
"While it is a devastating story, of course, there was also a little bit of, you know, 'we're going to get through this, because we always have, and we always will.'"
Looking back to when the movie was filmed in 2018, Moore said playing the role of Susan was a challenging, emotional experience.
"I've done a lot of very heavy, dramatic roles in my career and it's never easy diving into that kind of stuff and moving through those emotions," she said.
"A lot of people think that as an actor you play pretend, but it has nothing to do with pretending – our bodies don't know that it's not real when we're going through it. When I'm crying, I'm actually crying. I'm not pretending to cry.
"It's intense and it takes its toll on the body. It takes its toll on your emotions and you grieve along with those characters."
The 47-year-old said being a mother herself helped her to identify with her character, and to portray the pain and struggle her character goes through.
"I can't imagine what these families have gone through," she said. "The thought of anything happening to my child is just unimaginable pain."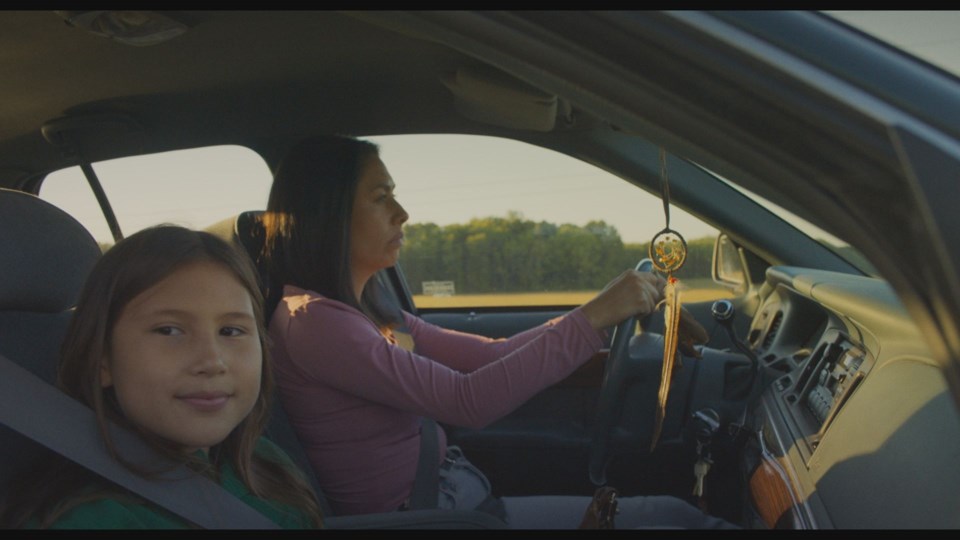 Speaking of the powerful mother-daughter relationship, Moore said one of her favourite parts of the film is when Ivy snaps her mother back into reality.
"There's a moment where Susan is just so caught up in it, as any mother would be, and Ivy says, 'I'm here' and it knocks Susan back into the present moment."
She said her young co-star was "incredible" to work with.
"She's so good," she said.
"Lake Delisle – I think she only had one short film under her belt when she landed the role of Ivy.
"She is a very precocious child. She was only nine when we shot. She is hilarious but she's already such a grounded and natural actor, and she just embraced every moment. I love that kid so much."
Moore, who is Wet'suwet'en First Nation on her father's side and Scotch Irish on her mother's side, said it was really exciting to see a predominantly Indigenous cast and crew create the film.
After having seven months off during the initial pandemic lockdown, Moore said she was happy to be back at work, saying she was excited for a new role coming up that she couldn't yet announce.
She said acting had always been her "passion."
"I've never thought of doing anything else I kind of feel like it was what I was meant to do," she said.
Moore won four awards for her portrayal of Susan, including the Leo Award for best lead performance by a female, motion picture, but said her focus was more on "the film itself getting recognition and people paying more attention to it."
"It is an honour to be recognised by your peers, but I'm more excited about the film getting out there," she said.
The Nish Media film was officially selected into 14 national and international festivals garnering 26 awards.
Rustic Oracle can now be viewed on Video on Demand. It's on Apple TV, Bell, Cogeco, Videotron and VIMEO.
Elisia Seeber is the North Shore News' Indigenous and civic affairs reporter. This reporting beat is made possible by the Local Journalism Initiative.