There is still the nervous wait of anticipation for that moment, the walk across the stage, the traditional photos with the cap and gown.
But graduation for the North Shore's Class of 2020 is very different this year.
There's no big celebration at a downtown hotel. Instead of family sharing the moment from a packed audience, graduates this year have had their walk across the stage captured by a video crew.
"It's an unconventional way to celebrate," said Kate Bourdon, a Windsor grad who helped organize a Canada-wide virtual prom on the Student Life Network at the end of May, featuring DJs and inspirational messages from the likes of Rick Mercer.
But there's not much that's conventional about graduating in a pandemic.
The start of their grad year wasn't this way.
The Carson Graham grad class held its homecoming dance in early October.
There were boat cruises and winter formals.
Jennifer Wah, one of the parent organizers of Handsworth's semi-formal dance at the Shipyards in January, remembers the bittersweet moment of watching her daughter Elena and her friends coming in the door. "They're teetering in their heels and their dresses, and the boys are all spiffed up …," she said.
Seeing the grads together was a moment most adults have experienced, she said, "that final phase of anything, whether it's school or a project, where in the last 10 per cent of the time together, there's this bonding that happens because you've only got that much time."
But just short months later, the end of their final year in school had dramatically changed.
The fact that grad wouldn't happen this year for any of the Class of 2020 didn't sink in immediately.
At first, "It didn't even enter my mind I wouldn't have a grad," said Bourdon.
Chloe Chen, who's in the International Baccalaureate diploma program at West Vancouver Secondary, said she realized what was happening when IB exams – usually held at the end of May – were cancelled in the second week of spring break. "This is an international exam. It's never been cancelled before," she said. "I think that was kind of when it finally hit me."
For Logan Weidner, a Carson Graham grad who had been selected for the second year running for Canada's U18 national rugby team, reality hit when the summer series scheduled against the U.S. team in July on Vancouver Island was cancelled. As the cancellations piled up, most grads were deeply disappointed.
"The situation was just so unexpected and strange," said Luke Forrester, another Carson grad, who found out this spring he is this year's winner of UBC's Centennial Leadership Scholarship. "A lot of things changed really fast."
"The worst part is, personally, you have no control over it," added Weidner. "There's nothing we can do to make it stop immediately and get back to normal."
Bourdon never bought a fancy graduation dress before the event was cancelled.
Macy Meldrum, a West Vancouver Secondary grad, said hers is still hanging in her room. "I probably won't get to use it, but that's OK," she said. "It could be a good Halloween costume – the grad that didn't happen."
To Sabina Magliocco, a professor of anthropology in UBC's Department of Anthropology, it makes sense that this year's graduates are feeling the loss of their final celebration.
"Graduation for North Americans is really the rite of passage that marks a young person's entrance into the adult world. And it's the only one that is common to all members of North American society," she said.
Until this year – when it isn't.
For Weidner and Bourdon, joining a group of graduates from across Canada to create a virtual prom online was one way to channel their energies.
"We're all upset that our proms are cancelled. It's nice to meet new people who are in the same situation as I am," said Bourdon, who hosted a backyard viewing party for a handful of friends – complete with cocktail attire, cookies and social distancing – to mark the occasion on May 22.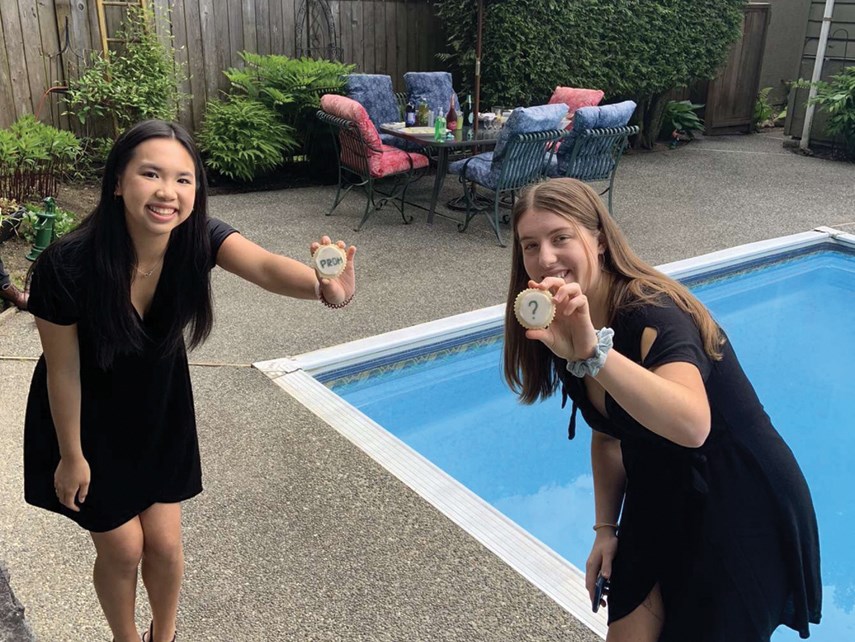 In both North and West Vancouver, school districts are offering a virtual replacement for grad this year. It won't involve any in-person celebrations, but has allowed every graduate to be filmed walking across the stage in a cap and gown to receive their diploma, then tossing their cap in the air. Those pieces of film will be edited together, along with a valedictorian's speech and other special messages, by GradsBC, a video and photography company offering virtual grads in many Lower Mainland school districts.
"We really wanted to honour this occasion for the Grade 12s," said Ian Kennedy, director of instruction with the West Vancouver school district. "We really want all our grads to cross the stage. We're all having to think out of the box and do things differently."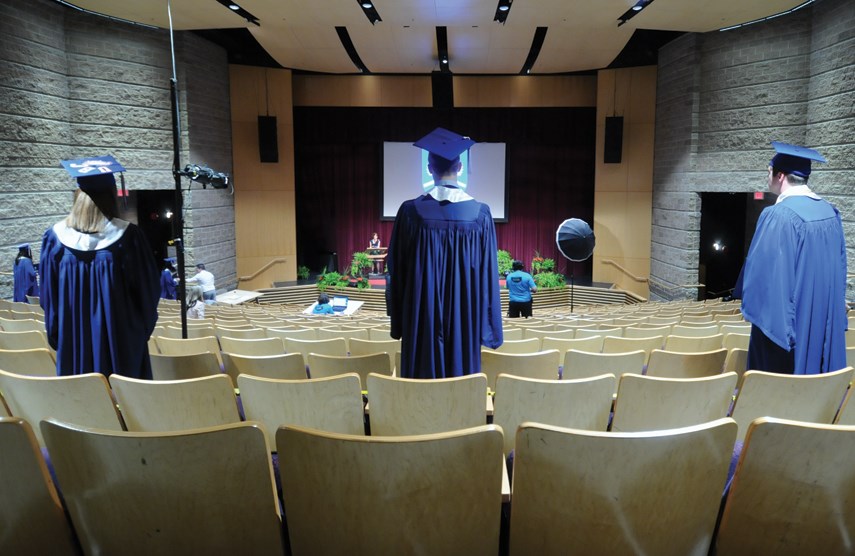 Teens who've been through the virtual graduation in the past two weeks say while the experience doesn't replace an actual grad, they appreciate the effort that's gone into it.
"I would say that as a whole, we understand that the school district is doing what they can to make our experience a good one," said Meldrum. "We're excited to make the best of what we're getting. But we are also hoping for a more formal social celebration once restrictions are lifted."
"I did admire the effort and the amount of work that I could tell had been put into the event," said Forrester, who recently took part in his virtual grad. "I was grateful to have something because it just would have been really sad if there was no way to celebrate the end of our school year."
Still, "you feel a little bit detached from it, because the actual ceremony itself is filming for the [online] ceremony in the future."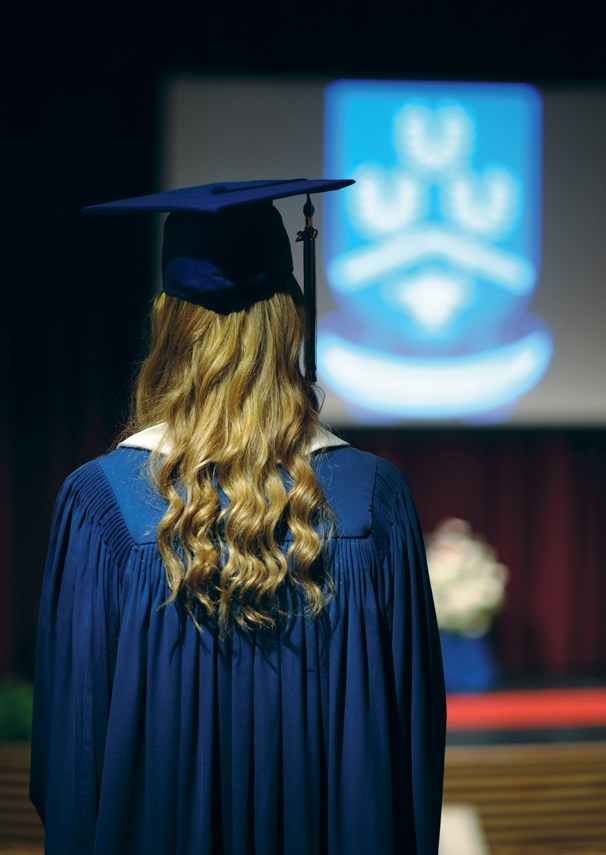 To Magliocco, that feeling isn't surprising, because "these rituals exist for the larger society as well. They exist for the community," as well as the individuals going through them, she said. "They are public acknowledgments to the community, that this particular individual or this particular group of people – in this case the class of 2020 – has completed adolescence and is moving into adulthood. So in this case, obviously, that community aspect is missing. And that's what makes it so challenging for people."
At some local high schools, parents and grads have been coming up with alternate ways to acknowledge their grads. At Handsworth, for instance, a car parade of grads will take place along a neighbourhood route next Monday, June 15 at 7 p.m.
It's a chance for those who live and work along the route to come out and acknowledge their grads, said Wah. In her own daughter's case, her grandparents are coming down for the parade. "And so they'll find a spot along the route and, for the five seconds that she goes by in a car, they'll have the opportunity to see her and clap for her and cheer her on," she said.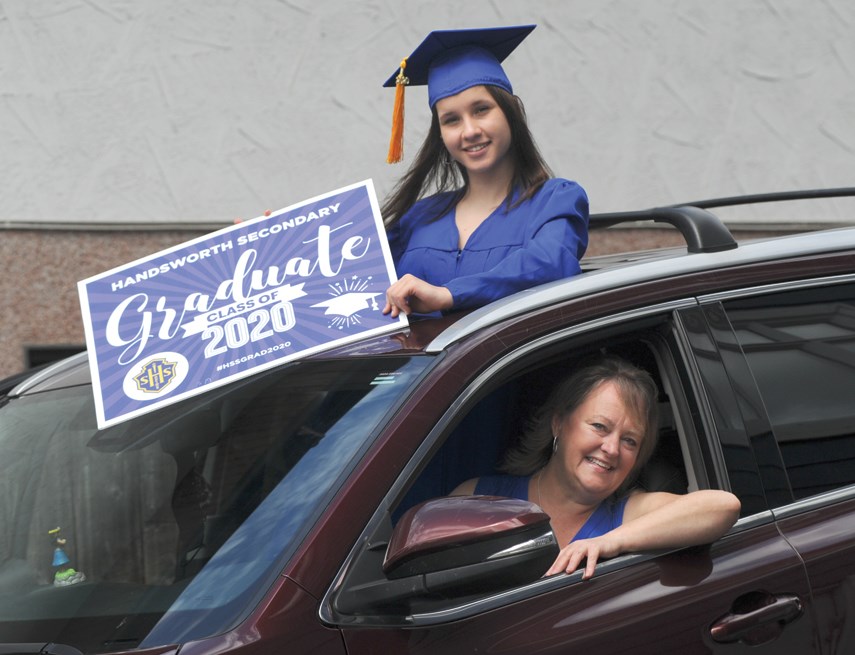 Some grads are still hoping easing of restrictions later in the summer may allow for more celebrations, said Bourdon. "It's not wearing the cap. It's not wearing a gown. It's just gathering and being with the people that you've been with for five years to celebrate this huge achievement."
Beyond graduation itself, this year's Grade 12 students are facing their future prospects with a big dose of uncertainty.
Some students who already have part-time jobs have already taken the forced hiatus from school to enter the work force on a more full-time basis.
Weidner, who works at a local grocery store, is among them. "I've been working 40 hours a week for the last little while," he said.
Chen, whose studies came to an abrupt halt with the cancellation of the IB exams, has used her free time to work on her art projects and study for her learner's licence.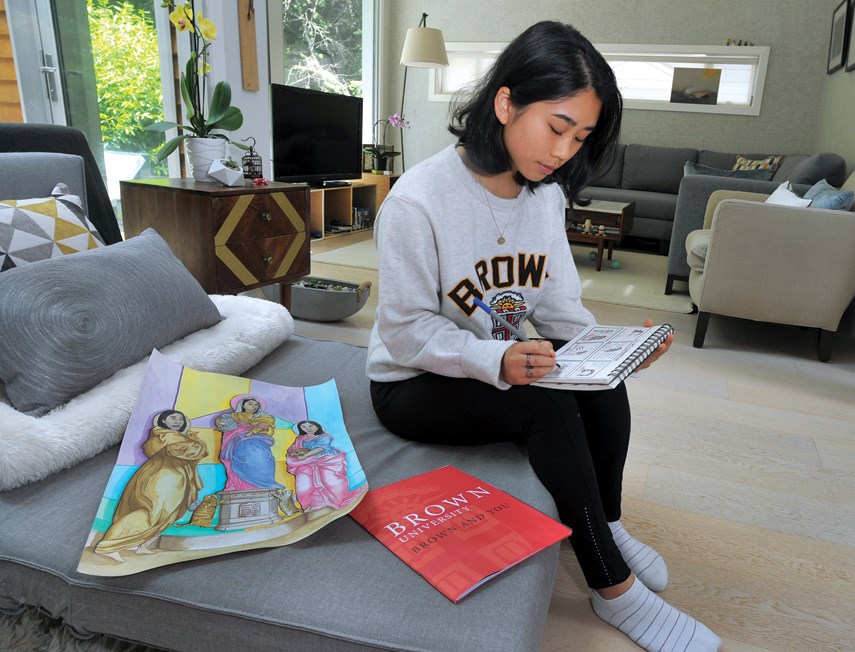 As many universities shift courses online this fall, students are also weighing their options.
Bourdon said she was planning to live in residence and study at UVic this fall. Now she's debating whether the move to Victoria is worth it.
"I think I'd still meet people," she said. "I'd like to move out from home and experience something, even if it wasn't what I was expecting."
For Chen, who has been accepted into Brown University, an Ivy League school in the U.S., the cross-border complication makes figuring out a course of action even more confusing.
She's been biding her time on decisions while waiting for the situation to become clearer. The last thing she wants is to be stuck on the wrong side of a closed border, she said.
Weidner is still planning to head to the University of Alberta on an athletic scholarship this fall, although school will likely be online, and the football season unclear.
"If we do have a season, it'll be much shorter – half the amount of games, no playoffs, no travelling to the other side of the country. … And if there's no season, we're still going to see if we're able to practice," he said.
Many grads with plans to study locally will likely be sticking close to home, however.
"I've always been a little bit uncertain about the future anyway," said Meldrum, who plans to study teaching at a local university. "I don't have a super set plan."
"I think perspective is really important," she added. We're allowed to be upset that our grad experience won't be exactly how we pictured it. But what's happening in the world right now is so much more upsetting."
Meldrum said she's spoken to some adults and "most of them have little recollection of their graduation. But 30 years from now, I'm sure that I'm going to remember mine."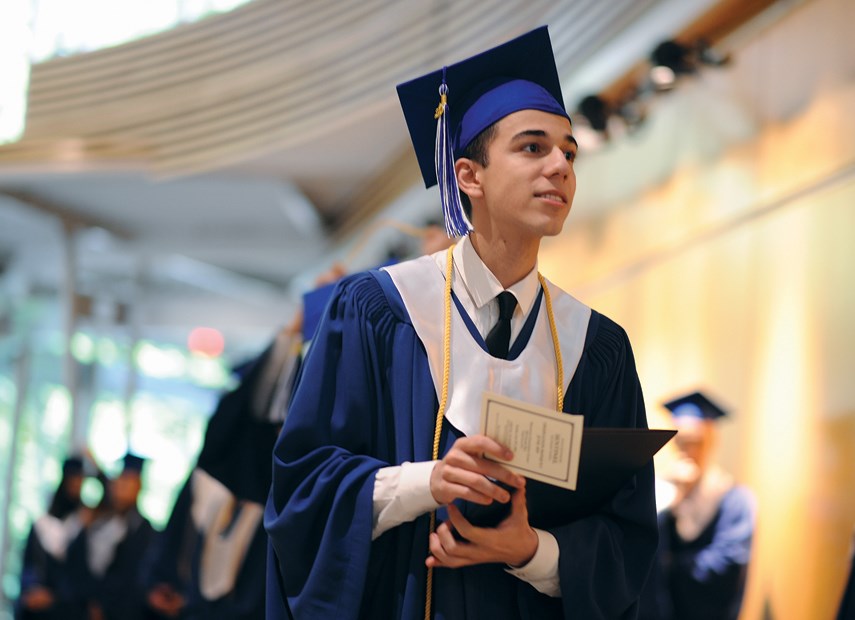 Gillian Crowther, an anthropology instructor at Capilano University, agrees.
"Their graduation is going to stand out more than anyone else's," she said. "It's never happened before. It's creating memories of a different type."
She has optimism that the Class of 2020 will find ways to find meaning in their unusual graduation.
"I think they're going to come through it alright," she said, with lessons that will likely repeat throughout their lives.
"Reality doesn't always live up to the ideal, and we make the best of it."