Cannabis legalization came and went anti-climatically Wednesday on the North Shore.
In contrast to the situation in recent years, when up to six pot shops operated in the City of North Vancouver, on Wednesday, only one shop – the Herban Art Collective on Esplanade – was open.
Business was brisk on Oct. 17, said owner Kevin Anderson, whose store was selling marijuana bud varieties like Blue Dream, Pink Kush and Rockstar starting at about $12 a gram or $35 an eighth.
"We had three times the amount of people we normally would," said Anderson.
He said some customers were trying cannabis for the first time, while others who had been customers of other North Vancouver weed shops had made their way to Herban after the other shops closed.
Some customers were concerned all storefront operations would soon shut on the North Shore and have been stockpiling cannabis, he added.
Herban was operating this week without a provincial licence, required to sell cannabis legally in a retail store.
Anderson acknowledged he has been under pressure from the city to shut down.
The City of North Vancouver has indicated it will only consider approving licences for retail stores from outfits that did not continue to operate once new federal and provincial rules came into effect.
Lotusland and Weeds – two pot shops that have been open in North Vancouver for the past two or three years – both shut their doors in the days ahead of cannabis legalization.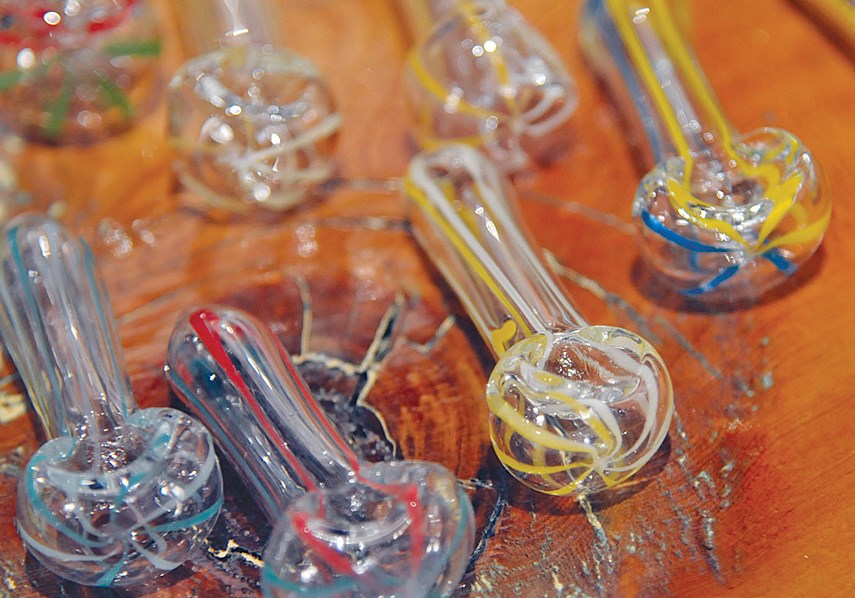 Both storefronts were empty by Oct. 17 with signs in the windows telling customers the owners intend to apply for a provincial licence to operate in North Vancouver and directing them to affiliated stores that are still open in the City of Vancouver.
"We did close down at the request of the city," said Shane Escher, owner of Lotusland, which shuttered the pot shop on Third Street at the close of business Oct. 16.
Escher said he closed because he wants to open a licenced cannabis shop, and had advice that any shop open on or after Oct. 17 was "more or less taboo."
Michael Wuest, who ran the Weeds store on Marine Drive, said his shop closed for the same reason. In order to be considered for a provincial licence "the city made it quite clear they wouldn't consider anyone who was operating without a business licence," he said. "We want to comply and get into the system."
Currently only one legal retail pot shop is open in the province – a government store that opened in Kamloops on Wednesday. Others are expected to open in the coming months, but must first go through an extensive provincial application process.
The public can also buy recreational cannabis online through a government portal: bccannabisstores.com. Single pre-rolled joints start at $4.20 for a THC hybrid while a gram of Kinky Kush sells for $8.20.
That's before Canada Post's $10 shipping cost is added in.
Anderson said the fact no retail stores had been granted licences prior to legalization coming into effect is a bit of a buzzkill.
"It's not exactly a product that people are excited about ordering online," he said.
The city is expected to begin accepting applications for pot shops Nov. 19.
The city's application process will include a $5,000 non-refundable application fee, a one-time $1,500 application processing fee, and a $3,691 annual business licence fee.
A maximum of six pot shops will be approved and will be barred within a 100-metre radius of rec centres, public schools, the North Shore Shelter, the North Vancouver School District office, and North Shore Neighbourhood House.
The District of West Vancouver hasn't yet set a timeline for its consultation process on retail pot shops. Council voted in July for a ban on pot shops – but left the door open for would-be proprietors to come apply for rezoning on a case-by-case basis.
The District of North Vancouver bylaws also prevent any pot shops from opening. But feedback from the public, which happened over the summer, will be summarized in a report that will go to the new council likely in late November or early December, according to district staff. The new council may amend the zoning bylaw again to open the door for cannabis sales or vote to keep them illegal.
Anderson said cannabis legalization day seems to have been low key on the North Shore.
"I thought maybe I'd see more people walking down the street smoking joints, but I really didn't," he said.
Wuest said he attended a party thrown by a federally licenced cannabis producer Oct. 17 but noted ironically "there was no cannabis available" at the event - although drink tickets were handed out.
A public forum on cannabis focusing on youth is being hosted by Vancouver Coastal Health and the North Vancouver School District on Nov. 14 at 7 p.m. at 2121 Lonsdale Ave.
Police warn it is also still illegal to drive while impaired by any drug, including cannabis.