A visiting snowboarder from Seattle has been successfully rescued after going off-trail and falling through the ice on Mount Seymour.
The 26-year-old was with his brother on the Unicorn run on Mt. Seymour when the two became separated around 6:30 p.m. Tuesday, according to North Shore Rescue team leader Mike Danks.
The missing man called his aunt for help, who contacted police. North Vancouver RCMP were able get a rough location of the subject's last known location based on local cell-tower activity, but only after he'd gotten waist-deep into trouble, falling though the thin ice of a small lake.
"At that point, he basically got himself in a real panic because he thought he was going to die. He ditched his snowboard at that point and was trying to claw himself out of the water," Danks said. "He managed to get himself out. In a delirium, just continued going east and started descending down into Indian Arm."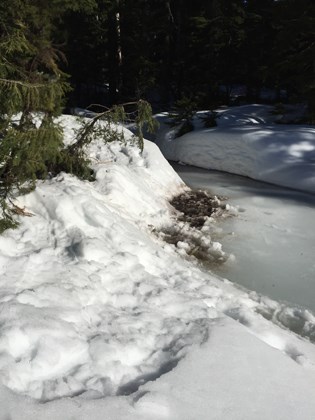 The area itself is known for challenging rescue attempts, Danks said.
"We've had a number of fatalities in there," he said. "It's very steep, technical terrain in there."
North Shore Rescue sent in ground teams to the approximate area, firing parachute flares and bear bangers in hopes of making contact with the snowboarder. They finally reached him around 2:30 a.m.
Knowing they wouldn't be able to hike him out in his badly hypothermic state, the rescuers gave the man a heat vest and dry clothes they lugged in and warmed up tea for him.
The team got a helicopter up at 7:30 a.m. Wednesday and opted to long-line the seven volunteers and rescue subject out. It was the first real-world test of the team's new Boost five-person rescue harness the team recently acquired and became certified to use.
"It worked out amazing," Danks said, noting eight individuals were carried back to safety in just two trips.
Anyone who finds themselves off-trail and lost should fight the urge to keep going, Danks said.
"It's either stay put, or follow your tracks back up," he said.
The rescue comes as Avalanche Canada is warning outdoor adventurers about increasing risk of potentially deadly avalanches. With the warm weather and sunshine, the mountains' snowpack is heating up and becoming heavier, making it more hazardous.
During the Seymour rescue, Danks noticed evidence of many smaller slides triggered by "tree bombs" – clumps of snow falling from tree branches.
Anyone planning to go into the wilderness this weekend should consider packing an avalanche transceiver, probe and shovel, Danks said.
"If people stay in bounds, they're going to be fine. But for the people that are going to be in the backcountry, they just need to be very aware of the terrain they're travelling in, ensure that they still have their avalanche safety equipment and that they're with another person in case there is an avalanche so they've got someone to dig them out," he said.