In winter, the Hanes Valley is an unforgiving place, a black and white moonscape where grey boulders poke out from dustings of snow.
Icy chutes are been scoured from the nearby ridges by landslides and avalanches.
At this time of year, the valley doesn't look the way it does in the summer hiking guides. In January, it's a different country.
It's here where 24-year-old Carl Couture is believed to have disappeared in November of 2017. Within days of his disappearance a storm moved in, blanketing the area with snow. Couture has never been found.
Hanes Valley is among a list of names familiar to searchers: Suicide Gully, Montizambert Creek, Crown Mountain, Tony Baker Gully.
"It's an area that you can get to within a couple of hours. Once you're there, you're very, very isolated and there's no cell signal. You can get turned around very easily," said Mike Danks, North Shore Rescue team leader.
They are places where a person can get into trouble quickly.
Trouble can come quickly
That's what happened to snowboarder Sebastien Boucher who went missing on Cypress after ducking under a boundary rope at the ski hill in 2012.
After three days of searching, in deep snow with high avalanche risk, the weather broke just long enough to send up a helicopter. Rescuers spotted fresh tracks from the air, leading into a gully.
"It was terrible, terrible conditions," said John Blown, a longtime member of North Shore Rescue, who was on that call that day with Danks. "You were literally swimming in neck-deep snow."
When people are lost in the North Shore mountains, they almost always head down – it's easier, and they think they'll reach safety. What they find instead are dangerous waterfalls and drop offs that end in icy creeks. Heading down is a bad idea.
The first rescuer in was shocked, then, when he suddenly found himself face to face with Boucher, who was still upright and walking, telling him, " I can't believe you're alive." Boucher responded, "Me neither."
Boucher's rescue against the odds is one of the dramatic happy endings for the team.
All these years later, Boucher still stays in touch, says Danks. "He says, 'You saved my life.'"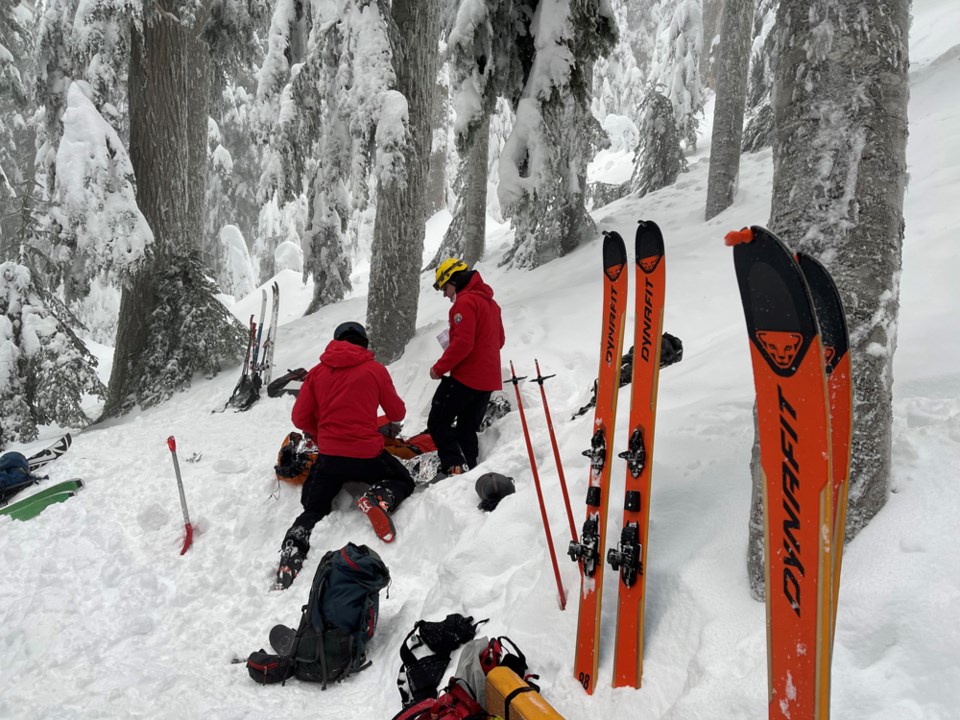 High-risk rescue all in a night's work
High-risk rescues are all in a day's – or more often, a night's – work for members of North Shore Rescue, British Columbia's busiest and best known mountain search and rescue team.
The North Shore's combination of mountain backcountry that pushes up close to a big city has been a recipe for many rescues over the almost six decades the team has been in operation. Last year, the team responded to a record 226 calls for help.
The team got its start in the "Diefenbunker" era of the late-1950s, when a civil defence unit put out a call for local volunteers. It quickly became apparent, however, that the need for wilderness searches was more pressing than protection from nuclear fallout. North Shore Rescue was born.
Today, there are about 40 volunteer members of North Shore Rescue, skilled in everything from helicopter hoisting to avalanche forecasting. A team of 10 advanced medical personnel – including nine emergency room doctors and an ER nurse – are also resources rescuers can call on.
It takes two years of training to become a full member of North Shore Rescue. Out of 100 people who most recently applied, only seven were accepted. The volunteer job comes with a big time commitment, as well a need for physical and mental stamina.
There are some calls that stay with rescuers, long after they've happened.
Seymour avalanche death stays with team leader
For Danks, a tragic avalanche death on Mount Seymour in 2019 is among those.
Two snowshoers had been hit by an avalanche that had left one man dangling from a tree on Runner Peak. He was able to phone rescuers, telling them he'd been calling to his friend, who wasn't answering.
It wasn't until later that day that a helicopter was able to sneak under the cloud cover and long line the stranded snowshoer to safety. "He was basically just on an ice layer, because the whole snowpack had slid," said Danks. But there was no sign of the second man. Avalanche risk then halted the ground search. That's when Danks got a call telling him the missing snowshoer's mother was at Mount Seymour with shovels. "To be honest, I would have done the same thing," said Danks.
"I sat with the mom and held her hand and tried to explain the gravity of the situation," he said.
The man's body was eventually dug out of the avalanche field the next day.
Calls like that are hard, he said. "Each one you can kind of deal with and put down into that little compartment. But we did 226 calls last year and that compartment starts to fill up."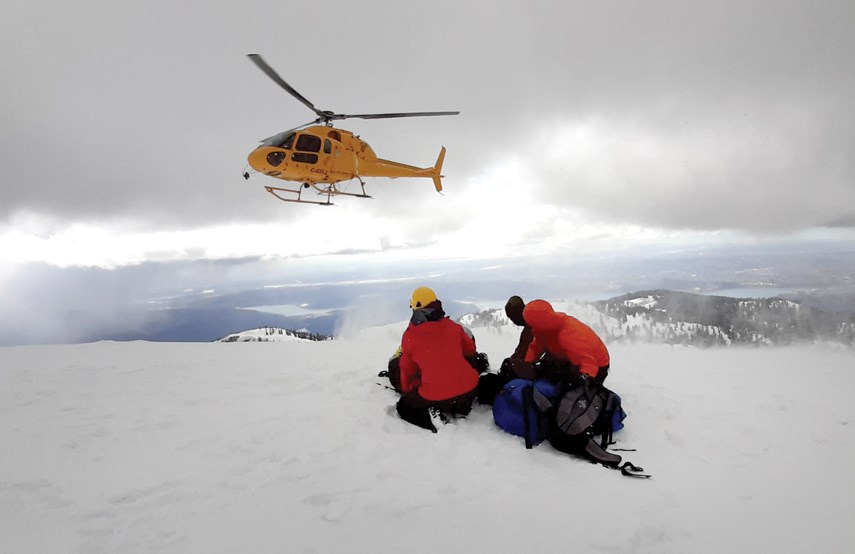 Danks, the 45-year-old leader of the team, has been part of North Shore Rescue for 26 years.
His dad, Allan Danks, was a team member and search leader when Danks was growing up.
"I'd wake up in the morning and my dad wouldn't be there. My mom always said, 'He's gone to help someone.' We always understood that."
Mike Danks later trained under the late team leader Tim Jones, whose larger-than-life personality and all-consuming dedication to the team are still the stuff of North Shore legend. When a rescue call came in, Jones was known for deciding what to do first and getting permission later.
When Jones died at 57 of a heart attack on Mount Seymour on Jan. 19, 2014, it was a shock.
Rescue team has embraced technology and change
But the team he worked to build has not only survived, but embraced change and taken on new challenges since then.
North Shore Rescue and Talon Helicopters – partners for over 30 years – pioneered the long-line rope rescue system that sees searchers, and injured patients, carried in and out of difficult terrain suspended on a 200-foot line beneath the helicopter.
Most recently, the rescue team and Talon got the first approval for a civilian team to fly a Dauphin helicopter with night vision goggles, and new hoist capabilities.
The advances haven't been slam dunks.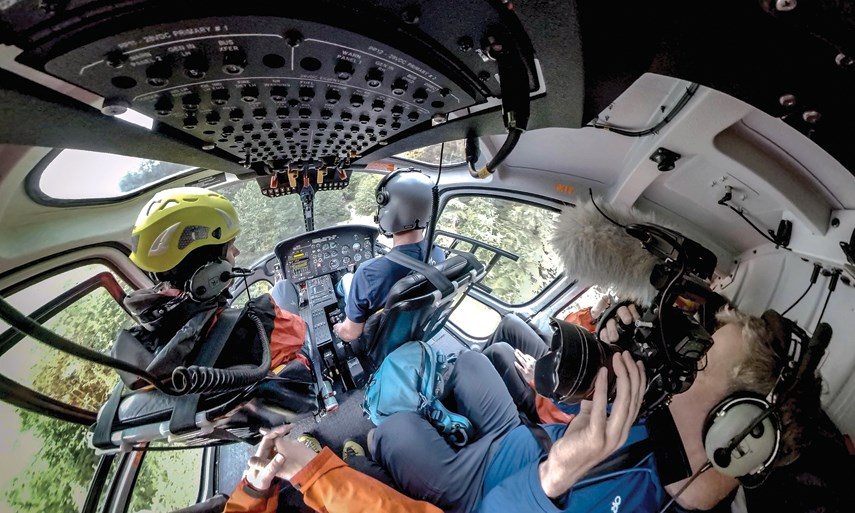 In the case of night vision flying, "When we talked to the province, we got laughed at," said Danks. But the team refused to take no for an answer.
On their first official training flight "we spotted two people that were stuck in a waterfall off Suicide Gully" who had not even been reported missing yet, said Danks. "We were over 800 feet away from where these people were and we could see their lights shining up in the air."
Night vision flying also recently allowed the team to rescue residents at night from the flooded Sumas Prairie.
Unique to search teams in Canada, North Shore Rescue has also developed a 10-person advanced medical provider (AMP) team, made up primarily of emergency room doctors, who are able to deliver critical care in extremely remote locations.
Advanced medical team among NSR resources
"We're all mountain people. So we're all comfortable on skis, or crampons or ropes," said Alec Ritchie, an emergency room doctor at Lions Gate Hospital who also works with ski patrol at Whistler.
Between 30 and 40 per cent of the calls are medical, and up to 30 per cent of those are serious, requiring advanced medical care.
Members of the team who respond to those calls decide what advanced medical equipment they'll need to bring in.
Without the backup of hospital diagnostics, however, doctors and nurses in the field have to rely to a greater extent on their own assessment skills.
"Experience is really key," said Kayla Brolly, a Lions Gate Hospital ER nurse who was a rapid-attack firefighter and a ski patroller before joining North Shore Rescue. "It's not a place for beginners."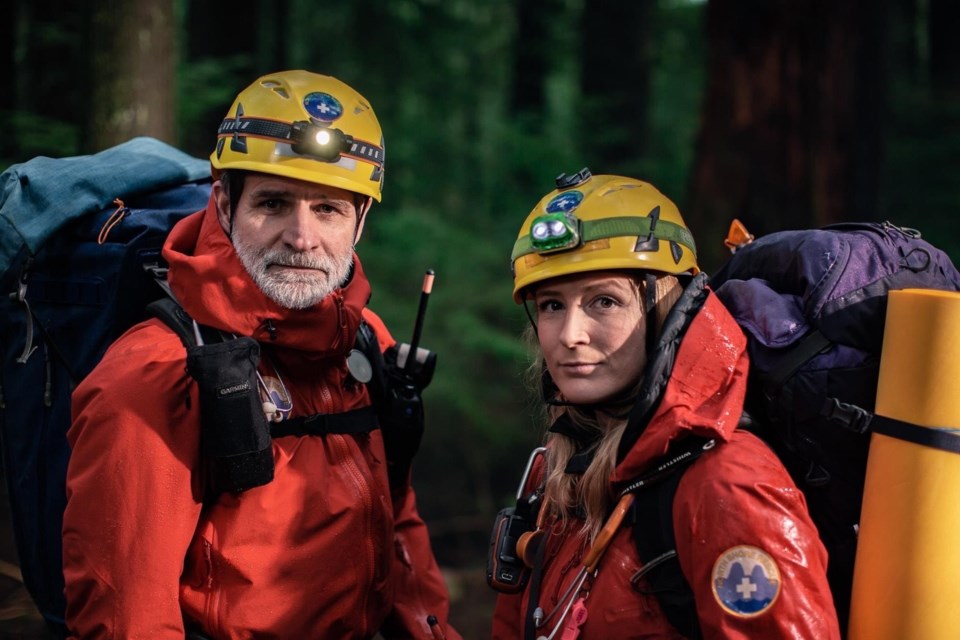 While there's plenty of excitement, there are also personal sacrifices that come with being on the team.
When the pager goes off, it's most likely to be when friends are arriving for a barbecue or kids have prepared a Father's Day brunch.
In recent years, the team has put more emphasis on sharing the load and training for resilience.
For Danks, the moment he realized he didn't have to personally attend every call was when he saw the impact it was having on his daughters.
Pandemic, social media send more people into backcountry
In recent years, the demand for the outdoors fuelled by the pandemic and beautiful shots of pristine lakes on apps like Instagram have only increased the number of people heading out into the backcountry.
Those curated images usually show their destinations in the best possible light, often in summer, said Danks: "There's not going to be any snow on the ground."
As popular trails get busy, less experienced hikers are also heading into more remote areas, said Danks.
Many take on challenges beyond their abilities and don't take basic equipment. People still don't understand that they will lose cell phone service quickly in the backcountry and that their battery will die.
Over the years, however, the team has maintained a staunch position against asking people to pay for their rescues, despite occasional public debates.
Blown said he's been asked more than a few times over the years, "How can you go out and rescue these idiots time after time?"
But everybody makes mistakes, he said. "No one deserves to die for a stupid mistake."
What keeps the team members going is knowing they're making a difference.
"I've been on lots of calls when people have given up. They've laid down to die," said Danks.
Danks recalls one time the team went to find a British scientist who hadn't even been reported missing. He had been on Mount Fromme for three or four days when his roommate casually mentioned to someone that he hadn't come home. North Shore Rescue found the man on the mountain, crumpled in a ball.
Making that difference and giving back to the community are crucial motivations, said Julie Van de Valk, one of the youngest members of the team who oversees training for new recruits. That effort is paid back in "the richness of life experience," she said.
"I'm pretty grateful for that opportunity. Even if it is sitting under a tarp on Christmas Eve eating pasta primavera out of a bag, instead of turkey dinner. If you can help people in what for some of them is one of the worst days of their life ... that is worth a lot."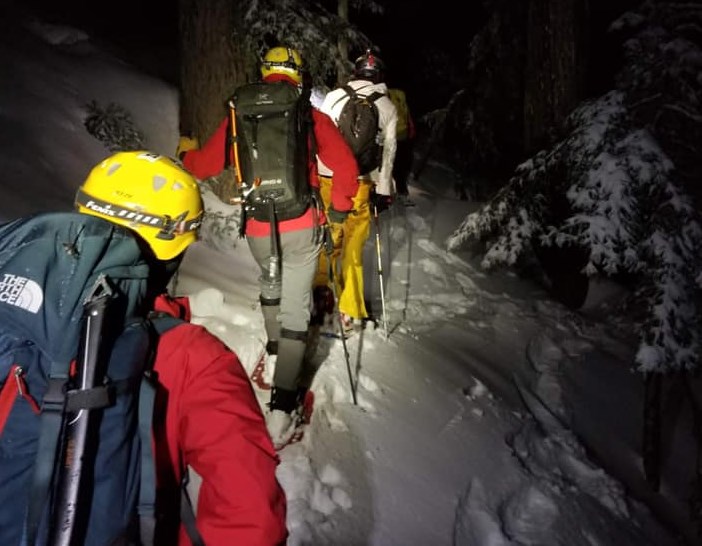 This story was included in a special feature section of the North Shore News in print on Jan. 26, 2022. The entire feature can be viewed in our digital edition archives. Portions of this story were previously published in an earlier version in the North Shore News.