Rudi Pinkowski is serious about palm trees. Growing up behind the Iron Curtain, palms were a symbol of warmth, exotic escape and relaxation – pleasures denied people living in East Germany.
"We were not allowed out. It was like the forbidden fruit. I couldn't ever really touch one or see one," he said.
One winter, while riding his motorcycle, he crashed and became pinned down in a snowbank. As he laid on the ice, he promised himself he would spend the rest of his days where he could be among palm trees.
"For me, it became a bit of an obsession," he said.
It was in that spirit that Pinkowski, the past president of Pacific Northwest Palm & Exotic Plant Society, came to the rescue of a stand of palm trees slated to be bulldozed for a major development on Marine Drive in West Vancouver, near the foot of Lions Gate Bridge.
About five years ago, he noticed the palms planted outside the Earl's Tin Palace weren't doing so well, so he marshalled some volunteers to come offer them some TLC.
In 2018, Darwin Properties rezoned the land with plans to build a 26-storey tower. Pinkowski didn't want to see the trees lost, so he negotiated with the developer and the District of West Vancouver to let him salvage them before the bulldozer arrived. In 2019, Darwin sold the rezoned property to Denna Homes but didn't let them know about the arrangement for the palms, so Pinkowski had to repeat the process.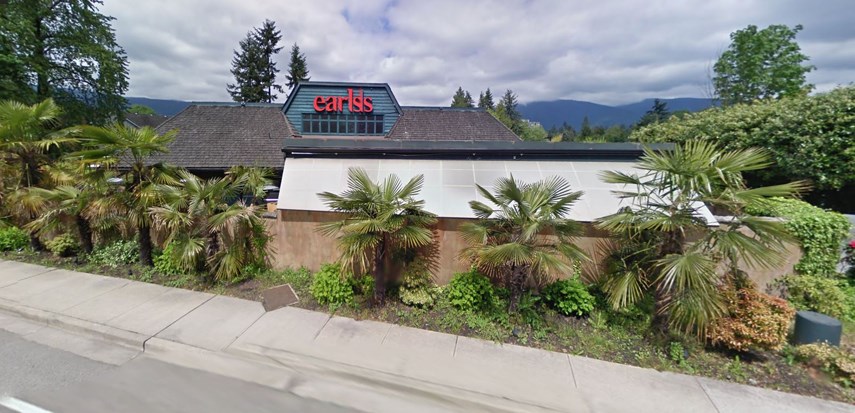 Getting the trees out was no small task. They were practically encased in concrete, Pinkowski said, but West Vancouver parks staff came to collect them and temporarily transplanted them to their works yard. When the conditions were right, Pinkowski oversaw their transplant to the beach at Dundarave Park where they are now taking root.
Pinkowski chose the site specifically because it is on a beach where thousands of people can, for a brief moment, be transported away to that palm tree state of mind.
"They give such a relaxing vibe somehow," he said. "When people want to take pictures of the sunset, they always want to get some palm leaves in them a little bit on the side."
They are also good for inspiring jealousy in relatives visiting from other provinces, he's found.
"The good thing about living in Vancouver is you don't have to die to be in paradise. We live in paradise," he joked. "If you ever want to call the Lord, make the call from Vancouver. It's a local call."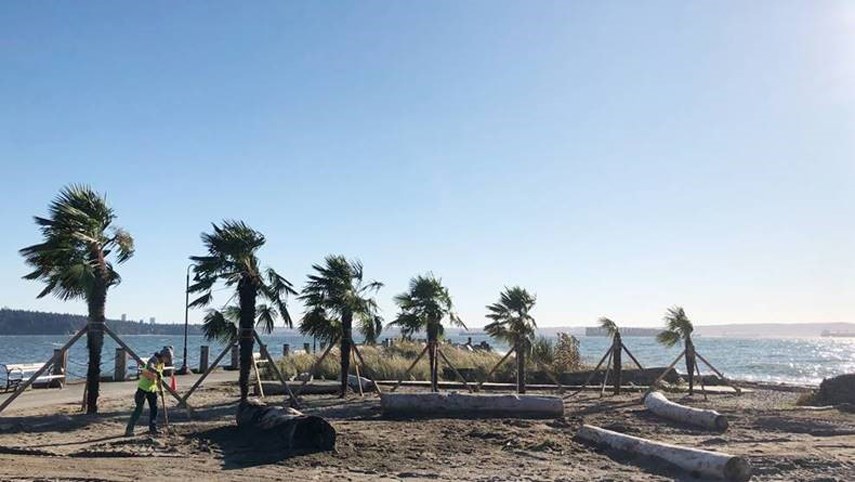 Pinkowski played a large role in introducing that feeling to B.C.'s West Coast. In the mid-1980s, he and a few other palm society members approached the City of Vancouver and asked if they could plant just one windmill palm on the traffic island where Davie and Denman streets meet. The city gave them a budget for 16. They turned out to be wildly popular and today, English Bay has about 200 palm trees, swaying in the breeze.
He estimates there are now about 10,000 palm trees growing in the Lower Mainland.
The ones now in the possession of West Van are Trachycarpus fortunei, commonly known as the windmill palm. The only place to find them growing in the wild is in southwestern China – where the average winter temperature is just half a degree colder than Vancouver's, Pinkowski said. But they are hearty enough to last another 100 years, even with the occasional dusting of snow.
If the district were to hire a landscaper to purchase and plant seven mature windmills, he estimates it would cost taxpayers $40,000 to $50,000.
"It was a nice bargain for West Vancouver," he said.
Not everyone loves to see tropical plants on Canada's Pacific coast. While working on his son's garden just a few blocks away from Dundarave Park, he was confronted by someone who told him he should only be planting native species.
But barely anything we plant on the West Coast to eat or decorate our landscape originates here, Pinkowki argued. And the palm trees people associate with Southern California or the Mediterranean, they too are immigrants.
"Gardening is a fashion thing and it will always change," he said. "Diversity is OK in landscaping as long as it doesn't do any damage."