A number of indoor fitness studios on the North Shore have been left spinning their wheels and other businesses are wondering what's ahead after new COVID-19 restrictions were announced over the weekend.
Dr. Bonnie Henry, the province's health officer, closed down group fitness classes, slapped restrictions on indoor sports and told people living in the Lower Mainland to limit themselves to essential travel only for a two-week period.
In response to a surging number of new daily COVID-19 cases, Henry also said people within the Vancouver Coastal and Fraser Health regions should not socialize with people outside their households for two weeks.
The orders have had the most immediate impact on fitness studios that offer group classes – including spin classes, boot camp-style workouts and yoga.
"It's going to be really, really hard this time," said Lesley Tomlinson, an Olympian and owner of Tag Cycling in North Vancouver, which offers workouts on stationary bikes.
Cycling studios in North Vancouver, Vancouver, Whistler and Squamish were shuttered Monday and sessions moved online while Tomlinson worked on getting approval to reopen.
Until that happens, "We'll be back to an almost non-existent level of income," she said.
Fitness businesses first got a warning shot on Thursday when Henry described attending spin classes in the Lower Mainland as "dangerous."
But that didn't differentiate between businesses that are adhering strictly to COVID-19 protocols and those that aren't, said Tomlinson. Those that are have been operating at about 30 to 40 per cent of capacity, to provide two metres of space between participants along with proper ventilation, she said.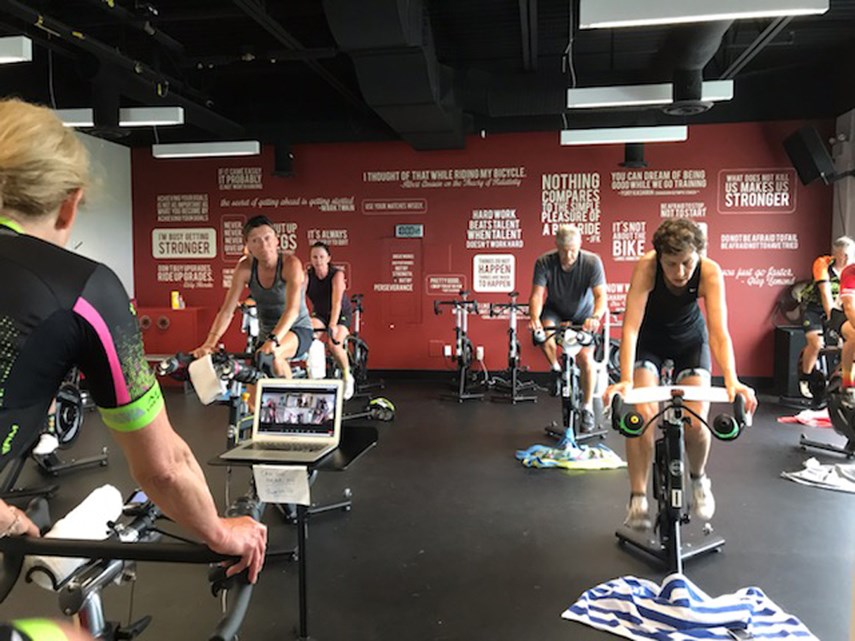 North Vancouver CrossFit Lions owner Chris Harrison has faced a similar challenge. Harrison said Tuesday he's been approved by health officials to remain open for individual training, involving a maximum of nine people in a 3,000-square-foot gym space.
Harrison said he shut down briefly in September when three gym members tested positive for COVID-19 and worked with health authorities to strengthen safety protocols. But overall, he said small fitness businesses feel singled out without data to back up how much of a problem group classes have been.
"They're messing with people's livelihoods, and they're not putting any data forward in terms of how many cases have actually originated in group classes," he said.
Henry said Monday that group fitness "is an area where we have seen spread in multiple different settings," both in the Lower Mainland and in other jurisdictions. She added a team is now examining scientific data from around the world.
In West Vancouver, the suspension of indoor fitness activities came as the municipality learned a person who took part in a seniors' fitness class on Nov. 2 at the West Vancouver Seniors' Activity Centre tested positive for COVID-19. Previously, a person who took part in a fitness class at the community centre on Oct. 20 also tested positive.
Indoor group fitness classes have now been suspended in both North and West Van public recreation facilities.
Meanwhile, the restaurant business is also hunkering down after Henry told people not to socialize with those outside of their households – including in restaurants – for two weeks. Henry has said it will be up to individuals to comply, and restaurants won't be asked to police their customers.
Mike Jeffs, owner of Nook, says the latest restrictions on social activity aren't helping business. "It's not that much fun just going out with your husband or wife, every night for dinner," he said.
For the most part, people are compliant with COVID-19 protocols at Nook – which include temperature checks and masks in common areas. But he said he's not sure what the latest restrictions will mean.
Jeffs said he'd like the rules to be clearer.
"You can only go with your household unless you live by yourself, and then you can pick your group right? It's weird," he said.
"She needs to say yes or no, don't go out. Most people want to do the right thing. But they also want to go out, so if you give them an out, they're going to take it."