The North Shore community has been coming up with unique and creative ways to show their support for Ukrainians during the ongoing Russian invasion of the European country.
More than 8,600 kms away, for some Ukraine might feel like a distant frontier, however, for many folks in North Vancouver, the connection runs deep.
The North Shore News has compiled a list of ways folks have been helping those fleeing the Ukrainian invasion. If you know any North Shore residents or businesses who are picking up the baton to help Ukrainians, send us an email at editor@nsnews.com and let us know.
Family ties bring supplies to refugees in Poland
North Shore resident and Polish citizen Marta Orellana has leveraged her family ties to the neighbouring country to deliver essential supplies straight to Ukrainian refugees at the Poland-Ukraine border.
Setting up a Polish Amazon account, Orellana has been able to use donations she has received from close friends, neighbours and community groups, to send supplies every day.
"The response from people here has been amazing. They are so happy to and willing to buy products directly for these refugees," she said.
In just over a week since setting up the account, Orellana and her cousin in Poland have been able to purchase and distribute 33 strollers, 175 blankets, almost 200 stuffed animals, menstrual products, thermal blankets, diapers, underwear, and basic hygiene products.
Through fundraising efforts, Orellana said the Ecole Windsor Secondary Gardening Club donated enough to buy six strollers, 33 stuffed animals, and 40 fleece blankets.
Her effort has so far received about $8,000 in donations, most of which have come from $50 to $100 increments. She keeps careful track of all spending with receipts and Amazon order confirmations, adding, "My cousin and children open and set up all the supplies, and even started making little Canadian flags to pin to the items when they deliver."
"This initiative has gone so well, and we have sent so much help. But there are more and more women and children arriving," Orellana said. "The city's hotels are full. So are church basements, gymnasiums. … My cousin has started driving around to all of these [places] and dropping off hygiene products and diapers.
"The stuffies started out as a small comfort, but she reports that they bring such a smile to the children's faces that we have been ordering more as they are such a welcome comfort."
Update as of March 22:
Orellana and her cousin have now been able to purchase & distribute 5273 diapers, 47 backpacks, 56 packages of baby formula, over 700 menstrual supplies, 194 towels, and thousands of basic supplies such as baby wipes, tissues, underwear, socks, etc.
Door knocking for help
Nami Shakiba couldn't stand by and not help. After finding out that many children in Ukraine are not able to go to school currently, the 9-year-old decided to spend his Spring Break going door-to-door to collect donations.
On the first day of walking around his Upper Delbrook neighbourhood (March 17), his mom Maryam Shakiba said Nami raised $152.65 over his 4 km walk.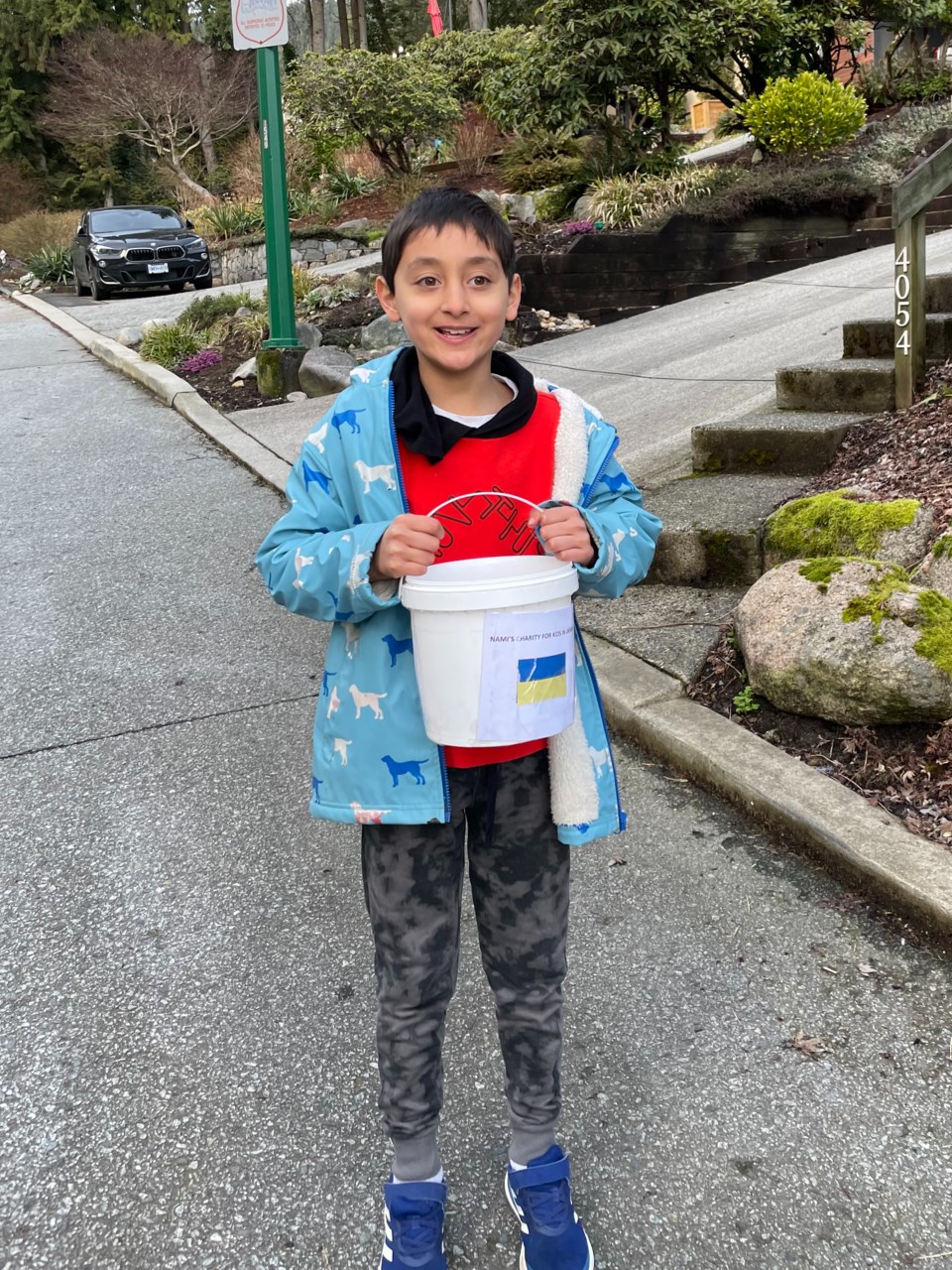 "His goal is to raise about $1,000, and he is trying to send this money to kids in Ukraine through any Canadian organization which helps Ukrainians during this crisis," Maryam said.
Keep an eye out, as Nami will be continuing his door-knocking for the rest of Spring Break in Upper Delbrook and Upper Lonsdale.
North Shore Rotaries and ShelterBox team up to send supplies
The international humanitarian aid organization, ShelterBox, is teaming up with Rotary Club of West Vancouver, Rockridge Secondary School's Interact Club, Rotary Club of North Vancouver, and Rotary Club of Lions Gate to raise money for shelter kits, mattresses and hygiene items for refugees.
A ShelterBox team is currently working in Poland, along with the help of Rotary International, to assess the needs and to make sure as many people as possible have access to help.
ShelterBox has previously worked in Ukraine – it carried out emergency responses to floods in 2003 and 2008, and in 2014 following the outbreak of the ongoing conflict in the Donbas region.
Cut-A-Thon at West Vancouver Barber shop
West Vancouver Traditional Barbershop is snipping away for Ukraine relief funds. Owner and barber Michel Ibrahim said all money raised during its Cut-A-Thon event on May 8 will be donated to the Red Cross Ukrainian Children's Relief fund.
Soccer jerseys will also be for sale during the day, with $15 from each one sold going towards the relief efforts.
It's not the first time West Van Barbershop has donated to overseas efforts. Ibrahim has previously raised and donated to relief funds in Beirut, Syria, and Lebanon.
North Van Bakery steps up
Meanwhile, Bad Dog Bread bakery on Mackay Road in North Vancouver has been lending its hand to Ukrainians in need. All proceeds from its Ukrainian rye loaf are being donated, and they're matching every dollar.
Skaters sharpen their tools
Time Out Source for Sports held a skate sharpening day on Saturday (March 12), with all money raised donated to the Canadian Red Cross's Ukrainian humanitarian efforts.
With 20 pairs of skates sharpened, and along with sharpening passes being purchased, Time Out told the North Shore News $335 was raised. The sports shop will also be dollar matching and will donate a total of $670.