Despite spotty to dismal clearing of sidewalks, none of the North Shore's municipalities have ticketed any property owners for failing to shovel in front of their properties.
A snowstorm on New Year's Eve followed by a cold snap left unshovelled sidewalks across the North Shore coated in sheer ice that was treacherous to walk on. But local government bylaw staff have been responding to residents' complaints only with warnings and letters of education.
"When we've got complaints, we do the education point, advising people what their obligations are and looking to get a commitment for compliance," said Guy Gusdal, bylaw manager for the City of North Vancouver. "That's generally worked for the most part."
The city requires "the owner or occupier of any real property" to clear the snow and ice from any sidewalks or footpaths bordering their property or face a $100 fine, although bylaw officers generally don't typically get out the ticket book.
Gusdal said that is because of the rarity of this kind of prolonged snow and cold, many resident don't understand their responsibilities.
"You have some people who have never bought a snow shovel," he said.
As of Tuesday, the city had received about 26 complaints, "which isn't a lot considering the size of the city." Gusdal added.
While punitive fines my sound nice to pedestrians frustrated with dangerous or impassible sidewalks, Gusdal said the city is focused more on public outreach.
"(Fines) are really a consequence of something. It's not really solving the problem that's there or making the sidewalks safer and clear for people," he said. "It has its benefits and it some cases, it can help nudge people in the right direction. In some cases, it makes people dig in their feet."
And, he added, people have had a hard time coming by salt and brine that can be used to melt the ice. Local hardware stores are mostly reporting that they expect fresh shipments in on Friday.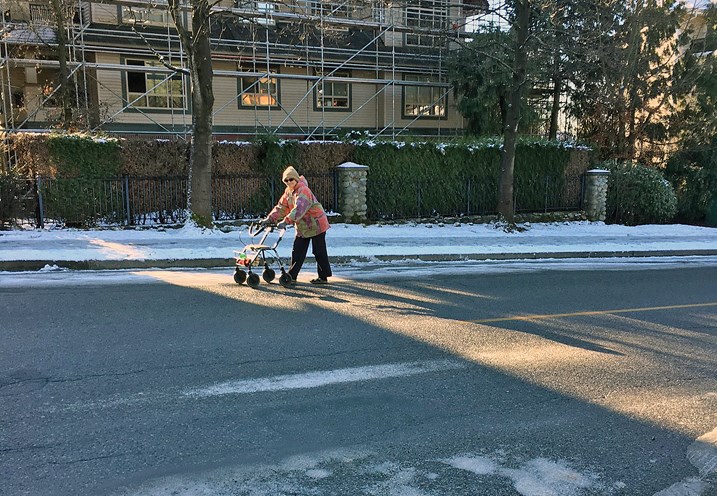 The District of West Vancouver has received nine complaints and issued no tickets. Instead, the offending property owners received "letters of education."
"Education almost always results in compliance," said West Vancouver spokesman Jeff McDonald.
Unlike its North Shore neighbours, however, the District of North Vancouver's bylaw only applies to commercial, industrial and multi-family properties, exempting most of the single-family neighbourhoods.
The district's bylaw was written and passed before his time on council began 15 years ago, but it appears the council of the day was taking a more "pragmatic approach," targeting enforcement in high foot-traffic areas, said Mayor Richard Walton.
"There's no point in bringing in a bylaw and then not having the means to enforce it. We do have the means to enforce it in our commercial areas," he said.
Extending the bylaw to single-family neighbourhoods, many of which don't even have sidewalks, would result in fines to seniors or people with disabilities who don't have the wherewithal, homeowners who are away on vacation, or for properties where a home is left empty or awaiting redevelopment, Walton said.
The district received 11 complaints of single-family homeowners who hadn't shovelled, and issued four warnings to property owners who the bylaw does apply to.
Issuing fines would probably be more trouble than it's worth, Walton added.
"It becomes very, very expensive and time consuming for a small group of bylaw officers to just start responding to individual, home-by-home complaints. Somebody would have to knock on the door, write a ticket and we have literally thousands of those, and then we'd have to follow up on them," he said.
On quieter streets that have been cleared of snow, residents may choose to walk on the road, Walton said, or through adjacent snowy yards.
Environment Canada is forecasting more snow and rain followed by another cold snap – the ideal conditions to create another "ice crisis."
Walton said the district encourages residents to shovel before the ice sets in.
"Those who are more able should help those who are less able, if possible, and be good neighbours," he said.