When North Vancouver resident Brent Hillier needs to get a prescription filled these days, his options are limited.
Like many people on the North Shore, Hillier doesn't have a family doctor.
"I've been going to walk-in clinics for the past two years," said Hillier.
Not that "walk-in clinics" are places patients can actually walk into these days either. In most cases, Hillier says he has to start phoning at 7 a.m. and hope there's an appointment available.
Sometimes he just has to wing it, searching up information online, for instance, about how to adjust dosages of medication.
Getting a referral to a specialist of any kind is another challenge.
Hillier said he and his wife have tried to find a family doctor and have put themselves on wait lists. "I assume those wait lists are fairly long," he said. "Out of all of my friends, none of them have a family doctor."
Hillier and his wife have lots of company these days.
More than 7,640 local people don't have a family doctor
It's estimated that about 900,000 people in B.C. don't have family doctors.
As of June 1, there were 7,640 patients on a centralized wait list for a family doctor on the North Shore. But that doesn't include many others who aren't on the list. About 20 per cent of North Shore residents who responded to a recent poll by the North Shore News said they don't have a family doctor.
Each month, as more family doctors retire, the challenge gets harder.
Dr. Lisa Gaede has worked as a family doctor in North Vancouver for the past 22 years. But doctors like her are increasingly rare.
Officially there are 287 general physicians working on the North Shore, according to the North Shore Division of Family Practice. But that number includes locums (doctors who fill in for regular physicians), doctors who work in salaried positions at Lions Gate Hospital and the Urgent and Primary Care Centre, as well as those working in specialized services like sports medicine and those who work part-time.
At least six family doctors have retired in recent months, and at least four more are planning to, said Gaede.
Full-time doctors on the North Shore can have more than 1,200 patients. When they retire, there's rarely anyone to take their place.
West Vancouver-Capilano MLA Karin Kirkpatrick said her office frequently gets emails and calls from upset constituents when doctors announce they are retiring. "There's been three or four doctors that announced they were retiring in just the last couple of months," she said.
In an aging community like the North Shore, people have more complex health issues, and get very anxious when they lose their doctor. "It's heartbreaking because people are just so scared," said Kirkpatrick. "They don't know what to do."
One woman Kirkpatrick spoke to was trying to get a diagnostic mammogram but needed a doctor for the referral. "And she doesn't have a doctor anymore. The whole system is just broken."
Factors combine to create family doctor crisis
Doctors and those who study health care say several factors have combined to create the crisis.
While demographic change has seen more family doctors retiring in recent years, the lack of family doctors isn't just a numbers game, said Lindsay Hedden, a North Shore resident and assistant professor in the faculty of health sciences at Simon Fraser University.
"We have more GPs [in B.C.] than the Canadian average," said Hedden. But fewer new graduates are choosing full-time family practice. Instead, they are opting for salaried positions in hospitals or urgent care centres, or work only part-time as family doctors, supplementing that with work at walk-in clinics or on telehealth services, she said. "Ten or 20 years ago, a lot of those options didn't exist," she said.
At the same time, running a family practice has become harder.
As the population ages, more patients have multiple complex conditions, requiring more referrals and administration.
Traditional family practices are run as small businesses, she said. "So physicians are not only responsible for patient care, but they're also responsible for hiring staff, for keeping the lights on and for running this small business. And a lot of new grads have no interest in doing that."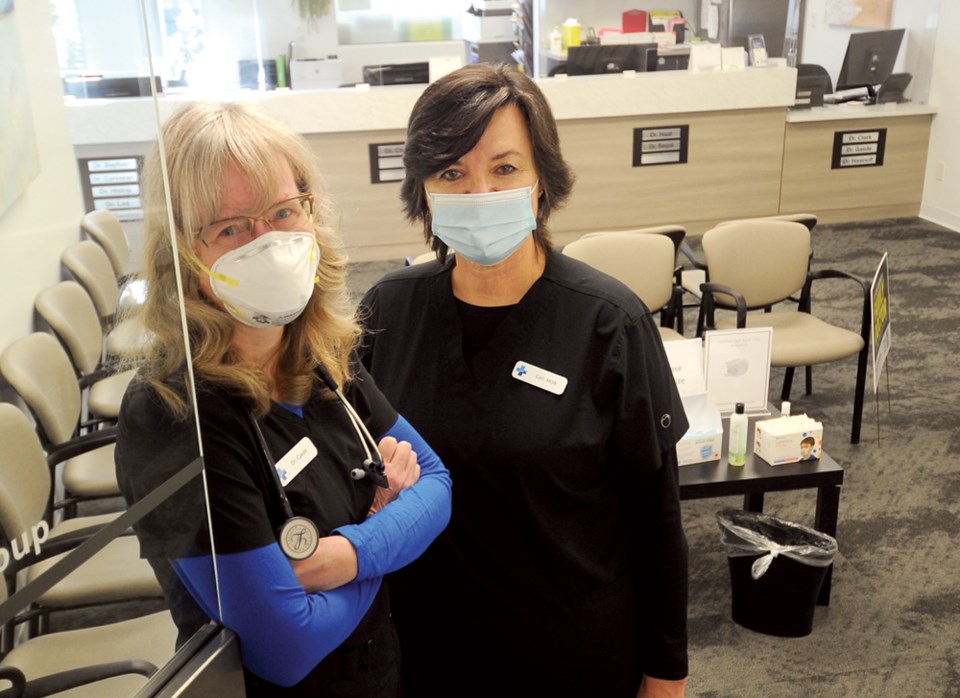 'It's like if teachers had to pay for the schools'
"It's like if the teachers had to pay for the schools or the firefighters had to pay for the fire trucks and the fire station," said Gaede, who has seen doctors leave family practice to work as hospitalists.
According to Vancouver Coastal Health, there are currently 17 hospitalist staff doctors working at Lions Gate.
That work is better paid, said Gaede, and doesn't require the kind of unpaid after-hours administrative work family doctors put in.
"On the days I'm not working, I'm still checking my [patients' lab results] and following up on things," she said.
"Usually I have to spend several hours each day after seeing patients just doing my charting, getting their referrals ready, completing forms."
Doctors say the fee-for-service model they operate under is increasingly not working and hasn't kept up with costs doctors are expected to pay for with their fees, especially on the North Shore.
Doctors earn between $31 and $35 per patient visit, regardless of the complexity or number of the health care issues being discussed. Those haven't risen substantially in the past 20 years.
Meanwhile, costs of office space have skyrocketed on the North Shore and it's been difficult in a labour shortage to find staff willing to commute to the North Shore.
Overhead costs are 40 per cent of GP fees
Doctors used to assume about 30 per cent of their fees would go to overhead costs, said Dr. Maryam Zeinedden, a family doctor in West Vancouver. But now those overhead costs eat up easily 40 per cent.
All those factors have combined to make many doctors reconsider family medicine. "This is not an uncommon thing on the North Shore," said Zeinedden, who says she's been on the brink of quitting herself in the past.
"I've also personally lost my own family doctor," she added. "So even the doctors can't get doctors."
One of the ways the province has tried to deal with the lack of family doctors is through opening a series of "urgent and primary care centres," including one in North Vancouver, designed to take pressure off ERs by treating non-life-threatening but still urgent cases. Those centres also provide primary care for those without family doctors.
On the North Shore, the urgent and primary care centre on Esplanade is staffed with three doctors and three nurse practitioners Monday to Saturday, and one doctor and one nurse practitioner on Sunday.
But even at the urgent care centre, wait times are often as long as they are at the hospital's emergency department.
Physicians also worry that without the kind of "longitudinal care" patients get from a doctor who is familiar with their patients, preventative care will get pushed to the side and some serious problems could be missed.
"When you're just meeting someone for the first time, they don't have anything to compare you to, and that means it can be harder to know what is going on with their health," said Gaede. "When we know our patients over time, we are often able to catch things at an earlier stage, as we see changes over time."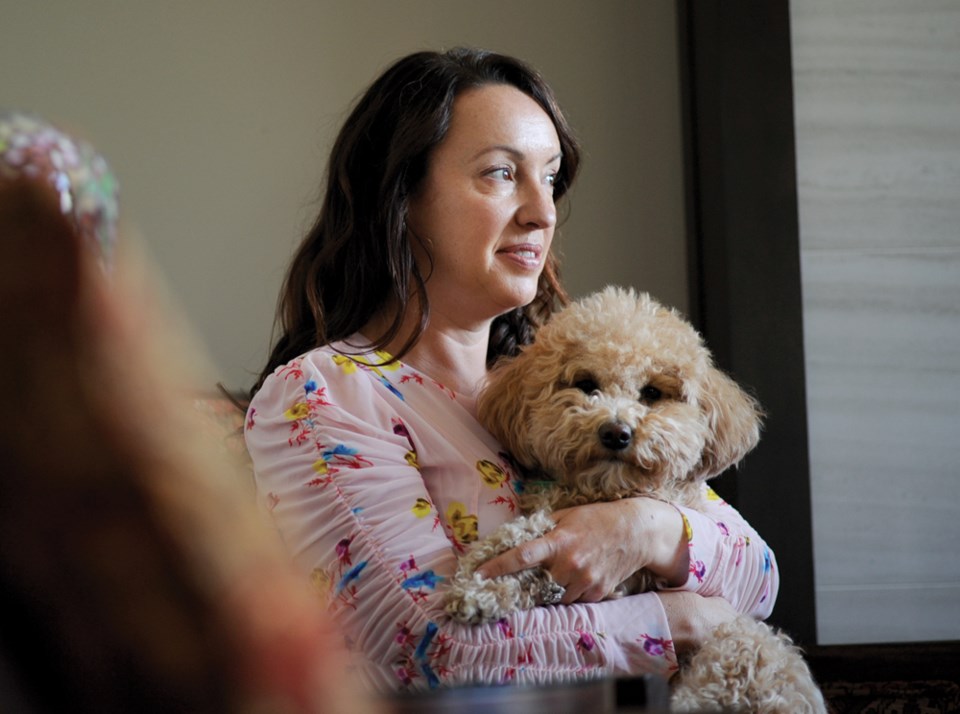 North Van mom runs the gauntlet in health-care search
North Shore mom Amy Rozier is one patient who recently found herself running the gauntlet of the health-care system, when a spider bite on her back became infected. At first, Rozier ignored it. "Then I started getting a fever and pain down my arm," she said.
Although she has a family doctor, Rozier knew there was no chance of a same-day appointment, so she decided to try a walk-in clinic. But appointments at all five "walk-in" clinics she visited were full. Next she went to her family doctor's office, where she was told there was nobody available to see her. They directed her to the North Shore's Urgent and Primary Care Centre. But the centre was showing a seven and a half hour wait, said Rozier. "As a single working mom, I can't go and sit for seven and a half hours," she said. Next she tried telehealth, but the next available appointment was a month away.
Eventually, she went to the ER at Mt. St. Joseph's Hospital in Vancouver, because it had the shortest wait time, where a nurse practitioner cut out the infection and prescribed antibiotics.
Five days later, however, the infection still hadn't cleared. Getting the prescription renewed was a further runaround, which led her to yet another medical clinic and a diagnosis of a staph infection.
Rozier said the experience was exhausting, and "I'm one of the lucky ones who have a family doctor."
"I've got a university degree. I run my own business. What about the person who isn't technologically savvy or can't afford all this time off work to chase down things?" she said. "I'm one of the fortunate ones and if I'm struggling, how the hell are other people doing it?"
Bowinn Ma, MLA for North Vancouver-Lonsdale, understands that frustration. "When you need medical care, you expect to be able to get it," said Ma. "It's sadly not the situation right now."
Ma spent most of her own adult life without a family doctor, before finding one through the GP link run by the North Shore Division of Family Practice.
Because there are limited options for walk-in care, the urgent care centre is seeing a lot of patients without family doctors, said Ma, which has created especially long wait times.
Specialists also impacted
The lack of primary care is being felt by specialists as well.
Dr. Kevin McLeod, an internal medicine specialist at Lions Gate Hospital, said about 40 per cent of his patients on the North Shore do not have a family doctor.
"Patients still need care and often end up seeing a specialist because there isn't another option," he said. "That's more expensive and plugs up specialist care."
McLeod said he's also seen a lack of family doctors lead to delayed diagnosis of more serious conditions. "Diseased states are diagnosed at more advanced stages," he said.
Still other patients turn to non-physician health professionals like naturopaths, because those are covered by their extended medical plans and it's possible to get an appointment.
While doctors have proposed changes to the fee-for-service model to acknowledge complex patient cases, there are no simple fixes for the lack of doctors choosing family practice, said SFU prof Hedden.
More community health centres, where overhead costs are borne by government or non-profit societies, staffed by teams of doctors and nurse-practitioners providing primary care, is one model she sees hope in.
Under that model, patients wouldn't have one family doctor, but would be followed by a team, she said.
"It can be difficult to set up, because it requires investment in infrastructure from somebody other than the physician," she said. "That's not something that's going to happen overnight."
Difficult to say no
For now, doctors on the North Shore say one of the hardest parts of their job is saying no to the constant emails, phone calls and pleading letters they get from would-be patients.
"I find it so hard to say no," said Gaede. "It causes me a lot of moral distress."
"Right now, unfortunately, it's a privilege to have a family doctor," said Zeinedden. "But it really should be a right."