Brown is the new green – at least when it comes to lawns in Metro Vancouver.
New watering regulations will come into effect May 1 this year which restrict lawn watering to one day a week during the most lenient stage of sprinkling restrictions. That's down from two days of lawn sprinkling previously permitted.
If dry conditions persist and it's deemed necessary to tighten the taps to conserve more water, under Stage 2 of the new watering regulations, residential lawn sprinkling won't be permitted at all.
Watering of trees, flowers and shrubs will still be allowed during early morning hours of 5 a.m. to 9 a.m. and at other times if using a hand-held sprinkler, soaker or drip hose.
The new regulations – in force between May 1 and Oct. 15 – will also split up allowable watering times for automatic irrigation systems and manually operated sprinklers.
Some municipalities will also be hiking their fines for midnight hosers caught sprinkling when they're not supposed to be.
Water sneaks an issue
According to a technical review of watering regulations by Kerr Wood Leidel for Metro Vancouver, "There is significant non-compliant lawn watering taking place outside of current allowable days and times."
To reach a targeted 15 per cent reduction in summer water demand, local governments will have to get tougher about enforcing sprinkling rules, according to that report.
Fines imposed on "grassholes" caught breaking watering rules vary across the region.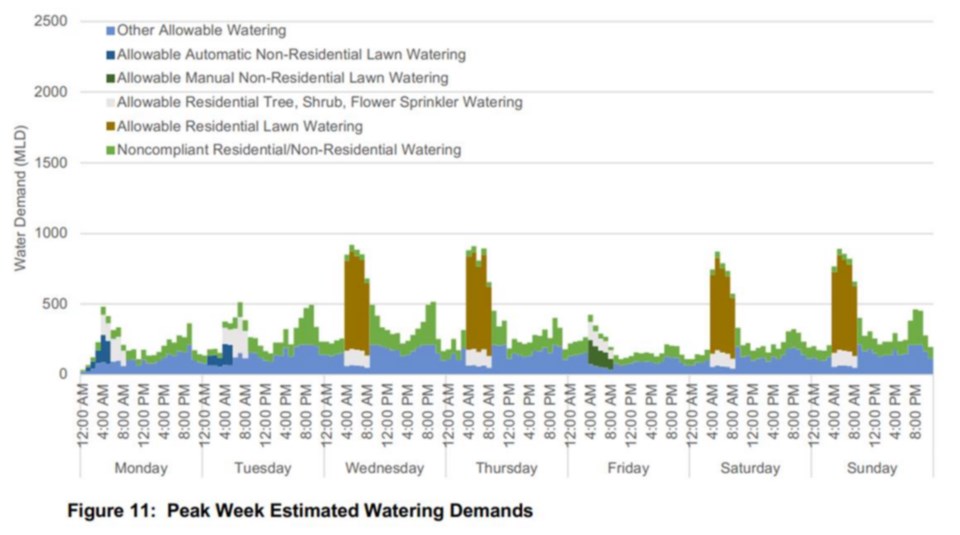 Fines for breaking sprinkling rules going up in some municipalities
Earlier this month, the District of North Vancouver council voted to increase tickets by between $50 and $100. Fines for those caught breaking the rules at various stages of restrictions there now range from $150 to $500. Previously, fines in both the city and district of North Vancouver were similar to fines handed out in Langley, for instance, but were lower than those in Burnaby and about half of what water sneaks in the City of Vancouver can expect to be fined.
The new sprinkling scheme is being put in place after the region dealt with unprecedented weather challenges, including a dramatic heat dome, in the summer of 2021.
Heat dome pushed water consumption sky-high
That heat dome, which hit at the end of June, caused an earlier-than-usual spike in water consumption, hitting 1.79 billion litres a day on June 27 last year. That was just shy of the all-time record for water consumption – two billion litres of water in a single day, set in 2009.
High water use continued to the end of August last year, with more than 40 days where consumption throughout the region was higher than 1.5 billion litres a day, compared to an average of 14 days in the past three years, according to Metro.
The region was able to meet summer demands for water last year due to an unusually high snow pack. But staff have noted that can't be counted on every year.
Long-range climate projections show the region can expect longer summer dry spells and decreased winter snowpack, according Marilyn Towill, general manager of water services, for Metro.
And while water use per capita has been falling for more than a decade, that trend is now levelling off, said Towill, while increased population growth in the region has continued to push the overall water demands higher.
Water use doubles in summer
As water use typically doubles in the summer and almost all of that is due to lawn sprinkling, reducing allowable sprinkling times is considered one of the most effective ways of kinking the hose on demand.
In 2018, changing the watering regulations to cut the number of watering days from three to two per week resulted in a noticeable reduction in consumption.
By cutting water use earlier in the summer, Metro water czars hope to avoid having to move to more restrictive stages in the water conservation plan, which can impact the ability of businesses like golf courses and commercial car washes to operate.
Residential water meters considered 'best practice'
So far another solution to curbing water use – installing residential water meters and charging fees based on consumption – has been a measure only a few municipalities, including West Vancouver, Richmond, the City of Langley and have been willing to consider. The University Endowment Lands also have water meters for single-family homes.
"We do support it as best practice," said Towill. But she added, "It is a decision made at a local level. It's a decision that does have financial implications."
Some other municipalities have water meters for single-family homes, but still charge a flat fee for water, regardless of consumption.
Municipal councils throughout the region are now in the process of bringing their own bylaws and regulations in line with Metro's new watering rules.
The District of North Vancouver council, for instance, approved the changes earlier this month.
Under the new rules, residential watering will be allowed on Saturday for even-numbered addresses and on Sunday for odd-numbered addresses at the following times:
5 a.m. to 7a.m. for automated lawn watering
6 a.m. to 9 a.m. for manual lawn watering