The City of North Vancouver is warning residents one of its most highly travelled roads is about to become a major bottleneck for traffic well into the summer.
Immediately after the Family Day long weekend, Marine Drive will be reduced to one lane in either direction at Fell Avenue while crews replace the 1952 Mosquito Creek Bridge.
"It's currently at the end of its life. It's showing signs of deterioration and preparation work is complete so we can now proceed with construction," said project manager Luke Gillies, in a final update to city council Monday night.
When the new bridge is finished, it will have four vehicle lanes plus bus priority lanes, better pedestrian and cyclist facilities, and a new multi-use path running under Marine Drive to connect with Mosquito Creek Trail. But all of that is expected to take a year to complete.
With 24,000 vehicle crossings per day, that section of Marine Drive is second only to Highway 1 in terms of carrying east-west traffic (81,900 average annual daily traffic measured at Westview Drive.)
"We really do need to be encouraging people to take alternate routes," said Mayor Linda Buchanan.
City staff anticipate most drivers seeking a bypass will choose West First and West Second streets, so the city has adjusted the traffic light at First and Fell to maximize throughput for east-west drivers and cyclists.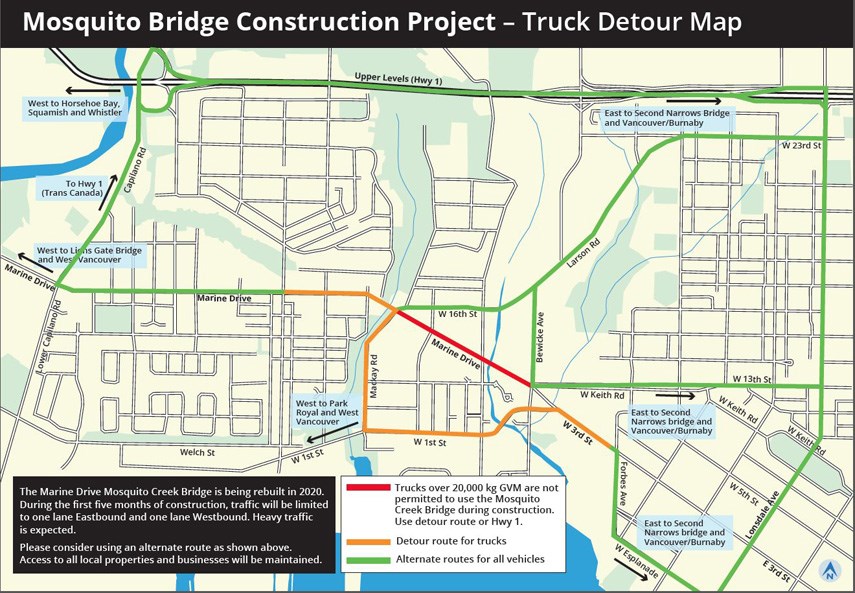 Roughly 50,000 transit passengers pass through the Marine Drive corridor per day, according to the city.
TransLink's new R2 RapidBus is expected to start service in April, mid-way through the first phase of the project.
But even city staff don't yet know how the R2s will keep to their schedule.
"That's yet to be determined," said Brian Willock, manager of engineering, planning and design for the city. "We've been working with TransLink throughout the planning on this project. TransLink are our funding partner."
While it will be a pinch point, buses will have a queue-jumper lane they only have to share with right-turning drivers and they will be given advanced greens at the traffic signal.
"We need to make sure that that R2 is as fairly free flowing as it can be so that we can actually meet – as best as we can – the time expectations for that bus, because we have been prepping for that across the entire North Shore for many years now," Buchanan said.

After five months, the first phase of the project will be complete and two new lanes will be opened, according to staff. The second phase will be the completion of vehicle and bus lanes, and is expected to last another five months. The final phase will see the pedestrian and cyclist infrastructure come online over two more months.
Drivers of trucks over 20,000 kilograms must divert at Mackay Road and West Second Street.
During construction, westbound cyclists will lose their painted bike lane and will be required to share the one westbound lane with vehicle traffic. Buchanan asked staff to go back and find an alternative before something "catastrophic" happens. Eastbound cyclists will have access to the temporary pedestrian bridge on the south side of the project, although they are asked to slow down or dismount.
Gillies said staff considered diverting all eastbound traffic down to First, allowing two westbound lanes to remain open, but the delays to eastbound traffic weren't worth the tradeoff. Staff also considered shortening the duration of the job by allowing for 24-hour construction work, but it was thought it would produce unacceptable levels of noise for residents of nearby condos.
Since 2018, the budget for the project has grown from $8 million to $13 million. A federal grant will cover $3.87 million of the total. TransLink has also chipped in $1.65 million.