Lynn Valley senior Jaye Edwards has attended plenty of Remembrance Day ceremonies, but never once in her capacity as a veteran.
Today, the 100-year-old Lynn Valley woman is one of only three surviving female pilots to serve the British in the Second World War. From 1943 to 1945, Edwards was a member of the Air Transport Auxiliary, a civilian outfit that employed more than 160 female pilots who became known as the "Attagirls" to transport military planes for the Royal Air Force.
Edwards had some up-close experiences with planes growing up in Kent in the 1920s, including seeing her mother off on a flight to Paris and crashing her bicycle because she was distracted by a "barnstormer" landing in a nearby field. But it wasn't until April 1939 that she responded to an ad in the newspaper from the National Women's Air Reserve offering cheap flying lessons.
"It seems silly now but maybe I was a little bit of a renegade. … I never fit in, so I had to find something else to do," she said. "I don't want to say I'm wonderful but I was a little different."
She took the classes and passed her solo flight test but, by the time her licence arrived, she and every other civilian in the United Kingdom was banned from flying.
"I received it the day after war was declared," Edwards said.
At the time, there were no positions for women in the cockpit so Edwards studied nursing and went to work in a hospital, but, she said, it was never the right fit for her. The RAF began accepting women in the Air Transport Auxiliary in 1941. Eventually she applied to and was accepted in the ATA, which was by 1943 welcoming female pilots with even limited flying experience.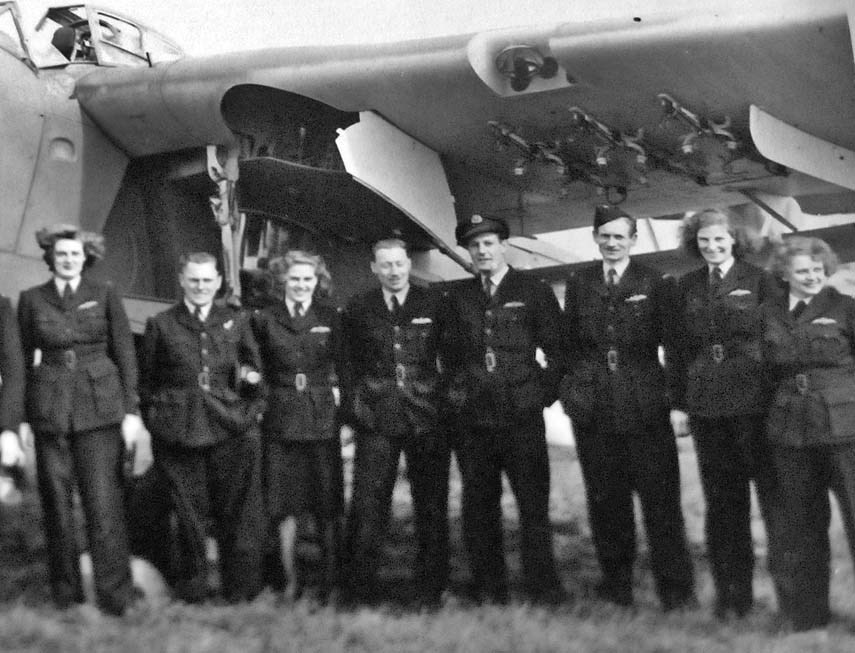 Every morning, Edwards would arrive at the airfield to be assigned a flight for the day, including a plane and a destination. Most often it was from the factory where they produced the aircraft to the RAF base where they would be deployed.
If they'd never flown a particular plane before or if they needed a refresher, they'd be given the flight manual, which they would study before takeoff.
The maps they were given contained no written names, lest they became valuable intel in the hands of the enemy, so the pilots were expected to use the physical geography to help guide them safely to their destinations and home.
During the war, Edwards flew 20 different planes, most of them single-engine fighters like the Spitfire or Barracuda, although she also took the yoke of some twin-engine bombers. The Spitfire was a "fabulous" plane, Edwards said, but she much preferred the more demure options in the RAF's hanger.
"I was not an aerobatic flyer. The first time my instructor tried to show me a stall turn, I was sick and that wasn't fun. She never tried again and I never tried again because my stomach just said 'No, thank you,'" Edwards said with a laugh. "I felt at home in the Hurricane. I felt it was friendly."
More than 150 ATA members were killed in active duty during the war, a little more than one in 10 of the entire crew. Edwards said she never felt much personal danger, even though her duties took her into some hairy weather on occasion.
Once on a mission to Edinburgh, she was warned there was a snowstorm blowing through but was told it would have passed by the time she arrived. Edwards flew out over the Firth of Forth and found herself lost in thick fog with her wings icing up.
"But airplanes are born to fly. Take your hands and feet off, it will fly. A little power and a little turn and that should take us back where we started from," she said.
Edwards was discharged from the ATA in September 1945 and it was the end of her flying career. That was the case for almost all the Attagirls, according to Jerry Vernon, president of the Vancouver chapter of the Canadian Aviation Historical Society.
"They were used in the war when they needed them and after the war, a lot of them had a hard time even getting a job in aviation," he said.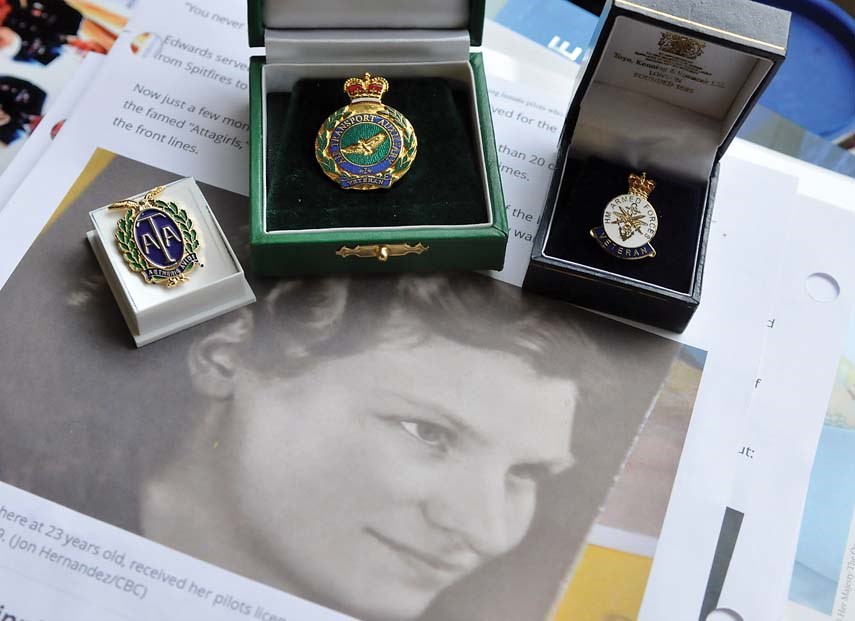 Vernon said he is aware of only six other Canadian Attagirls, although the U.S. Airforce employed a similar service called the Women's Airforce Service Pilots, or WASPs.
While their contributions might not be widely known today, they came to be respected at the time, Vernon added.
"You read these stories about guys who said they were amazed when a big bomber flew in and who gets out of it but a little woman – and that was the pilot. They couldn't believe it because these guys had been training for months to fly this airplane," he said. "I think they were well received."
Recognition for the Attagirls has been on an upward trajectory recently with a flurry of news stories about the death of 101-year-old Attagirl Mary Ellis in July.
In September, Edwards was invited by the organizers of the Aero Gatineau-Ottawa airshow and the British High Commission for the Canadian premiere of Spitfire, a documentary about the plane credited with helping to win the Battle of Britain. There, she met another notable aviator, Gov. Gen. Julie Payette.
And when she celebrated her 100th birthday at the Black Bear pub in Lynn Valley last month, she received a special greeting recorded by Canadian astronaut, retired Cmdr. Chris Hadfield, who had himself recently learned to fly the Spitfire.
Today, Edwards beams when she recalls what it was like to let slip the surly bonds of earth.
"To get up and get into the sunshine and the blue sky, it was peaceful," she said.
Her brother was unable to serve in the military, which left him with a deep sense of guilt. Oddly, Edwards carries a bit of guilt herself over how much enjoyment she got from her contribution to the war effort.
"Sometimes I wondered how much (my contribution) was because it was such fun, really and truly," she said.  "It's hard to express the feeling.
"You were doing a job and yet it was such a pleasure. It was unbelievable, almost."