Swaths of trees in the North Shore Mountains and Metro Vancouver watersheds are turning orange following an outbreak of a voracious insect.
The Western hemlock looper moth, a native species that defoliates trees, is common in B.C. but it especially likes to prey on the hemlock, Douglas fir, and red cedar found on the North Shore.
But there is no need to panic, at least not yet, said Babita Bains, provincial forest entomologist.
"There are a number of residents who have been alarmed by it," she said. "Yes, it's an outbreak, but it's a native species doing its thing. This is normal. It's part of forest succession and making sure that our ecosystems are revived naturally."
Outbreaks occur every 11 to 15 years when environmental factors cause their populations to spike. The larvae, or caterpillars, hatch in the spring and nibble on needles before their metamorphosis into moths.
"It's been just over 15 years since we have had an outbreak. So we are due for this," Bains said.
Not every tree that's turning orange will die though, she added. Those least likely to survive the outbreak are older, "over-mature" trees and those that were already under stress. That is part of the natural turnover of the forest, giving younger trees access to light, allowing them to grow taller and stronger, while the nutrients from the dead trees re-enter the soil.
Some stands of trees will fare better than others but, thankfully, 2020's wet summer means the trees haven't been experiencing water stress this year.
But a sudden spike in mortality for trees can raise concerns for humans – water quality, erosion, wildfire risk or blowdowns. For now, governments in hard hit regions on the South Coast are simply monitoring.
Bains said the province is doing aerial surveys but we won't likely know until next year what the level of tree mortality will be.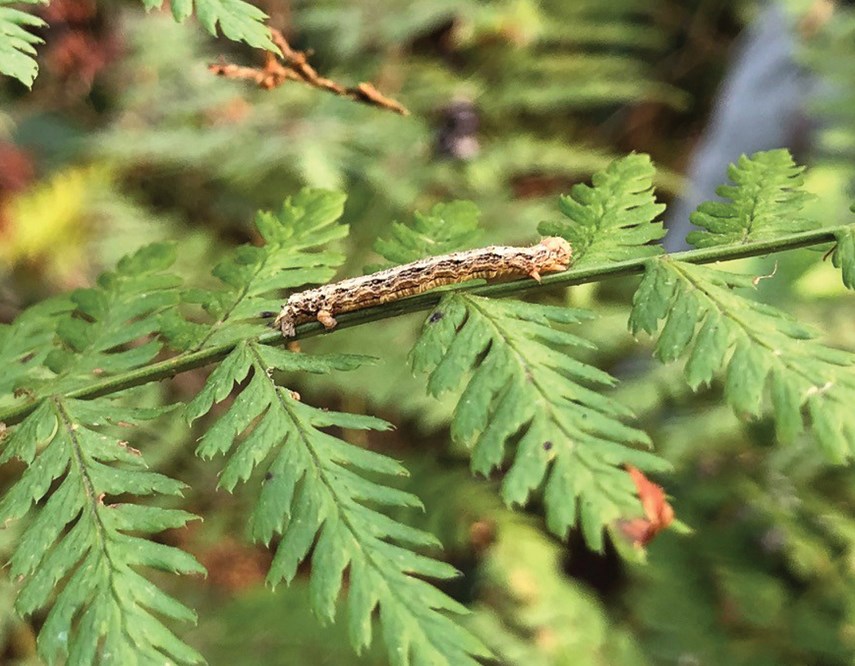 If the moth appears to be getting out of hand in 2021, the province does have the option of using BTK – a bacteria-based spray that is toxic to caterpillars but not to other species, Bains said.
"If I were to eat BTK, or a bird or a spider or a fish were to, it actually has no impact. It only is activated in the caterpillar's gut," she said. "It's a very safe option."
If there are individual dead or dying trees that are posing a threat, residents should let their municipalities know, Bains said.
The bugs are now reaching the end of the caterpillar phase and will soon begin emerging as moths, so people should brace for large numbers of them when they turn the porch lights on, Bains said.
Environmental factors like parasites, viruses, predators and weather all can bring their population back down again, and most likely will before long, Bains said. The current outbreak began two years ago.
"After about three to four years, the numbers will just naturally drop and we'll go back to an endemic normal level where we don't notice the damage like we are now," she said.