Health is wealth, and vice versa.
Following a 23-month fundraising blitz that yielded $100 million, Lions Gate Hospital is preparing to add a six-storey, 108-room tower that will replace the acute care centre.
The 200,000 square foot, $166-million tower should offer patients more privacy, serenity, and ultimately aid recovery times, according to head of cardiology Dr. John Vyselaar.
"The expectation is that the patients will get better faster," he said, noting fewer sleeping pills are prescribed in the HOpe Centre's calm environment.
Rather than having four patients share one room – as is the norm in the 1961-era centre – the new tower will feature individual rooms outfitted with a bathroom and shower. Private rooms allow for a level of confidentiality often unavailable in the current centre, according to Vyselaar.
"I can remember telling patients they need to go for bypass or for valve replacement surgery and everybody else can overhear," he said.
Patients should experience "a much quieter hospital," explained Keith McBain, executive director of LGH Redevelopment.
The "constant noise," unceasing overhead calls and bright fluorescent lights aren't very conducive to healing, McBain said, explaining that nurse calls won't be audible in the new tower.
However, the major reason for giving patients private rooms is infection control, McBain said. Ultimately, having private rooms should result in shorter stays for patients.
"Even a half a day [reduction] makes a big difference in terms of the capability of the hospital to take care of the population," he said.
The new tower is also slated to have larger operating rooms, which should be a boon to patients and staff, Vyselaar said.
"Space is at a premium in our current ORs," he said, explaining he sometimes needs to ask nurses to swap spots with him while assisting on cardiac procedures.
The equipment required to assist orthopedic and neurosurgeons is "only ever getting bigger," Vyselaar added.
The emphasis on new technology should help LGH recruit better physicians and nurses, who tend to favour hospitals with the latest technology, Vyselaar said.
If all goes according to plan, the hospital will be poring over construction proposals in time to have shovels in the ground by June 2020, according to McBain.
"We really want to make the hospital as forward looking as possible . . . because it's probably going to be a 100-year building," McBain said.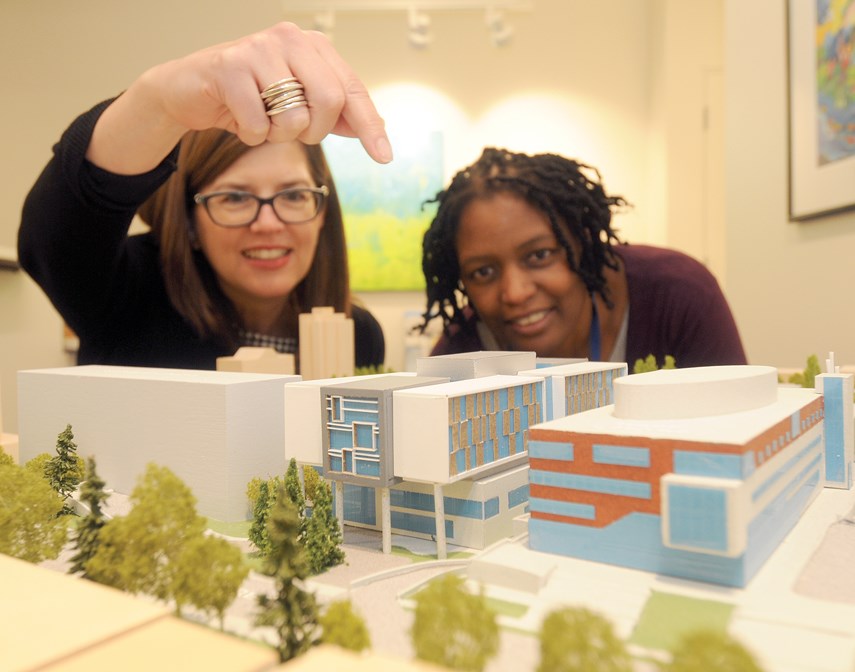 In an effort to anticipate problems before they happen, LGH recently erected a prototype patient room constructed from cardboard.
"It really helps people start to visualize potentially what it might look like," McBain said, explaining they revised the angle of a wall after realizing it could obstruct doctors and nurses in a challenging situation like a heart attack.
The new tower will likely be modeled on Royal Jubilee in Victoria, Surrey Memorial Hospital, and Humber River Hospital in Toronto, Ont., which is known as "the most technologically advanced hospital in Canada," McBain noted.
"Between the two sites we will have sufficient acute care capacity on the North Shore until the year 2030," he said.
The fundraising campaign got a jumpstart in the form of a $25-million donation from Keith Plumbing & Heating owner Paul Myers.
The foundation also received $7 million from Lalji Mansoor, $5 million from Nat and Flora Bosa, $5 million from Rosemary and Ian Mottershead, as well as another $58,337,740 from more than 6,000 benefactors.
Among those was a $64 donation from an eight-year-old who spent his summer collecting bottles, $4 million in estate gifts, and $200,000 from community groups.
"We knew it was very ambitious, but we also know that we have a very generous community," Campbell said of the $100-million target.
The credit for the largest fundraising drive in the foundation's history should largely be attributed to LGH's staff, said LGH Foundation vice-president Louise Campbell.
"Us raising $100 million had a lot to do with grateful patients and them recognizing the outstanding care they received from our health-care professionals," she said.
Upon completion of the new building, scheduled for 2023, patients will be de-camped from the old care centre, which will undergo a floor by floor renovation, Campbell said.
"The immediate has been met, but the need continues," she said.