This article has been corrected to clarify that the event was organized by the West Vancouver Chamber of Commerce.
Breakfast was served and the NDP was skewered at a partisan fireside chat with B.C. Liberal Leader Andrew Wilkinson Thursday morning.
A crowd of two-dozen West Vancouver Chamber of Commerce members paid $45 ($65 for non-members) to hear Wilkinson and fellow North Shore Liberal MLAs Ralph Sultan, Jane Thornthwaite and Jordan Sturdy opine on ICBC, landlords, and what Wilkinson described as the NDP's class-oriented, demonizing approach to taxation.
Noting that most of the attendees had gone through the process of exempting themselves from B.C.'s speculation tax, Wilkinson suggested the NDP's strategy relied on "identifying demons."
"It's a good way to generate stories about people who are deemed to be well off and how they are going to be kicked around a bit. That's good politics for the NDP."
Rather than forcing more properties into the rental market, the tax is a disincentive for landlords that will cause the province's rental supply – particularly in terms of home and basement suite rentals – to shrink, Wilkinson warned.
With a high cost of living and relatively flat wages, the best way to improve life for most British Columbians is to help them save money by cutting their taxes, he said.
"They need more disposable income," he said.
While conceding "this crazy government" has balanced the budget and overseen Canada's lowest unemployment rate, West Vancouver-Capilano MLA Ralph Sultan sounded a warning about what he judged as unbalanced economic growth.
Jobs have grown in health, education, arts and what Sultan called "the barista sector." However, Sultan said the NDP has operated as though a think tank devised ways to "screw the manufacturing sector." Sultan also noted job losses in the construction and resource sectors.
"Good heavens, are we going to have people living in West Vancouver who are employees of Starbucks and that will sustain the economy? I don't think so," Sultan said.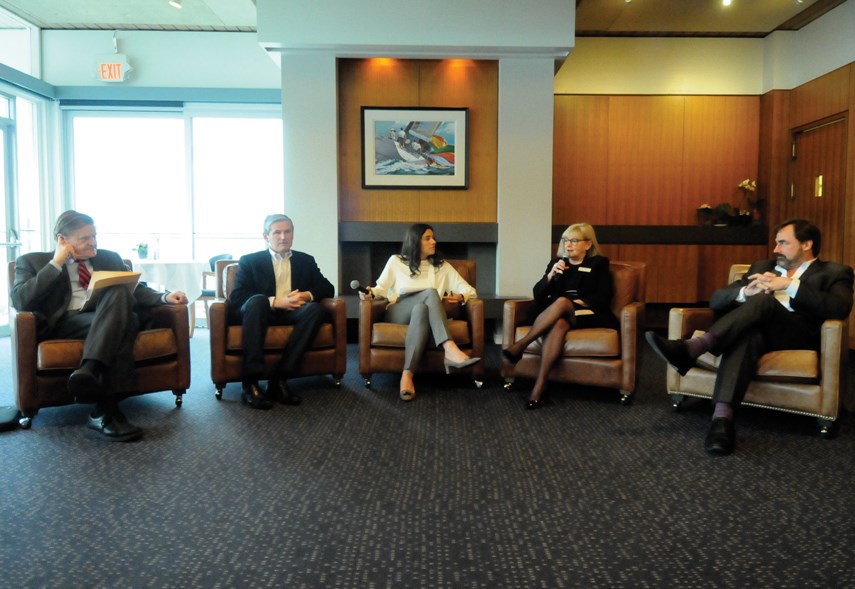 Wilkinson said he would "love to see" Metro Vancouver become home to more head offices and large employers. That may not include ICBC, as Wilkinson called for an overhaul of the "state-run beast."
"Sure there are a lot of jobs on the North Shore at the ICBC facility in North Vancouver, but it's not our job as the motoring public to support state-run monopolies just because they exist," he said.
On the issue of transportation, West Vancouver-Sea to Sky MLA Jordan Sturdy said he was "increasingly optimistic" B.C. was on the way to welcoming ride-hailing services like Uber and Lyft.
"We can't afford to be an outlier in what is really a reflection of a new piece of our economy," he said.
Wilkinson said he anticipated Metro Vancouver's population ballooning by one million with the bulk of that growth situated near rapid transit.
"It's not going to happen here. There's not going to be a SkyTrain line and 70,000 people coming to Eagle Harbour. Sorry."
Reflecting on disarray following the 2017 provincial election, Sultan thanked Wilkinson, who he said: "welded this group back into a singularity of purpose."
The Liberals have a record of individual representatives voting against party, North Vancouver-Seymour MLA Jane Thornthwaite said. "The NDP, they are actually trained seals," she said.
As the Opposition's critic on issues of mental health and addictions, Thornthwaite addressed B.C.'s opioid crisis. "Our ministers got (raked) over the coals on every single question period for any death that occurred," she said. "We're not like that, we're not going after (NDP MLA) Judy Darcy on a daily basis saying one more child died under your care; which is actually happening."
Events like the fireside chat are important for getting a sense of what the community has on its mind, Wilkinson said. "This crowd is fairly predictable in that they will go home and say they like what they heard and they think we're on the right track," he said.