While most of the North Shore's over 20,000 public school students are adapting to remote learning from home, about 40 kids are back at school, with different classmates, teachers and a distinctly changed physical environment.
These are the children of front-line health workers and emergency responders like police, paramedics and firefighters who need a safe environment while their parents are at work.
The government has ordered school districts to provide that as a first priority for essential service workers who need childcare in order to continue doing their jobs.
In West Vancouver, 18 students from age five to 12 are currently attending school at Hollyburn Elementary, while 20 children are doing the same in North Vancouver at Boundary Elementary.
In West Vancouver, school opens at 7 a.m. and continues until 7 p.m., to accommodate the types of shifts often worked by emergency service workers.
Students are grouped by age and grade and get lots of physical spacing within classrooms. Currently at Hollyburn, there are about five kids per classroom, each supervised by a teacher, said Sandra-Lynn Shortall, director of instruction.
"We've really spread out within the school," she said.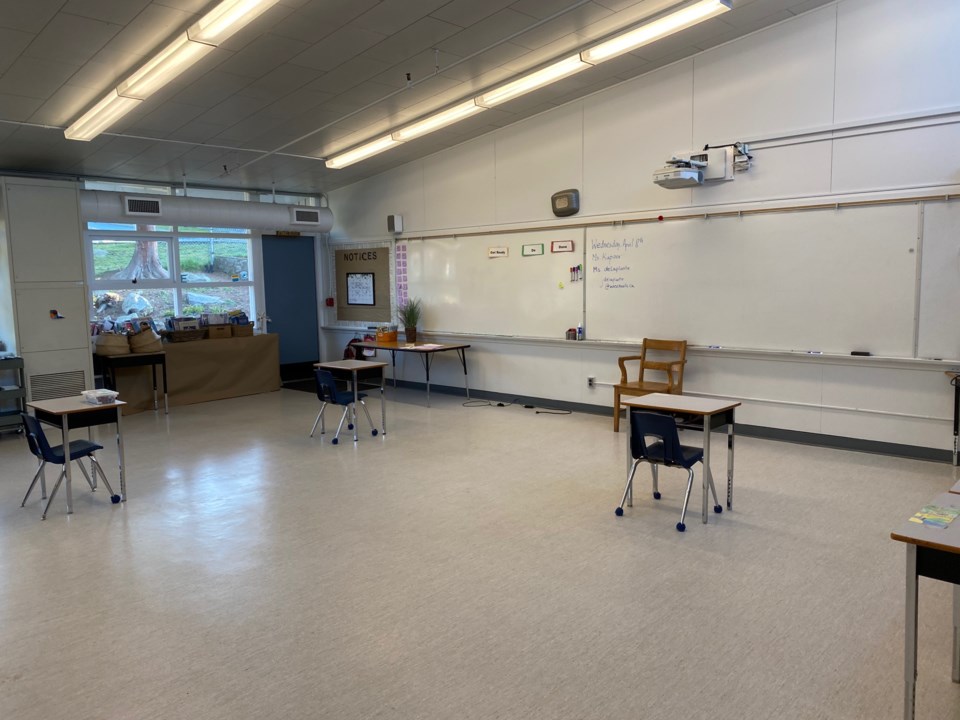 To help everyone keep a safe distance apart, "we've mapped everything out on the ground with tape," she said. Kids know to keep within their own "safety bubbles," she said. Many come from families where parents are already dealing with the COVID-19 crisis, so most are familiar with the ideas. The kids also get lots of safe outside time, said Shortall.
At North Vancouver, it's a similar situation. Childcare at Boundary has been provided for students Monday to Friday, approximately from 7:45 a.m. to 6:00 p.m., said Lisa Dalla Vecchia, spokeswoman for the school district. The school district is working to open up for longer hours in the coming week and may also open a second site, said Dalla Vecchia.
So far, educational assistants have been the primary staff running the program.
Once children of the most essential service workers have been placed, school districts will likely consider other applications, such as those from municipal workers and other service personnel, who aren't able to work from home.
Students with special needs who need extra support that the school system usually offers will also be accommodated where possible.
Although the temporarily school setup isn't what anyone is used to, Shortall said students and teachers are making it work.
"We've kind of shaped the day based on the regular school day," she said. "They've slotted into this new rhythm."
Seeing how resilient and adaptable kids can be in the face of sudden change is heartening, she said. "We know there are a number of families who are juggling quite a lot right now."
"It's been a happy, positive space. It feels good here."