While many Canadians spent Thanksgiving Monday making the perfect turkey dinner, the Vancouver Canucks were cooking up something else: their opening day roster.
Then, on Tuesday, they messed with the leftovers a little, to overextend a metaphor.
So, after all the training camp battles, surprising cuts, and an unexpected trade, the Canucks have their roster as they head into their season opener on Wednesday. There's really just one question left: is their roster any better than last season's roster?
Let's look at the Canucks' opening day roster from the 2020-21 season to remind you of the starting point. I've arranged them into lines, though it should be noted that Jordie Benn and J.T. Miller missed the start of the season, so these are not the actual lines and scratches from their season opener on January 13 against the Edmonton Oilers.
The 2020-21 Vancouver Canucks
Forwards
J.T. Miller - Elias Pettersson - Brock Boeser
Tanner Pearson - Bo Horvat - Nils Höglander
Antoine Roussel - Adam Gaudette - Zack MacEwen
Tyler Motte - Jay Beagle - Brandon Sutter
Extras: Jake Virtanen, Loui Eriksson
Injured/Non-Roster: Jayce Hawryluk
Defence
Quinn Hughes - Travis Hamonic
Alex Edler - Nate Schmidt
Jordie Benn - Tyler Myers
Extras: Olli Juolevi, Jalen Chatfield
Goaltenders
Thatcher Demko
Braden Holtby
The roster has had some serious turnover in the last nine months. Of these 25 players, 12 are no longer with the Canucks organization. Two more — MacEwen and Hamonic — have been waived and sent down, so that's over half of last season's opening day roster gone to start this season.
Let's make like a student studying for their SATs and compare and contrast. Here's the opening day roster for the Canucks this season, arranged into lines based on how they practiced on Tuesday.
Forwards
J.T. Miller - Elias Pettersson - Alex Chiasson
Tanner Pearson - Bo Horvat - Connor Garland
Matthew Highmore - Jason Dickinson - Nils Höglander
Justin Dowling - Juho Lammikko - Vasily Podkolzin
Extras: Nic Petan
Injured/Non-Roster: Brock Boeser, Tyler Motte, Brandon Sutter
Defence
Quinn Hughes - Tucker Poolman
Oliver Ekman-Larsson - Tyler Myers
Brad Hunt - Luke Schenn
Extras: Jack Rathbone, Kyle Burroughs
Injured/Non-Roster: Guillaume Brisebois, Brady Keeper
Goaltenders
Thatcher Demko
Jaroslav Halak
Some things remain the same; other things are profoundly different.
The entire top-six returns from last season, though Boeser is questionable to start the season and Höglander has been bumped down a line. Demko is back as the starting goaltender with a veteran backup. That's about it for things that are the same.
The entire bottom-six forward group is different from the start of last season thanks to Motte and Sutter being out. The defence has gone through a massive overhaul, with only Hughes and Myers returning from the start of last season.
So, the Canucks are very different; are they better?
Let's take out the returning players and compare the different players side by side to see if we can suss out the answer to that question. Let's start with the forwards.
Past vs Present: Canucks Forwards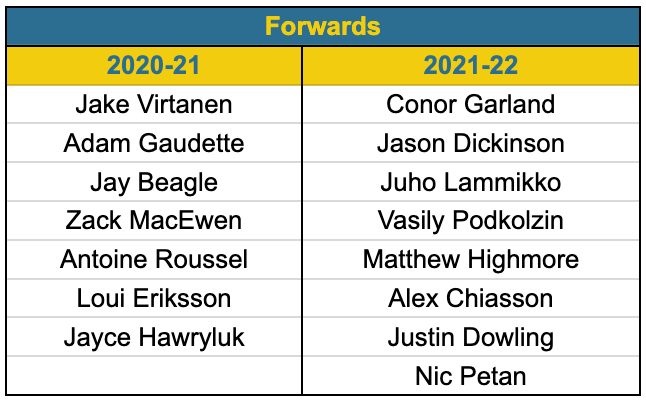 I've arranged the players so that they are next to their approximate equivalent on the other roster, whether by role or style. It's not perfect, but it might aid the comparison.
Immediately, the forwards look a lot better.
Garland is a clear upgrade on Virtanen — it's not even close. Dickinson has less offensive potential than Gaudette but fits his role as a checking third-line centre much better. Lammikko is at least equivalent to Beagle and is much younger. Podkolzin should be better than MacEwen, though his preseason showed that he still needs some time to adjust.
I think Roussel is better than Highmore and Hawryluk is likely about the same as Dowling or Petan. Eriksson barely played last season and it remains to be seen how much Chiasson will play once Boeser returns to the lineup. At the very least, Chiasson will likely score more than the zero goals Eriksson scored last season.
If Boeser takes longer to return than expected, the Boeser-Chiasson comparison isn't favourable for this season's team.
Still, it's pretty clear: the forwards have been significantly upgraded. It's easy to quibble with some of the decisions at the bottom of the lineup, such as keeping Dowling, Highmore, and Petan while losing Jonah Gadjovich on waivers and cutting Phil Di Giuseppe, Zack MacEwen, and Will Lockwood, but this still looks like an improved forward group from last season.
Let's turn to the defence.
Past vs Present: Canucks Defence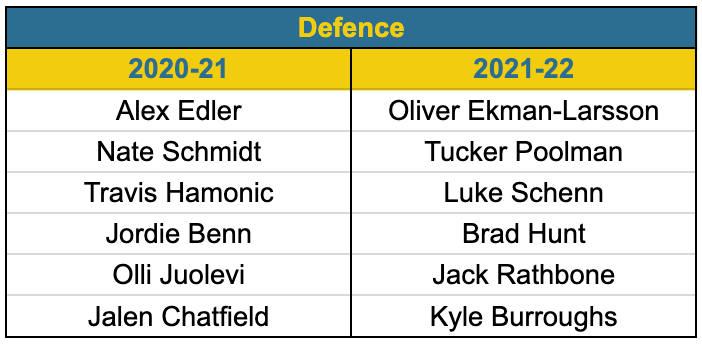 This is really hard to judge, but let's start at the top.
It's easy to say that Ekman-Larsson is a clear upgrade on Edler but the reality is a little muddier than that. There's an analytical argument to be made that Ekman-Larsson is, in fact, a downgrade on Edler.
Schmidt and Poolman are a tough comparison too. Poolman is arguably better defensively but much, much worse offensively.
Perhaps the comparison can be made more clearly if we look at roles. Edler and Schmidt were used as the team's shutdown pairing last season, playing the toughest minutes on the team while generally limiting scoring chances against.
It's likely that Ekman-Larsson will take up those minutes alongside Myers, which is concerning as Ekman-Larsson has had troubling defensive numbers for several seasons with the Arizona Coyotes, even as he started playing easier minutes. The idea of Myers in a shutdown role is even more concerning.
Poolman, on the other hand, was originally set to play those shutdown minutes with Ekman-Larsson but will now start the season with Hughes. That could be a strong fit for the stay-at-home defenceman, though he has sometimes struggled against top competition. While Poolman is no Chris Tanev, he should be better defensively than Hamonic was last season.
If we switch up the comparisons and say that Poolman is an upgrade on Hamonic, we're left comparing Schmidt and Schenn. No matter what you might think of Schmidt's struggles last season with the Canucks, Schenn is a clear downgrade. Schenn is a downgrade on Hamonic too, for that matter.
At the bottom of the lineup, Hunt is likely a slight upgrade on Benn and the Burroughs/Chatfield comparison is a wash.
The big upgrade is Rathbone over Juolevi. It's unclear whether Hunt or Rathbone will be in the starting lineup on Wednesday but Rathbone could be a difference-maker this season.
It's hard to say whether the Canucks are better on defence. The top pairing of Hughes and Poolman is theoretically better than Hughes and Hamonic but the second pairing will really depend on whether Ekman-Larsson will thrive in a new environment in Vancouver compared to Arizona.
The third pairing is better on the left side — Hunt and Rathbone are better than Benn and Juolevi — but worse on the right side.
Overall, I'm hesitant to say that the Canucks' defence is better than it was at the start of last season. It all comes down to that second pairing.
Finally, there's the goaltending.
Past vs Present: Canucks goaltending

Holtby was coming off an .897 save percentage — the worst of his career — when he signed with the Canucks last season. Somehow, he was even worse with the Canucks, posting an .889 save percentage.
Halak had a .905 save percentage — second-worst of his career — and is older than Holtby. Of course, his .905 save percentage came with a defensively stingy Boston Bruins team compared to Holtby's more free-flowing Washington Capitals.
There's a chance that Halak struggles with the defensively permissive Canucks but it would be awfully difficult for him to be worse than Holtby last season. Let's call this an upgrade.
So, are the Canucks better?
Let's put it all together: at forward, the Canucks should be significantly improved, particularly with the addition of Garland and Dickinson. The hopefully quick return of Boeser and Motte to the lineup will help immensely.
At defence, it's a lot less clear whether they've improved, primarily because the Edler-Schmidt pairing was actually pretty effective in a shutdown role last season and it's unclear how Ekman-Larsson and Myers will handle those minutes.
For what it's worth, The Athletic, based on Dom Luszczyszyn's model, rates the Canucks' defence as the worst in the NHL, and that was before Hamonic didn't show up to training camp and got waived; the Canucks defence was rated 14th heading into last season.
In net, however, the Canucks should be a little more confident when their backup starts, as Halak should be better than Holtby.
There are three key ways the Canucks will be better than last season. The improvements up front and in net could make up for the decline on defence. Ekman-Larsson could be far better in Vancouver than he has been in Arizona for the past several seasons. Or, and this is a big one, Pettersson and Hughes could take a major step forward and be a significant improvement on themselves.
My vote? They're better. The upgrade at forward is significant enough to be a major game-changer and the early returns on Ekman-Larsson look promising. I'm also a little higher on Poolman than others and think he could be a fit with Hughes. Most importantly, Pettersson and Hughes look poised for massive seasons.
What do you think?