B.C. Premier John Horgan used a campaign stop at North Vancouver's Seaspan Shipyards Friday morning to tell the federal government a contract to build a new polar icebreaker is "critical" for the future success of B.C.'s shipbuilding industry.
Horgan said he has written to Prime Minister Justin Trudeau and stressed the importance of Seaspan being awarded the contract for the icebreaker to the growth of B.C.'s shipbuilding industry.
"I believe if we're going to have a national shipbuilding strategy it has to focus on British Columbia, it has to make sure that our coastal communities can benefit from the work that's happening at the national level," he said.
The polar icebreaker – being built to replace the aging CCGS Louis S. St-Laurent – was originally part of the non-combat package awarded to Seaspan in 2011. But last year, Ottawa took that off the company's order book – replacing it with a series of smaller multi-purpose vessels – and announced it was re-opening bidding to include other shipyards, notably Davie Shipyard in Quebec.
Davie has already provided Ottawa with the interim naval supply ship – which it is leasing to the government – while the government waits for Seaspan to build the massive joint support ships.
The Quebec shipyard has also been awarded a $610-million contract to build three "interim icebreakers" for the Coast Guard.
The government has not said when it will award the contract for the icebreaker, while the cost of the ship – last estimated at $1.3 billion – is under review.
In recent months, Seaspan has announced partnerships with two Canadian companies in a bid to win the icebreaker contract back – Ontario-based Heddle Shipyards and Genoa Design International Ltd., based in Newfoundland.
If Seaspan wins the bid, Heddle will build some modules containing ship systems at its three Ontario shipyards, then ship them to North Vancouver for final assembly of the icebreaker at the West Coast shipyard. Genoa, which has already worked with Seaspan on three Coast Guard fisheries vessels, will provind 3D modelling and design for the icebreaker.
"I believe that Seaspan and the shipbuilding industry here in British Columbia deserve support, and I made that abundantly clear to the prime minister," said Horgan, adding "27,000 people work in and around this company, and 450 different businesses face procurement decisions. And that's critical to our success."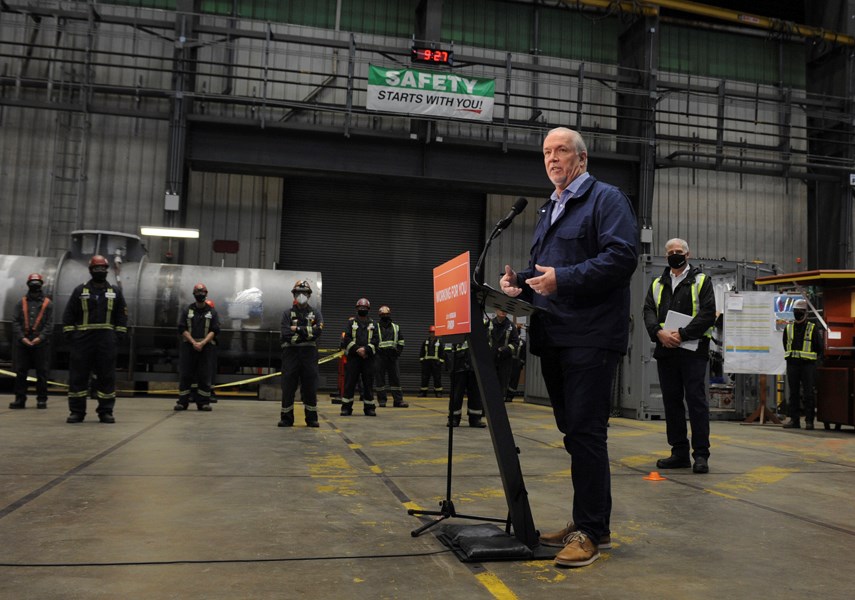 Horgan said he also reminded Trudeau of a previous federal government commitment to build a polar icrbreaker at Versatile Shipyards in 1988 that ended up being cancelled at the last minute.
Horgan also promised a re-elected NDP government will create a B.C. Shipbuilding Strategy that will involve investing government funds in capital infrastructure upgrades that will allow B.C. shipyards to become more competitive.
The program would involve "investment in infrastructure to get us to the next level so that we can continue to be successful in bidding for national programs as well as international programs, and perhaps, hopefully someday in the future, making sure that B.C.-used vessels are made here in British Columbia," Horgan said.
No dollar figures were included in Horgan's announcement.
Horgan said the government could tap into two already-announced funds – B.C.'s recovery investment fund as well as a strategic investment fund, "that would have government investing in business opportunities as an equity participant."
Seaspan Shipyards is currently working on a multibillion-dollar project to build two massive joint support ships for the Royal Canadian Navy.
The contract includes $2.4 billion to build the two Protecteur-class support ships – a figure that rises to $3.1 billion when manufacturing of additional spare components for both the joint support ship and other navy vessels is factored in.
The first ship is expected to be delivered in 2023 and the second ship is expected to be finished in 2025.
The total joint support ship budget – which includes design and engineering work already completed at Seaspan, project management and contingency costs – is now pegged at $4.1 billion.