When Ryan Reynolds' Deadpool character is diagnosed with cancer, it's the District of North Vancouver's chief administrator's office he's sitting in.
When agent Scully says a heartfelt goodbye to her son in The X-Files revival, it's on the steps of Queen Mary elementary.
And when you see Dakota Johnson doing . . . whatever it is that happens in the Fifty Shades of Grey sequel, at least some of it will be on West Vancouver's Stearman Beach.
It's all part of the new golden age of Hollywood North as local jurisdictions report record filming activity, thanks in large part to the Canadian dollar hovering around 70 cents.
The District of North Vancouver hosted 87 movie, TV, and commercial productions in 2015 encompassing 212 filming permits and bringing $550,000 in revenue for the district (down from 2014 since the demolition of the old Lynn Valley library, which had been rented out for film production).
The City of North Vancouver enjoyed one of the highest bumps in filming activity in the Lower Mainland with 121 permits, up from 79 in 2014. Filming revenues put $190,000 in the city's coffers last year, compared to $178,000 in 2014. With an eye to the future, the city reduced its fees for low-budget indie films this year so that they won't be priced out of filming locally.
West Vancouver only recently hired a dedicated filming co-ordinator, but it too enjoyed in the boom, with 32 permits, and $58,000 in revenue.
Among the movies shot locally in 2015: Army of One, The Shack, Deadpool, We Are Besties and Midnight Sun, Star Trek Beyond, Birth of a Dragon and Shut In.
Perhaps most notable among TV shoots was the revival of The X-Files, but the North Shore saw many days of shooting for regulars Once Upon a Time, Man in the High Castle, Supernatural (now filming its 11th season locally), iZombie, The Flash, Arrow and Motive.
There was also one season of Mistresses.
"But they've gone back to Los Angeles. They tried one season here. The weather just messed up the actresses' hair too much," Alice To, the district's film liaison said with a laugh.
The two main payroll companies that work in the film business track which postal codes cast and crew paycheques are mailed to. For the two North Vancouvers, that totalled $78 million in wages last year. That doesn't include wages for non-unionized staff, or other expenses paid locally like catering, rentals, construction materials or other services.
Maybe not always to the liking of location managers and A-listers, film shoots tend to draw in fans hoping to catch a glimpse of their favourite stars, To said.
"We had one lady who brought her dog and her dog was called Mulder. She wanted Mulder to meet Mulder," she said. "That's the great interaction between the community and the film industry."
North Shore residents don't always appreciate their neighbourhoods being home to so much lights-camera-action. The most frequent complaint the city's film liaison Clare Husk said she gets is about the parking "circuses" – the industry slang for film production vehicle convoys. Unlike most jurisdictions, the city requires 72-hours' notice for neighbours when a circus is coming to town, Husk said, and the city deliberately discourages filming in certain "hot spots."
All three jurisdictions are expecting 2016 to be even bigger with Stephen Speilberg's adaptation of the Roald Dahl classic The BFG and the latest Pirates of the Caribbean shooting in local studios.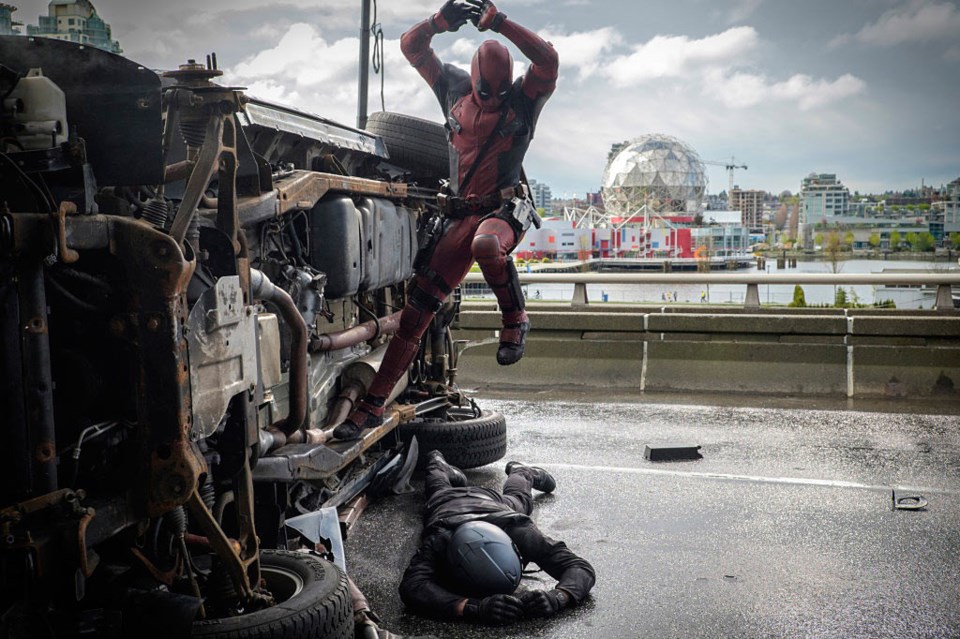 But the marquee years may not last. The industry is notoriously feast and famine and the province has signalled it is looking to rein in the tax credit regime that B.C. has used to woo so many productions.
Finance Minister Mike de Jong told the Globe and Mail this week that the province can no longer afford the almost $500 million in foregone revenues it currently subsidizes the local film industry with. Under the production services tax credit, 33 per cent of a production company's B.C. labour costs can be claimed to reduce the overall taxes owing. By comparison, B.C.'s biggest competitor for film dollars is Ontario, which offers 35 per cent.
North Shore Studios president Peter Leitch said he hopes the province will consider its return on investment and consult with leaders in the local industry before making any decisions.
"If there's any issue they've got with the credits, we want to talk with them because obviously there's a lot of benefits that come out of creating these jobs," he said. "When you're dumping a lot of money into the economy, as this industry does, it benefits a broad range of different small businesses. If you look at North Vancouver, there are hundreds of businesses that benefit from this industry."
An economic impact analysis commissioned by the Motion Picture Association of Canada found Once Upon a Time's production spent $55 million in its third season on everything from film crews to cleaners. The study concluded the show resulted in $8.44 in economic output for every dollar in tax incentives offered by the province. That one season of the show supported 1,117 full-time equivalent positions, about the same number of construction jobs as 467 new home starts would bring.
Leitch expressed optimism that an arrangement can be found that will work for British Columbians and his industry.
"We recognize it's going to fluctuate. We've seen it go up and down in the past," he said. "We want to see what their concerns are. We want to look at the numbers together and make sure they make sense for the province and the industry."
Outside the tax credits, the province has supported local film by setting up an office in L.A. as a "direct link" to established and new producers like Google and Netflix.
"That additional marketing is very helpful in terms of making sure we stay current and engaged with all the changes that are going on in Los Angeles," Leitch said.
Since the Lower Mainland started to gain a reputation as "Hollywood North" in recent decades, the region has developed in its own right and made itself more attractive to U.S. producers, regardless of the Canadian dollar or tax credit regime. And it doesn't hurt that we're in the same time zone as L.A., Leitch added.
 "Obviously the dollar is the same right across Canada. It certainly is a big help but we've built the infrastructure and the crew base here for the last 30 years. Also, we've been engaged with Los Angeles for that period of time. Those are important factors," he said.
Like guests in a hotel, productions can't be counted on to stay long term, so there's a constant need to win more productions. At least in the short-term, that's looking good, Leitch said.
"The good news is the phone is ringing all the time so there's demand there. It's just a matter of how it works out in terms of fitting the pieces together," he said. "It's good times right now. The good thing about the industry is we've been through this cycle before so we don't take them for granted."