Our unofficial, but sometimes very official, motto here at the North Shore News is: "Dogs, bears, and trees."
This past year, it was updated to: "Dogs, bears, bobcats, kittens, crows, pigeons, ducklings, coyotes, goldendoodles, terriers. …" You get the picture.
Our proximity to nature's creatures gives us some wonderful, and often wacky, stories to write about.
Here are some of our favourite animal stories from 2021: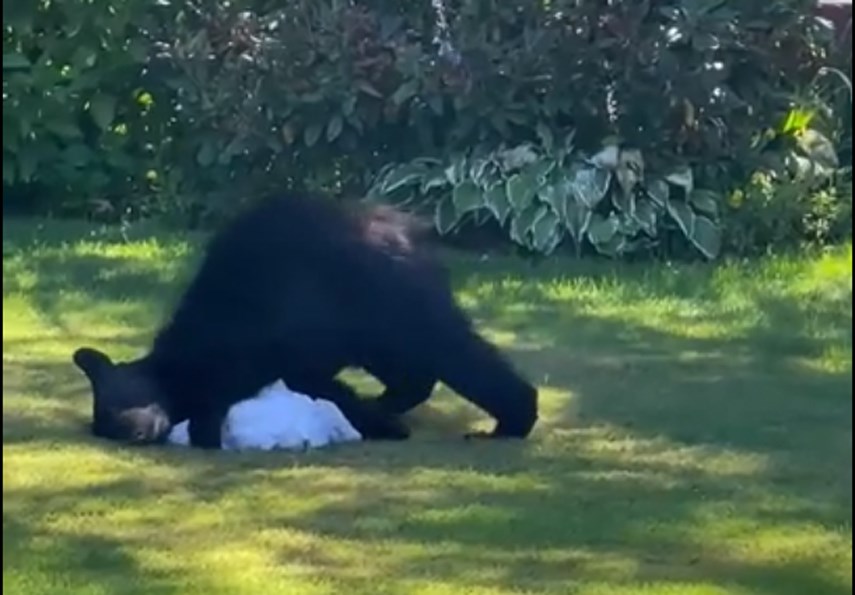 Video of laundry-snuggling North Shore bear goes viral
A video of a North Vancouver black bear frolicking in someone's line-dried laundry racked up thousands of views back in August.
The video, which was shared among friends and then posted to the Vancouver section of reddit.com, captured a young bear burying its face and rolling around in the freshly laundered linens.
Sales of spiky armour for small dogs spike following Metro Vancouver wildlife encounters
After a rash of cougar and coyote sightings and attacks in Metro Vancouver, the inventors of a specialized, spiky harness for small dogs saw a spike in sales.
Alison Columbus and Janice Voth invented their PredatorBWear harness after becoming disheartened by the number of small dogs they noticed were coming in for treatment following attacks from larger threats such as coyotes, raccoons and even bigger dogs.
Bear frightened couple into Capilano Canyon, North Van rescuers say
District of North Vancouver Fire and Rescue Services members pulled a couple and their mini goldendoodle to safety after a bear frightened them into a precarious spot in Capilano Canyon.
The couple had gone for a walk on the trails near the Capilano River Hatchery when they were alarmed by a run-in with a bear, according to assistant chief Jeremy Duncan.
Black bears tussle over prime tree spot in North Vancouver (VIDEO)
A pair of black bears that were captured on film jawing, climbing and rubbing against a fruit tree was likely a case of the bruins jockeying for position at a favoured local hangout, according to a North Vancouver bear guide and educator.
In the clip, two small black bears can be seen clamouring around either a cherry or apple tree near Highland Boulevard in the Edgemont neighbourhood.
Snowy 'Christmas miracle' on Grouse reunites beloved lost dog with North Vancouver owners
A beloved dog that was missing for two weeks in the North Shore mountains was reunited with her overjoyed owners – thanks to a observant ski operations team at Grouse Mountain Resort, a ride on a snow cat and a little help from a reindeer leash.
Luna, a three-year-old Jindo rescue dog from Korea, had only joined her North Vancouver family of Bianca Camacho and Kyle Silva in July.
Grouse Mountain Grizzly bears Grinder and Coola snooze through '20th bearthday' (PHOTOS)
Grouse Mountain's resident Grizzly bears Grinder and Coola snoozed through a beary big occasion –their 20th birthdays.
It's now been almost two decades since the bears were rescued when they were orphaned in the wild as cubs and brought to the Grouse Mountain Refuge For Endangered Wildlife, where they're still living their best lives today.
Pack of coyotes chases teen in West Vancouver
A West Vancouver mom warned neighbours in the Altamont area to be cautious after her 13-year-old son was chased by a pack of five coyotes near his home.
Coralynn Gehl said her teen left the house around 7:45 a.m. as usual to head to the bus stop on a Monday morning in October. But he hadn't gone far when he noticed four coyotes at the bottom of the street, standing in the intersection. A fifth coyote then came out of the bush. "And he said that's when they noticed him and started trotting up the hill towards him," said Gehl.
Big, beautiful bobcat visits North Vancouver backyard (VIDEO)
North Shore News reader Jen Gow sent in this video she took on Dec. 2 after spotting the lovely creature behind her home, which backs onto Lynn Creek.
"I was actually on a work call, and caught it out of the corner of my eye," Gow said. "I tried to maintain my professionalism. … I was trying not to squeak on the phone."
This was actually the second time in two years Gow has spotted a bobcat in her backyard.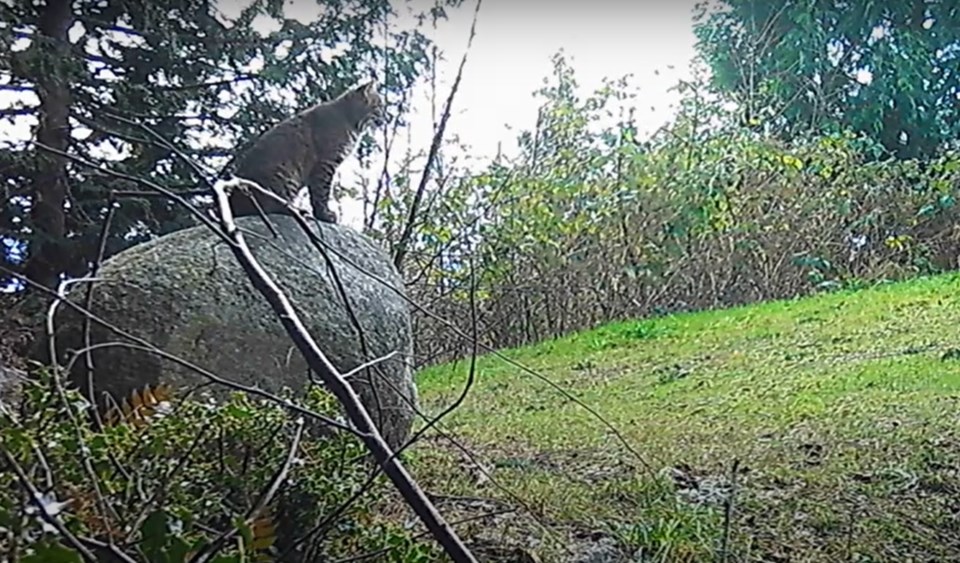 Bobcat and its kittens visit West Vancouver field (VIDEO)
A West Vancouver resident captured some sweet moments of a bobcat kitten near a field in December.
Daniel Fine was walking his dogs around the field near Twin Creek, just southeast of Cypress Bowl Road, when he saw two orbs of light reflecting in his head lamp.
Initially thinking it was his wildlife camera that he had previously set up, Fine walked closer, turned on his flashlight, and to his surprise revealed a small bobcat watching him and his dogs.
North Shore Rescue packs pooched pup out from Mount Seymour
North Shore Rescue volunteers packed a pooched pup and helped hypothermic hikers out of the Mount Seymour trails on a November afternoon.
NSR co-ordinated with District of North Vancouver Fire and Rescue Services and North Vancouver RCMP after they received a yelp for help from the trails, about 1.5 kilometres west of Mount Seymour Road.
Meet Neiko and Dreki, North Shore Rescue's newest canine recruits
After years of intense training Ryan Morasiewicz's German shepherd Neiko and Ellie Lamb's Belgian Malinois Dreki have both now been validated as search dogs, ready to sniff out lost and injured souls in the backcountry.
Morasiewicz, a 10-year North Shore Rescue member, has been training Neiko since 2019 when he washed out of police dog training for being too friendly. Dreki is the second dog Lamb has trained for NSR.
North Van crews rescue terrified terrier from cliff ledge
Proving yet again that no job is too big and no pup is too small, District of North Vancouver firefighters rescued a dog from a river's edge in late April.
District of North Vancouver Fire and Rescue Services received multiple 911 calls from folks on a trail just south of the Pipeline Bridge in Capilano River Regional Park, after their Wheaten terrier Omie slipped down a small embankment.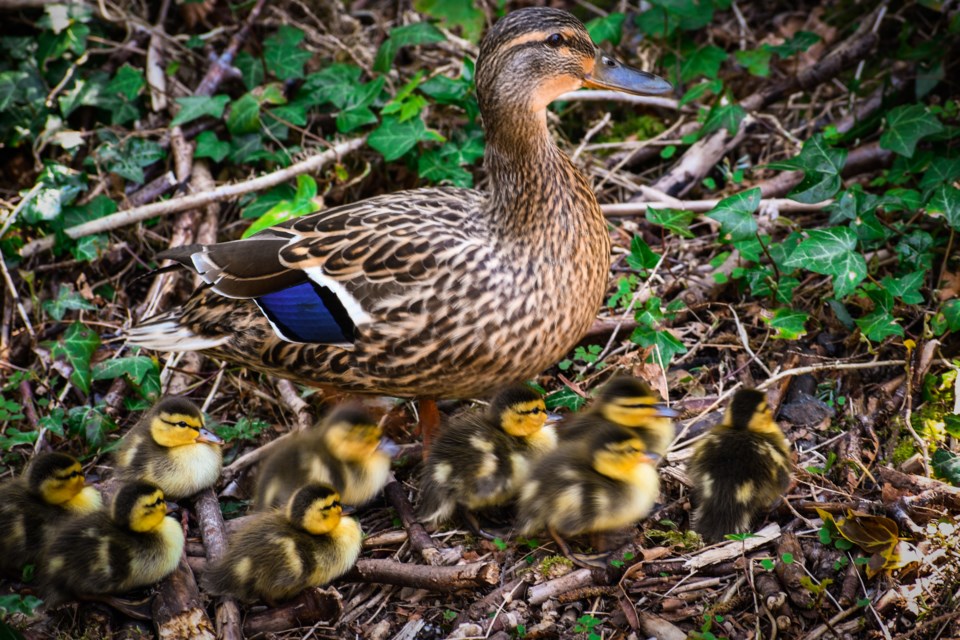 West Vancouver firefighters scoop 10 tiny ducklings from drain (VIDEO)
Ten little ducks went out one day and found themselves stuck in a West Vancouver pond overflow drain far away.
North Shore resident Heidi Von Pfetten was walking her pooch at the dog beach in Ambleside Park in April when she heard a mother duck go "quack, quack, quack, quack," and saw her become increasingly distressed when her ducklings didn't come back.
West Vancouver emergency crews save lucky pooch from canyon in Cypress Falls Park
A pooch is very lucky to be alive after falling into the canyon at Cypress Falls Park in West Vancouver.
The 85-pound Rottweiler, named Boss, was walking off leash with his owners just before sunset back in February in the park when he went off trail and took a very big tumble off the cliff face.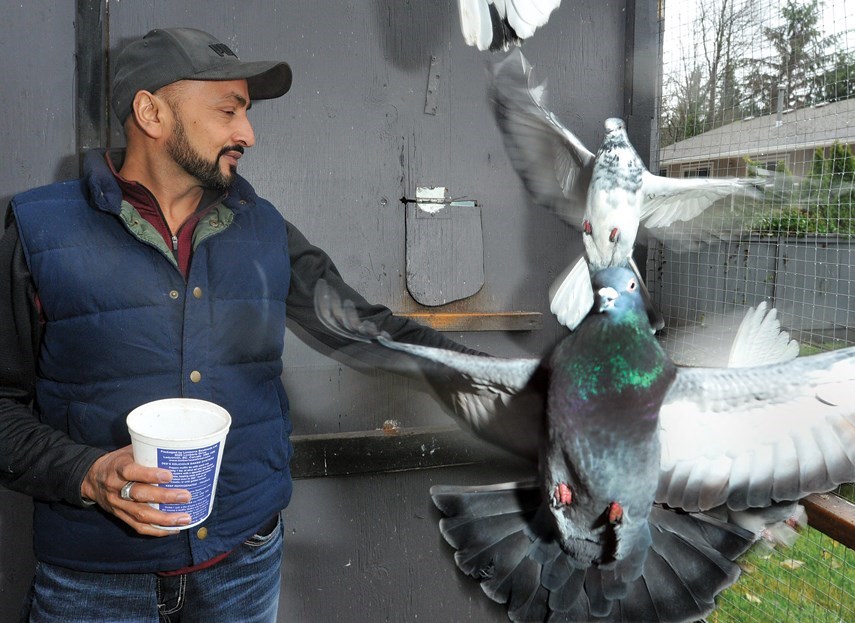 North Van approves new pigeon bylaw after controversial ban
Fancy a pigeon as a pet? They're legal again in the District of North Vancouver.
District council members voted 5-0 earlier this year in favour of new bylaw governing domestic pigeons. It caps off a controversial two-year chapter for council, which originally voted to ban the pet birds in 2019.
Soon after, it came to light that Coun. Betty Forbes had lobbied Couns. Lisa Muri and Megan Curren behind the scenes to introduce the ban after years of complaints about her neighbour's flock of pet pigeons.
Crows can be trained to give up their predatory behaviour, study suggests
Crows are well-known nest predators but can be trained to give up their predatory actions with the right interventions, according to a recent study.
Using a technique called conditioned food aversion, researchers from around the world were able to teach pied crows who had migrated to the Berg River estuary in South Africa to not eat the eggs of endangered bird species.