A heavier-than-expected overnight snowfall resulted in traffic snarls and commuting headaches on the North Shore Tuesday morning.
Up to 10 centimetres of snow fell on North and West Vancouver overnight Monday and "there could be another five to 10 centimetres on top of this," said Trevor Smith, meteorologist with Environment Canada.
Bursts of local snow had been expected but "it intensified a bit more than that this morning," said Smith.
Highway cameras around the North Shore showed more significant accumulations in areas of West Vancouver toward Howe Sound and in upper areas of North Vancouver including Lynn Valley.
Commuters on the North Shore faced numerous bus delays and detours.
The northbound lane of the Lions Gate Bridge was closed around 9:45 a.m. due to multiple vehicles stalled in the causeway, according to DriveBC. By 11:15 a.m. one northbound lane had re-opened.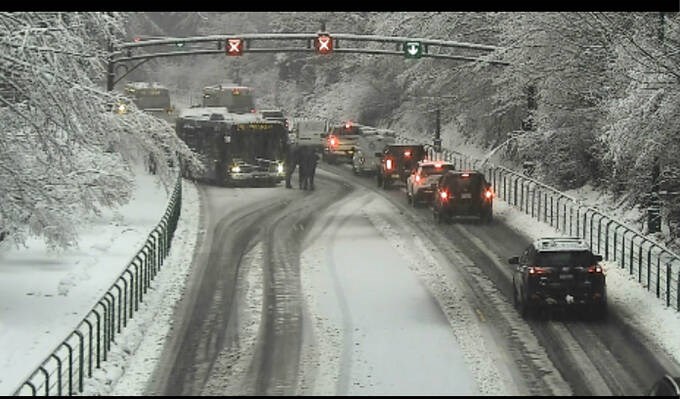 Many buses on the North Shore were only travelling only along lower areas of their routes with service cancelled to areas of Caulfeild and Horseshoe Bay during part of the morning.
"Bus customers are seeing heavy delays as road conditions are changing by the minute and some buses are re-routing around challenging areas," TransLink said in a press statement.
TransLink reported shuttles with snow socks were running in Upper Lynn Valley by mid-morning with areas of Lynn Valley and Highway 1 near Keith Road most impacted by delays due to icy road conditions.
Highways contractor Miller Capilano also advised drivers not to head out unless travel is essential.
Municipal crews were back clearing roads Tuesday morning, starting with Priority 1 routes.
The District of North Vancouver reported garbage and organics collection had also been cancelled Tuesday due to heavy snowfall.
Schools were also closed in both North and West Vancouver Tuesday.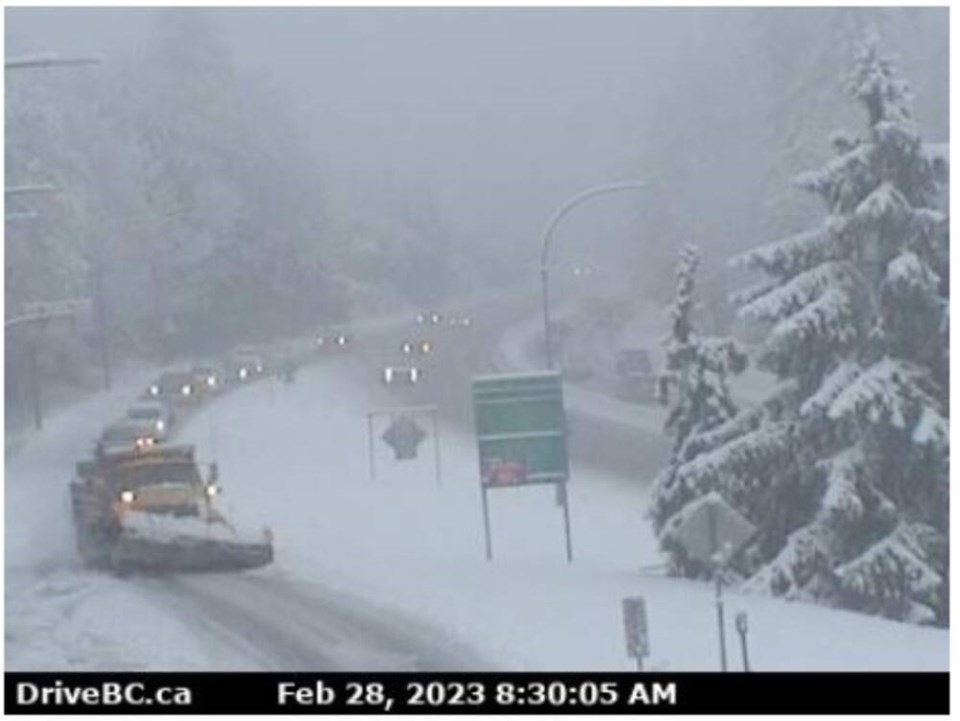 It was the second heavy dump of snow since the North Shore was hit overnight Saturday and into Sunday morning with significant snow.
Meanwhile, Smith said it's possible the North Shore still may not have seen the last of the snow this week.
Snow should wind down by Tuesday afternoon, he said, but "it's another tricky forecast for Wednesday night and Thursday morning" as well as potentially overnight Saturday.
Although rain is currently predicted "it's going to be almost cold enough to snow" which could mean flurries for higher elevations of the North Shore, he said.
"The ski hills are going to get a good whack of snow," he added.
Smith said it's not out of the ordinary to see snow in Metro Vancouver into early March. (The most significant late snowfall happened March 17 and 18, 2001, said Smith.)
"It's a La Niña winter," he said. "It does tend to favour snow at the low elevations."
Looking ahead, Smith said the weather pattern continues to be cool, with possible arctic air, for the next week to 10 days over the south coast.