North Shore Rescue is unique among B.C. mountain search and rescue teams in that they have three validated search dogs, ready to hop aboard a helicopter or dash into the wilderness when time is of the essence.
Although they are each beloved members of their families, Chloe, Neiko and Dreki are highly trained working dogs. To be accredited by the B.C. Search Dog Association, it takes about 2,000 hours of specialized training over and above the usual housebreaking and obedience.
They then have to pass a test in which both the dog and their handler are judged as a team. To be validated, they have to plan and execute a search in a 500-square-metre swath of land, locating three hidden objects and a hidden human subject within 90 minutes.
Searchers and their dogs are such a tight team, it would be impossible for a different handler or dog to be subbed in and still work together.
Unlike the popular image of a bloodhound with its nose to the ground, scent tends to waft out on the breeze from its source in the shape of a cone. Once the dog has picked it up in its powerful olfactory nerves, it's just a matter of following it, pacing side to side within the cone, narrowing it down as they get closer.
A ground team can cover a wide area on foot but still narrowly miss something in the underbrush. A well-trained dog won't make that mistake. If there's any object out of place in the wilderness, a search dog will notice and alert its handler. It allows search teams to quickly rule out areas and concentrate their efforts elsewhere.
Apart from their searching capabilities, they bring another less tangible asset to the team – a sometimes badly needed morale boost for the two-legged rescuers when there's a difficult search in the wilderness.
And not just any labradoodle will do. Searchers prefer German shepherds and Belgian Malinois – breeds that are known for having not only highly attuned noses, but also a strong drive to work and help their (human) pack. What really motivates them in the field, though, is the promise that finding something will lead to high praise and a fun game of tug with their trainer.
As of 2021, there were just 20 validated search dogs in all of B.C.
It was Ellie Lamb who introduced search dogs to North Shore Rescue in 2014 with her Belgian Malinois Nan. Nan retired in 2019 and, sadly, died later that year. Roger Bean's dog Chloe is the veteran of the North Shore Rescue dog team now, but Lamb and her new pup Dreki, along with Ryan Morasiewicz and his German shepherd Neiko, each earned accreditation and officially joined NSR's dog team in 2021.
Get to know the dogs of North Shore Rescue: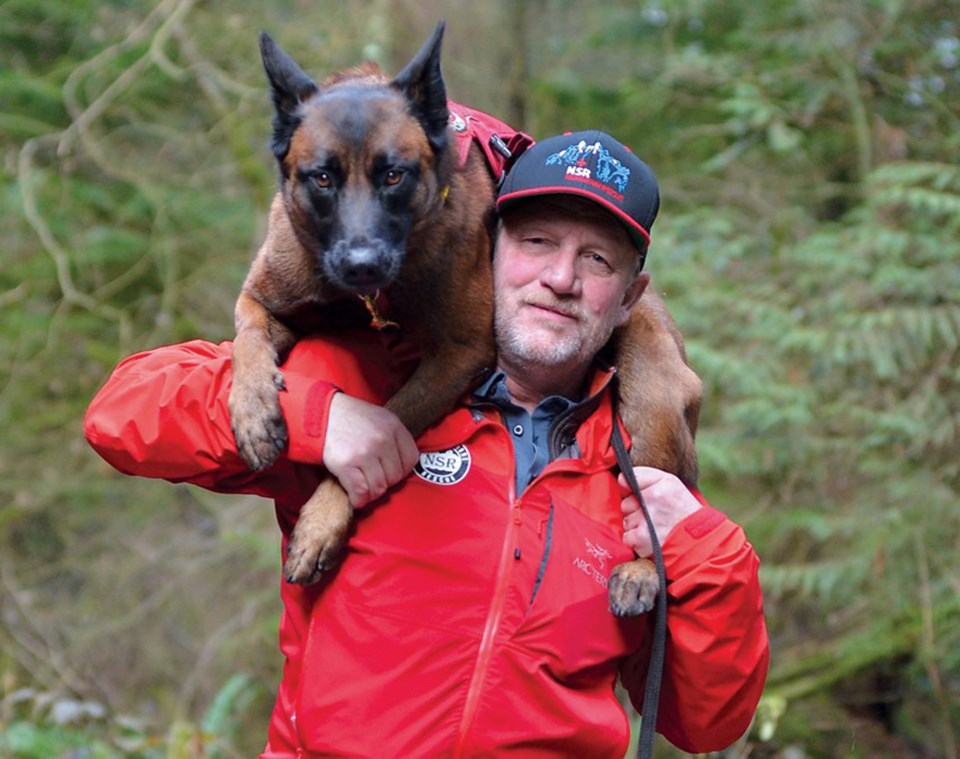 Name: Chloe
Age: six
Breed: Belgian Malinois
Handler: Roger Bean
Personality at home: Chloe has endless energy and drive and a knack for getting into trouble. She will pester you incessantly to get you to engage with her. She likes riding on things: chairlifts, snowmobiles, all-terrain vehicles, and, unfortunately, my motorcycle (I won't take her for a ride on that but it doesn't stop her from hopping up into my lap when I get on it).
Favourite treat: She has never met a food she doesn't like, but her favourite reward is a good game of tug.
Best attribute: Her most outstanding attribute is her athletic ability.
Specialty in the field: Chloe is validated for both wilderness search and avalanche rescue.
Your proudest moment: When she makes a find that leads to a successful search, but also when she can search and clear an area quickly with a high degree of certainty that the subject is not in that area. That allows us to focus our strategy on other areas.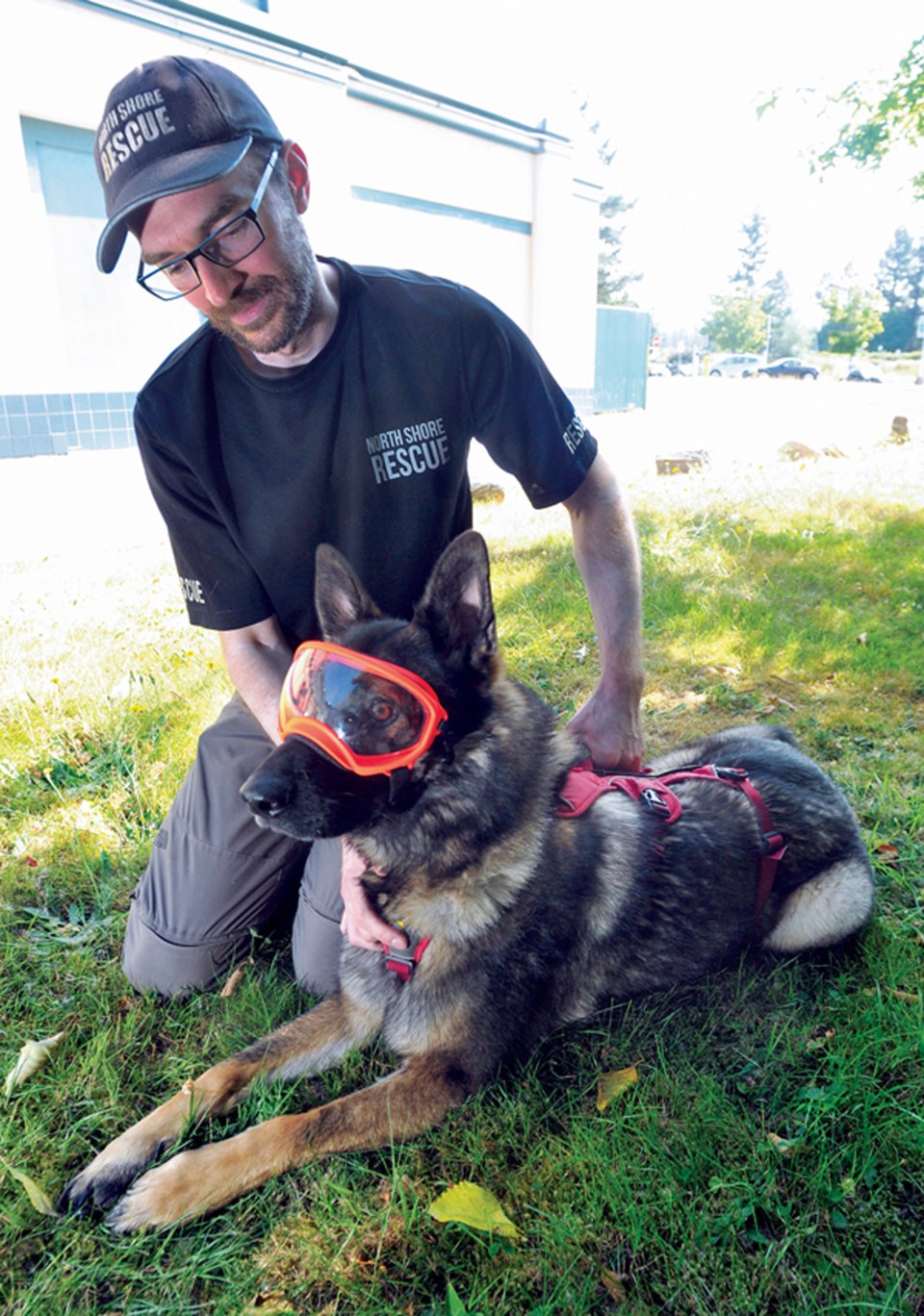 Name: Neiko
Age: four
Breed: German shepherd
Handler: Ryan Morasiewicz
Years with North Shore Rescue: Ryan, 10 years; Neiko, six months
Personality at home: Balanced. He is always up for play, but also enjoys relaxing and hanging out with his human pack.
Favourite treat: Swimming fetch with his floaty Kong toy. Food-wise, whatever the baby happens to throw off her high chair before it can be picked up.
Best attribute: Rock solid obedience and search skills.
Specialty in the field: Wilderness search profile.
Your proudest moment: Absolutely nailing his first search validation and showing what he is capable of.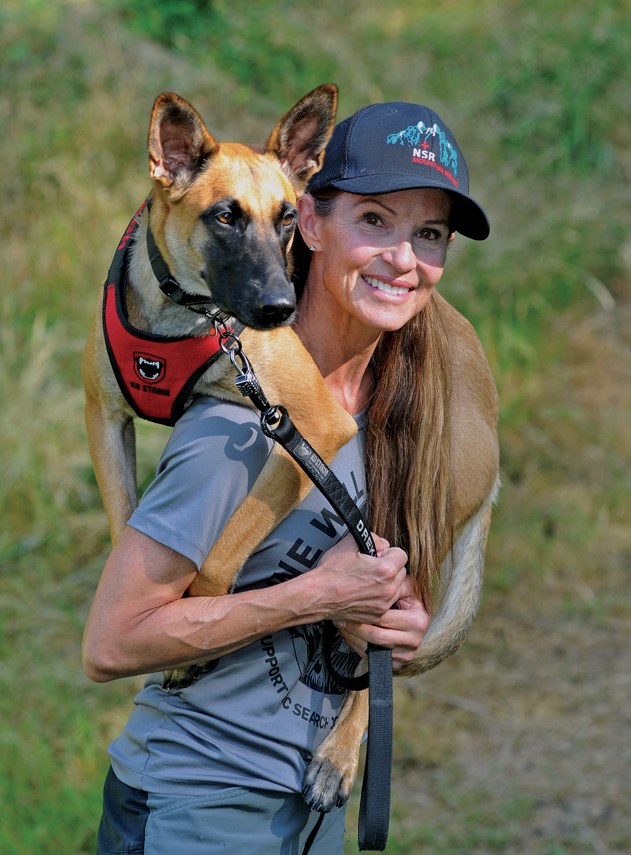 Name: Dreki (means Dragon in old Norse)
Age: two
Breed: Belgian Malinois
Handler: Ellie Lamb
Years with North Shore Rescue: Six months as a validated SAR dog
Personality at home: Dreki loves her family including our cat, but even at home she doesn't leave my side and is always monitoring my location. If Dreki could, she would work 24/7. She was not born with an "off switch," but alas she will snuggle in the evening, and just before going into her crate at night she will give everyone a big "hug."
Favourite treat: Her favourite treat is a tug of war, Frisbee, snuggles and carrots.
Best attribute: Dreki is all business so she loves to search and she loves to track.
Specialty in the field: Dreki is a validated wilderness search dog for the province. Although she is young, her focus, work ethic and determination stand out. There is no quit in her, and when we are responsible for a search area I am confident that Dreki leaves nothing behind. If someone is in there, she will find them.
Your proudest moment: Not one particular moment but an overall sense of pride in the dog she is becoming. I like a thinking dog for search and rescue, and Dreki is just that. She applies in the field the important lessons she learned. I believe she has a strong future working together with the dog teams and members of North Shore Rescue. In doing so it is certainly our privilege to serve.
This story was included in a special feature section of the North Shore News in print on Jan. 26, 2022. The entire feature can be viewed in our digital edition archives. Portions of this story were previously published in an earlier version in the North Shore News.