There have been four new cases of COVID-19 reported in the North Shore health region in the past week.
Weekly statistics released by B.C.'s Centre for Disease Control July 16 showed four new cases in the North Shore Coast Garibaldi health region between July 3 and 16. There were no cases reported between June 26 and July 9, according to the previous week's statistical update.
The new numbers come in the same week that ICBC confirmed an employee at its head office in North Vancouver recently tested positive for COVID-19.
Numbers on the North Shore remain low compared to many other areas of the province. There were 52 new cases in Vancouver, 68 in Fraser South, 35 in Fraser East and 21 in the Okanagan in the last two weeks, according to the BC CDC.
Most of the new cases are connected to contact with a known local case or cluster, including a continuing outbreak at a Vancouver care home.
While there may still be cases undetected in the community, statistics show only about one per cent of tests are currently coming back positive, according to the BC CDC.
There have been about 1028 cases in the Vancouver Coastal Health region since the start of the pandemic in January and 3,170 cases in the province as a whole.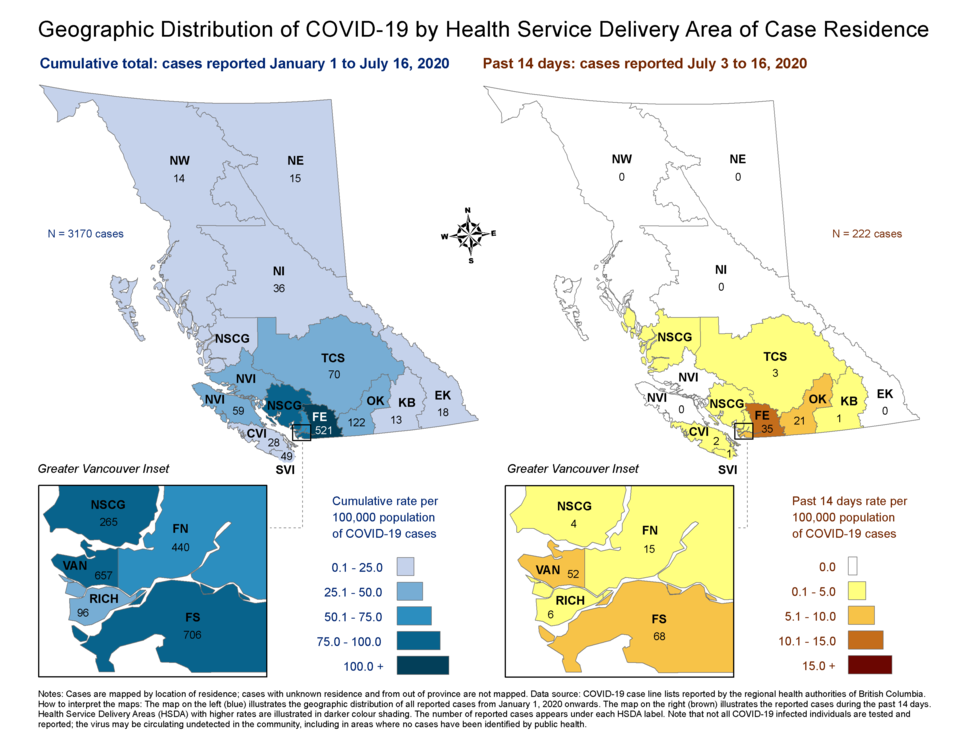 On Thursday, Dr. Bonnie Henry, the province's medical health officer, spoke about a recent serology study by B.C.'s Centre for Disease Control which looked for COVID-19 antibodies in over 800 random samples of blood collected by labs in the Lower Mainland for unrelated medical tests in both March and May.
Samples included 38 collected from North Vancouver and 22 collected from West Vancouver in March and 45 collected from North Vancouver plus 18 collected from West Vancouver in May.
The study showed less than one per cent of people whose samples were analyzed had been infected with the virus, although based on the results it is possible as many as eight times as many people have had COVID-19 than have been confirmed by current testing, said Henry.
Henry said that means between 16,000 and 17,000 people in British Columbia may have had the virus in the last six months. The results show there have been very low levels of the virus in B.C., said Henry, although she cautioned that means most people are still susceptible to COVID-19.
She added it's still not known whether those who have antibodies to the virus are immune from catching it again, or how long any immunity may last.