A Department of National Defence official says explosives detection experts will be back to North Vancouver's Blair Rifle Range for a more thorough look after finding an unexploded mortar there last month.
The military sent contractors to survey the site last month as part of its Unexploded Explosive Ordinance program set up to ensure nothing deadly was left behind at any former training sites, as the lands off Mount Seymour Parkway were until 1968. In late February they found a three-inch mortar about a foot underground.
"Oh, we absolutely are going to be doing more work there. The goal of this was to confirm one way or the other, whether we had mortars and/or grenades," said Nick Monteiro, project director within DND's directorate of contaminated sites. "That increases the risk profile of this site a little bit."
For security reasons, they won't say exactly where the mortar was other than that it was about 50 metres from the nearest trail near the northernmost "butt stop" – a berm of raised earth at the end of the range used to stop rounds.
 Explosives disposal experts from Canadian Forces Base Esquimalt arrived three days later. "They picked that item up. They looked at it to determine whether it was safe to move and they determined that it was. They've transported that to CFB Chilliwack for eventual disposal," Monteiro said.
There was some initial question whether the mortar would have been an inert training round or one loaded with "something a little bit more dangerous." After planting a charge on it and detonating it at, the disposal team confirmed the mortar was the real deal loaded with explosives.
Crews also found a number of two-inch mortars – ones that just emit smoke to simulate battlefield conditions – left near the original firing positions.
Finding the mortar was somewhat unexpected, Monteiro said, especially as there had never been any other reported finds there in the last 50 years. There are anecdotes about them being used there but there is nothing in any of the official records. The matter of grenades possibly being left behind is also a possibility, Monteiro said.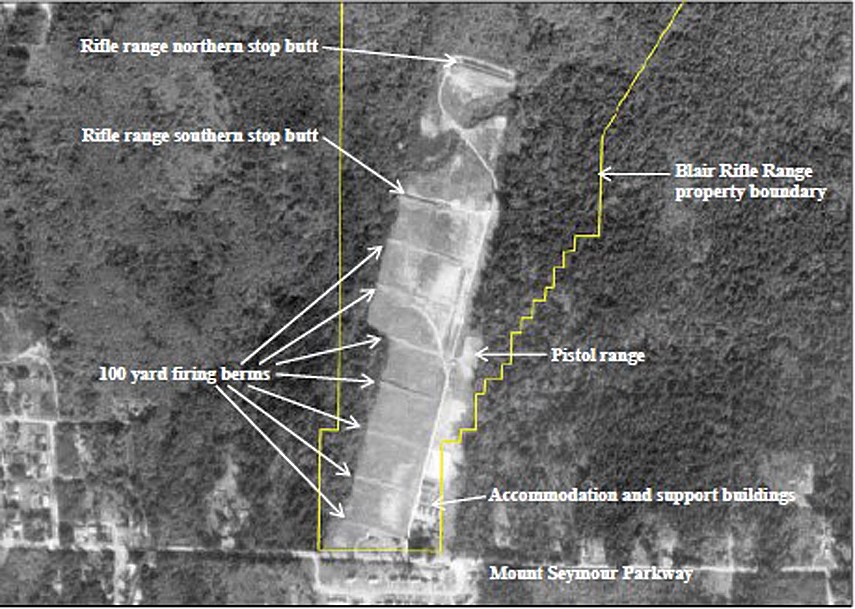 "That's been a bone of contention over the years because at one point, there was a request to have permission to train with grenades and it was denied. It was never approved, at least in the documentation," he said. "We haven't been able to corroborate that. The survey hasn't been able to corroborate that. We do know of the two areas that were purported to be possible pits where they put grenades that didn't go off, but again, we haven't been able to identify anything at this stage."
After 1968, the land was handed over to the Canada Mortgage and Housing Corporation and the province. The province and the CMHC reached a deal in early 2018 to allow recreational use on the site with trail maintenance being taken on by the North Shore Mountain Bike Association.
On April 4, National Defence will be holding an information sessions to update the community on the story so far and future plans. The session runs from 6 to 8 p.m. at the Parkgate Community Centre.
In the meantime, Monteiro said people can continue to enjoy the trails as they would normally. "We still stick with our premise that the current use of that site is not causing any additional health and safety impacts to any of the users. We are identifying items that are under the ground and as long as nobody is digging there, there isn't an issue."
That said, Monteiro is advising amateur bomb detectors to stay home. "We don't want people going out there and saying 'Let's see what we can find. That's not a good idea."