In the time immediately after election day, incumbent BC Liberal MLA Jordan Sturdy was considering what a life after politics would look like.
Initial projections all pointed to Green Party candidate Jeremy Valeriote as the successor to the West Vancouver-Sea to Sky riding.
On election night, Green candidate Jeremy Valeriote was ahead with 7,019 votes and he was projected to win the riding against Sturdy's 6,415 ballots.
It would've been a fall of a decades-long dynasty for BC Liberals, who've held the riding since 1991. It may have also been the end of a seven-year career in provincial politics for Sturdy, who was first elected in 2013.
With this in mind, Sturdy and his family were planning to have a meeting and discuss his future, which would've likely involved looking after North Arm Farm, their family business, which has been a prominent tourist attraction in Pemberton.
"But that conversation wasn't to be," he told The Chief with a laugh.
That's because two weeks after election day, the mail-in ballot count began. Valeriote's lead dimmed, and, in a major upset, Sturdy overtook the Green candidate by a razor-thin margin of 41 ballots
A judicial recount was triggered, and with official recount results published on Nov. 17, his lead has increased to 60 ballots.
The final count shows that Sturdy took 9,249 votes — 37.54% of the vote.
Ultimately, Valeriote took 9,189, amounting to 37.30% of the vote.
Third place went to NDP candidate Keith Murdoch, who trailed with 6,197 votes — 25.16% of all votes cast.
As a result, BC Liberals have maintained their dynasty in the West Vancouver-Sea to Sky riding by just a sliver.
But Sturdy is aware of the bigger picture. The BC Liberals have had their worst performance in recent history.
"I'm obviously disappointed in the outcome of the election overall, and it is going to be the continuation of an interesting career in provincial politics," said Sturdy.
The next step for the party is to rebuild and consider new leadership, he said, though he added it was too early to talk about who he felt would be the best person to replace Andrew Wilkinson.
While members of the opposition may be with relatively little power, Sturdy said there is always space to bring forth informed proposals for legislation and policy.
"There's always opportunity to share good ideas," he said.
The MLA-elect is also facing a changing riding demographic that is voting increasingly Green. Even then, Sturdy implied that he won't be dramatically changing his tune anytime soon.
"I am not one to chase votes, particularly," he said. "I have my life experience that I put toward the decisions that I make and the way I think of things. I listen to people."
He added that he will be making the riding's recovery from COVID-19 his first priority.
After that, he said, the fundamentals of transit, housing, childcare and recreation will be his focus.
Valeriote was quick to concede and offered his congratulations to Sturdy.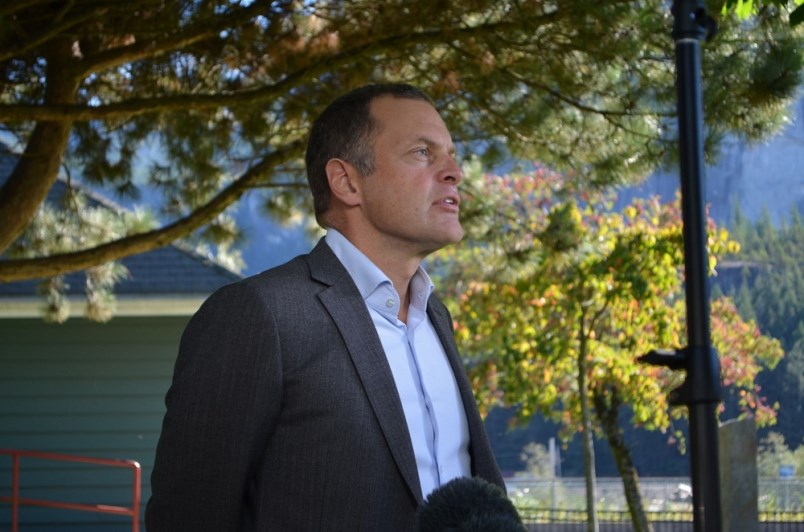 "I'd like to offer my congratulations to Jordan Sturdy," Valeriote said in a news release. "I am very grateful to all those who cast a ballot for me and supported my campaign, which experienced unprecedented momentum. I am very much looking forward to continuing to build the Green vote in this riding over the next four years."
In the release, Green party leader Sonia Furstenau expressed disappointment with the results, but commended Valeriote's efforts.
"He ran an extraordinary campaign," she said. "I am proud of his efforts to share our vision with his community and the work of all his campaign team.
"I know that Jeremy will continue to work hard in the community and that support for him will keep building. Jeremy nearly won the seat for West Vancouver-Sea to Sky with less than four
weeks of campaigning. In the next election, I fully expect to see BC Greens elected in this riding and in many others."
In an interview with The Chief, Valeriote suggested that he wasn't quite done with politics.
"I'm disappointed with the results, but happy that the counting process is complete, and looking forward to continuing to work in the community, and looking forward to, hopefully, running again for the Green Party," he said, but added it's too early to determine where and when he may run for office.
In the meantime, Valeriote said he'd still be showing up at riding associations and events.
He added that the tiny margin between him and Sturdy shows that every vote counts.
And it's something that Valeriote could see with his very eyes, as he said he was at the recount, which took place in an old department store in Capilano Mall.
There were tables lined up with plexiglass barriers and a Supreme Court judge was on hand. A makeshift court was formed, and any arguments were held there.
Counters, scrutineers and lawyers were all present.
"Not too many people get to experience a judicial recount," Valeriote remarked.
Finally, he expressed gratitude for all those who assisted him during his campaign.
"I'm really grateful for all the support," he said.
Sturdy's win is a close call for the BC Liberals, which have dominated the riding since 1991.
The previous time the province went to the ballot box, Sturdy took 43% of the vote with 10,449 ballots, winning by a comfortable margin. The 2017 Green candidate, Dana Taylor took about 28% of the vote with about 6,947 cast in his favour. Coming in third was NDP candidate Michelle Livaja, who amassed about 27% of the vote with 6,532 ballots.
**Please note, this story has been significantly updated since it was first posted. More information and new interviews were added.