Owners of North Shore eco-tourism businesses and members of the Tsleil-Waututh Nation say they're upset and disheartened after a large floating construction fence with razor wire on top was installed 350 metres into Burrard Inlet in preparation for work on an expanded Kinder Morgan oil terminal.
Bob Putnam, co-owner of Deep Cove Kayak, said he was out kayaking in the area of Admiralty Point on Monday when he noticed the fence, made up of heavy-duty wire mesh strung between large floats installed in the inlet adjacent to Kinder Morgan's Westridge oil terminal.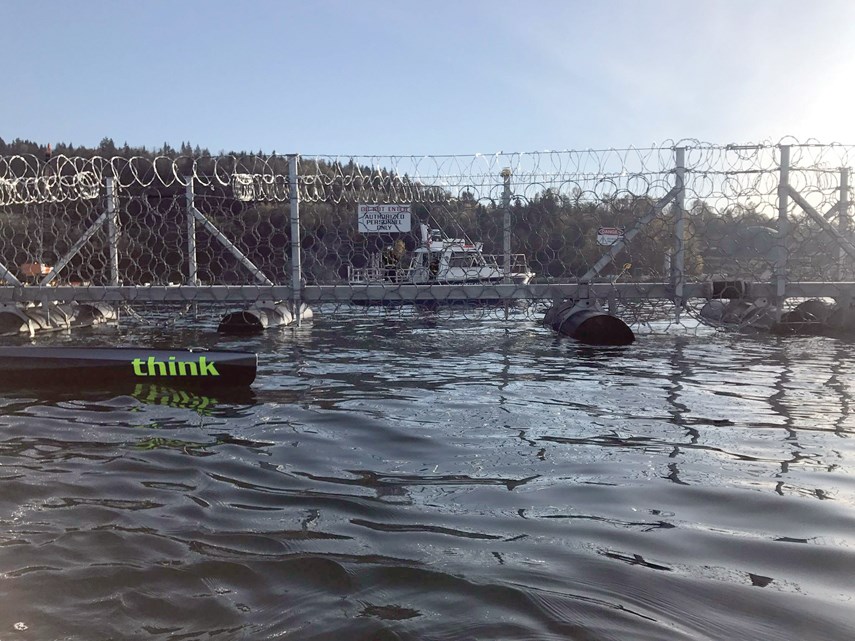 Putnam said he was surprised to see work on the terminal happening so quickly, although he's long been concerned about the project's potential impact on the inlet.
Putnam said he's worried the large area covered by the berth expansions for oil tankers will push marine traffic in the inlet closer to the North Shore and Cates Park. That's bad news for his customers, he said, who often launch their kayaks from Cates Park to paddle to Maplewood Flats.
Putnam said the large floating fence, warnings, and razor wire "just kind of seemed over the top. … It's all very militaristic and sinister."
Putnam said he was surprised to learn that public consultations have already taken place on the construction, and permits were issued at the end of August.
"I would consider myself a stakeholder. I haven't heard about it," he said of the work now underway.
#kindermorganwall on Burrard Inlet being built now. Please retweet. @NorthShoreNews @DavidSuzuki @CBCStephenQuinn pic.twitter.com/NjrZGxdS46

— Deep Cove Kayak (@deepcovekayak) November 7, 2017
Members of the Tsleil-Waututh Nation are also unimpressed by the start of construction. The Tsleil-Waututh have vehemently opposed the pipeline project and – along with the Squamish – are currently fighting the federal government's approval of the project in court.
"I think it's ridiculous that we're still in court and they're going ahead like it's still a done deal," said Rueben George, a spokesman for the Sacred Trust initiative put together by the Tsleil-Waututh to co-ordinate opposition to the pipeline.
"When someone puts up a balcony on their house, they go through more permitting than Kinder Morgan has. There's no consultation at all."
George said members of the Tsleil-Waututh are upset about the floating construction fence, which has already had an impact on the nation's eco-tourism canoe tours.
Two weeks ago, a flotilla of environmental protesters paddled kayaks and canoes from Cates to the waters off Westridge terminal to register their opposition to the project.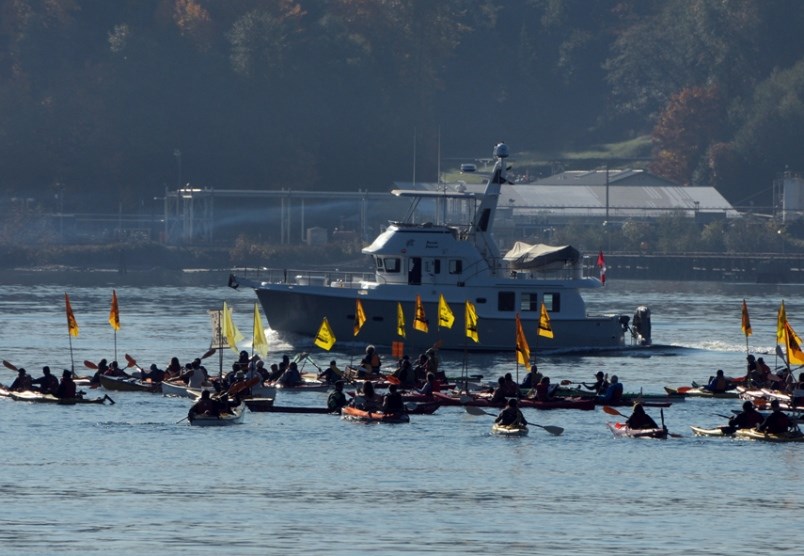 George said he believes the razor wire has been added to dissuade protesters.
Ali Hounsell, spokeswoman for Trans Mountain, the company behind the pipeline project, didn't disagree with that assessment. "I think it's been no secret that there have been individuals and groups committed to disrupting or stopping our construction, and so we need to make sure both they are safe from the construction activities as well as our workers."
Hounsell said the fence is intended to ensure everyone's safety while terminal work is underway in the "active, busy marine waterway."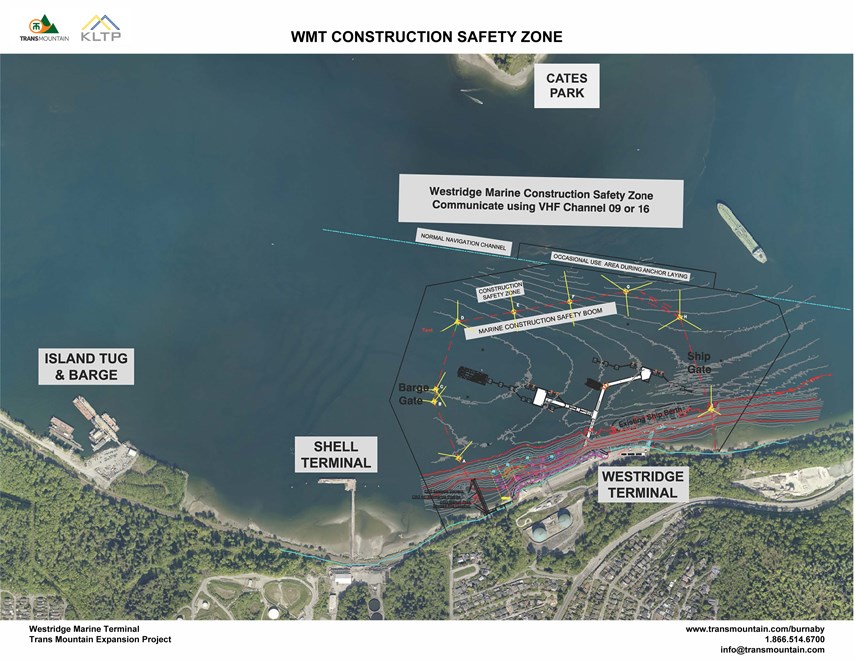 According to project information posted online by the Vancouver Fraser Port Authority, details about the terminal construction were delivered to neighbouring municipalities – including the District of North Vancouver – as well as nearby residents and businesses in Burnaby and North Vancouver in mid-June, providing a 20-day window for comment.
The District of North Vancouver responded with a number of concerns about the project, said spokeswoman Stephanie Smiley. Those included loss of marine habitat, impacts on recreational boat traffic and cultural uses in Burrard Inlet and the potential for air pollution to blow towards Maplewood Flats.
Other concerns from the public included the visual impacts of the project, noise and vibration from construction activity.
The terminal construction represents some of the first work on the pipeline expansion project, which is expected to triple loading capacity at the terminal to allow for up to 34 massive Aframax oil tankers a month. The federal government approved the project a year ago, in November 2016, following a recommendation from the National Energy Board. Those approvals are being challenged in several court cases.
The terminal expansion includes building three larger berths, supported by about 150 piles, which will extend 250 metres into Burrard Inlet. When finished, the berths will cover 275,000 square metres of water lot area in the inlet.
– with files from Tereza Verenca, Burnaby Now