Whether it was by fate or coincidence, some North Vancouver residents are glad to have found each other in a moment of peril, 250 kilometres from home.
On Saturday morning, Bev Bachman and Terry McEwen, of North Vancouver, were headed east on the Crowsnest Highway in Manning Park when they hit black ice and spun off the road. Their pickup truck toppled down a steep embankment and smashed into the trees.
"You just don't know what it's like to tumble down the road and see snow flying in your face and trees, and you're hanging on for dear life and you don't know if you're going to live or die," Bachman said from her hospital bed. "My husband was able to get out of the vehicle and get up to the road. I tried but just couldn't move."
Both of Bachman's knees as well as her collarbone were broken and she'd sustained an injury to her wrist. McEwen was bleeding from his head.
Making matters worse, they had no cellphone service in that pocket of the park. McEwen tried to flag down other drivers on the highway. A few chose to pass him by, but North Vancouver resident Michael Keffer and his friends Bill Mitchell and Glen Ulmer knew they had to stop.
"We see this fella on the side of the road with a bleeding head, waving. When we stopped we realized we were on black ice," Keffer said.
There, 10 metres down a 60-degree slope, they saw the truck turned on its side, tangled up in trees, and Bachman trying to pull herself out of the driver's side window.
They were worried she might have sustained spinal injuries. Keffer said they could smell the gas leaking out of the wreckage.
"We thought it was worth the risk to get her out of there," he said.
Bachman couldn't believe how professional Keffer, Ulmer and Mitchell were.
"You couldn't ask for better-looking guys to get you out because they're big and strong.
"They came down to the truck and right away they were like North Shore Rescue people or like the firemen. They said 'Bev, where does it hurt? We're going to get you out of here. Don't worry,' They just flew into action. It was phenomenal," she said.
The amateur rescuers muscled her out of the truck and slowly back up to the highway. By that point, a Manning Park road maintenance driver joined the rescue, using his radio to call in an ambulance. It took almost an hour for help to arrive.
Throughout the experience, Bachman said she recognized Keffer but, in her dreamlike state of shock, couldn't quite figure out how. Keffer knew as soon as he saw Bachman that they had history. More than just being from the same community, Keffer coached Bachman's son for five years on his Ultimate Frisbee team and the two were classmates in elementary school. But he opted not to trouble Bachman with the happenstance during her ordeal.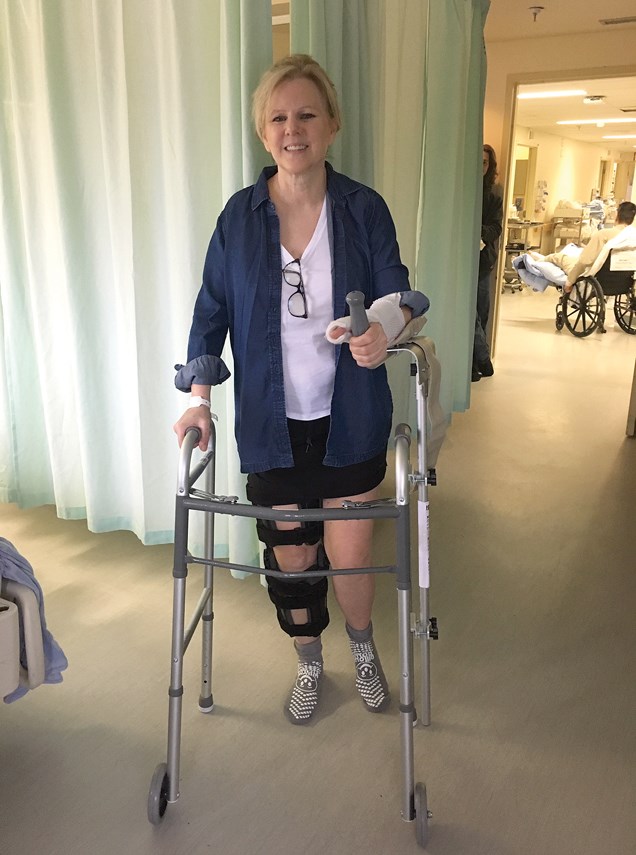 It was only after she'd reached the hospital that Bachman's son told her it was his old coach who saved her life. Now Bachman wants to publicly thank Keffer and his entire family, whom she has long admired for their community mindedness and commitment to youth sports.
"The Keffers are just phenomenal people that live in North Vancouver. That's the story," she said.
Since the crash, Bachman said she's been making great progress and is hoping to be released from Chilliwack General Hospital soon.
Keffer said it was a quiet drive once they were back on the road. He, Ulmer and Mitchell wondered why some people would choose to drive by someone in distress and others would choose to stop. They talked about their shared fear of being in a similar crash. Mostly they just hoped Bachman and McEwen would be OK.
It was a particularly bad day for black ice and crashes on the Crowsnest, according to Princeton RCMP Cpl. Chad Parsons.
"We did have some vehicles that almost went into the river. We had another vehicle that went over a 100-foot cliff," he said
Later that night, Keffer and his friends were gathered around a bonfire and they reflected on the events of the day, which Keffer sees as being something more than a coincidence. Oddly, he said, they felt lucky to have been involved.
 "I think it was fateful. I think fate was kind of smiling on all of us," he said. "It's been said there's no such thing as community unless you help your neighbour."