The McBarge – a floating McDonalds restaurant and an icon of Expo 86 in Vancouver – could soon see new life as an interactive museum dedicated to the undersea of the Pacific Ocean.
The Deep Discovery Centre project is being led by two North Shore residents, Howard Meakin, a West Vancouver developer, and Phil Nuytten, North Vancouver's inventor of submersible diving suits and submarines.
"The vision is to tell the story of the Pacific Ocean from a sub-sea standpoint," Meakin said. "It's a major source of food, minerals, fuel and, of course, water. We have to protect it and we have to be good stewards of the ocean, and we're going to do that aboard the McBarge."
The 15,400-square-foot, 57-metre-long barge, which is officially named the Friendship 500, has spent the last 26 years anchored in Burrard Inlet, a listing hulk that was an attractant for curious trespassers carrying cameras and cans of spray paint.
It was towed to a Maple Ridge shipyard in December 2015 with a banner declaring "Mystery in the making."
The mystery was revealed this week by Nuytten and Meakin, who have already mapped out what they say will become one of the top educational and tourism attractions of Vancouver. Guests aboard the Deep Discovery Centre will have access to a 40-seat "4-D" theatre, mock-ups of submarines with working parts, interactive exhibits about the aquatic life and environmental threats to it in the Pacific, as well as shipwrecks, sunken treasure and a shark cage with aggressive sharks.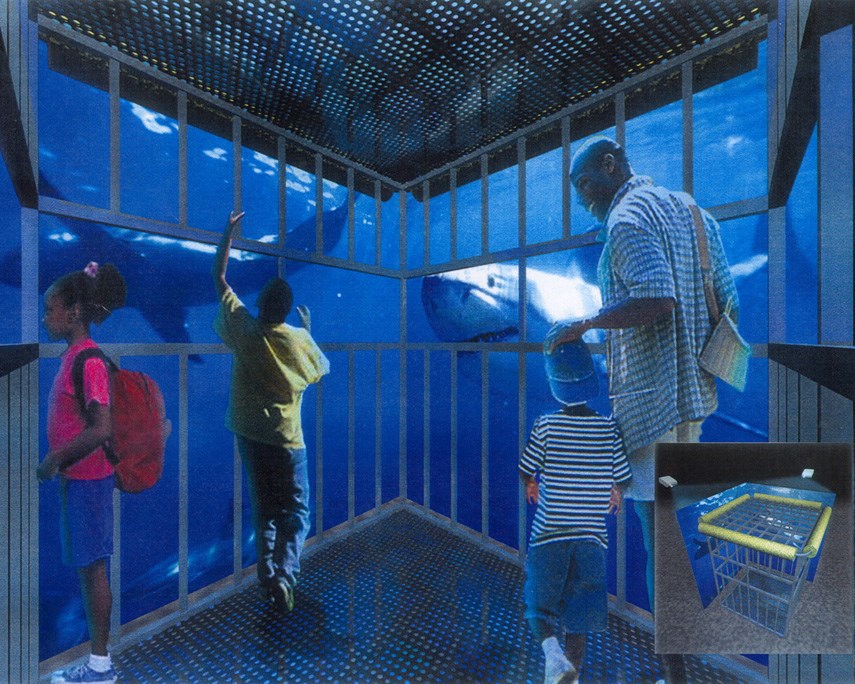 "People freak out," Meakin said. "It will be quite an event."
Creating such a place has been a passion project of Nuytten for almost a decade.
Nuytten said he's particularly excited to have a place to showcase the innovations in undersea technology that originated in B.C. Those artifacts go beyond his inventions – the Nuytsuit, the Exosuit and the Deepworker Sub – to include 360-degree underwater sonar tools used for surveying the ocean floor and undersea vehicles used by tourists, industry and navies around the world.
"Very few people are aware of that but the global sub-sea technology community, they are very much aware Vancouver and North Vancouver are the source of much of the stuff that they're using every day," he said.
Nuytten has about 35 20-foot shipping containers filled with artifacts he's collected and is now eager to show off, including hard-helmet diving suits, diving bells, and a submarine escape system.
And Nuytten, a proud Metis, said he's been insistent that there be a large First Nations component to the Deep Discovery Centre, showing the genius local Indigenous groups used to support themselves from the ocean thousands of years before the arrival of Europeans.
Some of his favourites include specialized deepwater fish traps, hooks for catching halibut that work better than the commercial ones in use today and tools for collecting dentalium shells, which coastal First Nations used as currency and were traded as far east as the Great Lakes.
"They built the most incredibly sophisticated manipulators to be able to harvest these dentalium shells, which were down from 20 metres on down," he said. "When you see these things, you think 'My god, these things are incredible.'"
Made from concrete, steel and Alucobond, the McBarge's lifespan could easily last more than 100 years.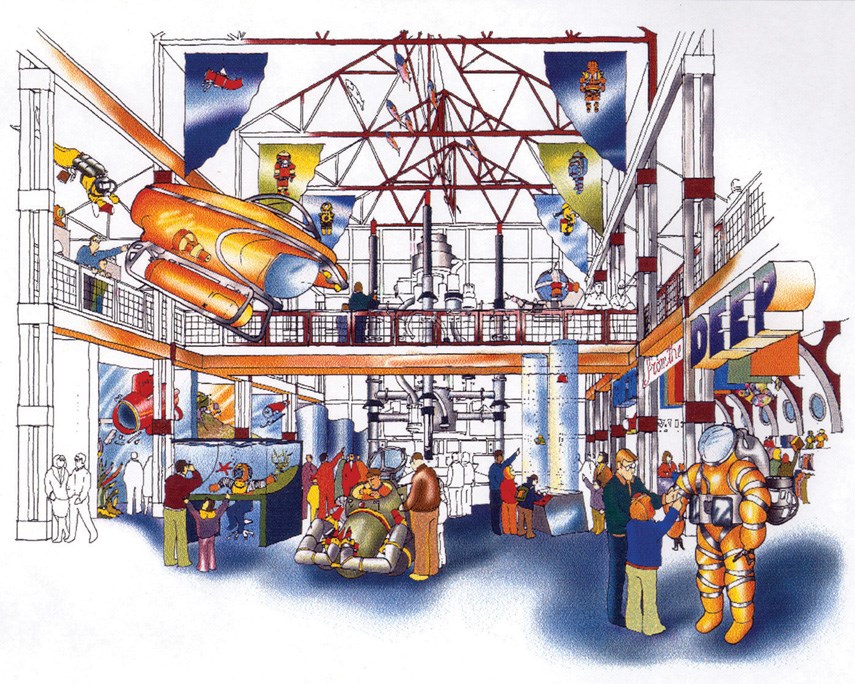 Eventually, it will be moored somewhere in the Vancouver harbour, although the exact location hasn't been made public yet. Nuytten and Meakin received varying degrees of interest from Nanaimo, Victoria and Vancouver. Nuytten's dream to launch it in North Vancouver wasn't to be.
"We looked at that too and the timing wasn't right," Meakin said.
In order for the plan to be seaworthy, Meakin and Nuytten are looking to crowdfund at least some of the $4.5 million it will cost to get the centre open. The first step, however, is getting the City of Vancouver to designate the barge as a heritage site, which will allow them to apply for government grants and help them solicit corporate donations.
Some of the perks they're offering to the donors include Indigenous art and jewelry, and submarine tours of the fish, reefs and shipwrecks in the waters around Howe Sound and Burrard Inlet. They're holding their first major fundraising "Barge Warming Party" in Maple Ridge on Oct. 21.
Meakin isn't keen to talk about how much he's already sunk into the barge, which he has owned for almost two decades.
"I don't want that published because I don't want my wife to know," he said with a laugh.
The price, Nuytten said, will be worth it if it helps humans better understand the ocean and their relationship with it.
"To me, it's very important that everyone becomes aware of the ocean in a way they're not now aware of it and most particularly, the younger people. They're the ones who are going to inherit it," he said. "I think it's really, really important to get them excited about the underwater world. ... We are the first generation to see this planet from space and to realize it should not have been called Earth. It should have been called Ocean because it truly is an ocean planet."
Tickets to the Oct. 21 fundraiser are available at newmcbarge.com/events.