A North Vancouver man whose speeding and aggressive driving resulted in a fatal accident on the Cut has been handed a 45-day jail sentence.
Provincial court Judge Gurmail Gill took the unusual step on Friday of sending Albert Scott Troll, 50, to jail for his role in the accident that killed 63-year-old Daniel Lutes of Vancouver. Troll will serve his sentence intermittently on weekends.
Gill also handed Troll, the married father of two adult children, a $1,500 fine and 18-month driving ban.
The accident took the life of Daniel Lutes, 63, of Vancouver, a retired insurance adjuster who was working as a delivery driver.
"I can only imagine his pain as his life passed before his eyes waiting for the ambulance to arrive," said Sharon Lutes, who was married to Lutes for 41 years, in a victim impact statement she read to the judge. Lutes died so quickly no family or friends could be at his side during his final moments, she said. "I have an ache in my heart that will never go away."
Troll received the sentence after pleading guilty in North Vancouver provincial court to a charge of driving without due care and attention under the Motor Vehicle Act. That does not constitute a criminal act, but a jail sentence is warranted because his "high speed unsafe passing and aggressive driving" put "everyone nearby at risk," said Gill.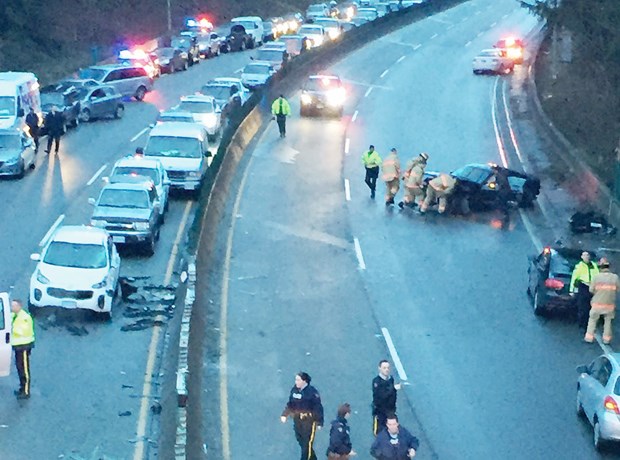 In court, Crown counsel Jean McPherson described the accident that happened at about 3:45 p.m. on Jan. 9, 2017.
Daniel Lutes was alone in a van, stuck on Highway 1 in rush hour traffic that was "essentially at a standstill" heading east at the bottom of what's known as the Cut in the moments before the accident that took his life, McPherson told the judge.
Troll was driving his 17-year-old son to the dentist in a Ford Mustang the other direction on the highway, behind a slower white Mazda in the "fast lane" of traffic, she said. One witness described Troll as "tailgating" the Mazda, said McPherson.
Troll accelerated into the slower lane of traffic to pass the Mazda. But as he did so, he clipped the right front tire of the Mazda, pushing that car into the concrete median dividing the highway. Troll's car then mounted the median and slid along the top of it, hitting Lutes' van where he was stopped in traffic and causing "extensive damage to the driver's side of that van . . . trapping and pinning Mr. Lutes inside," said McPherson.
Firefighters cut Lutes out of the wreck and he was initially responsive, said McPherson, but went into cardiac arrest. He was dead on arrival at Lions Gate Hospital of what the coroner described as "multiple blunt force injuries."
Witnesses described Troll's driving leading up to the crash as "erratic, impatient, pushy, fast, jerky and aggressive," said McPherson.
Police later seized the "black box" for the Mustang under a search warrant, which revealed the car had been travelling between 110 and 119 kilometres an hour two seconds before the collision – between 30 and 39 km/h over the posted 80 km/h speed limit.
"It is more than just a second's inattention. It is a series of poor decisions," said McPherson.
McPherson also pointed to Troll's lengthy driving record, of 40 tickets dating back 20 years, including 15 speeding tickets between 1986 and 2011 and two recent tickets for using an electronic device while driving.
Lutes' two adult daughters, Natalie Ellis and Katie Lutes, were also in court for the sentencing. In a victim impact statement, Katie Lutes described receiving the "gut-wrenching phone call" telling her that her dad had died.
"I realize people make mistakes," she said. "I don't understand driving dangerously on a highway that is usually packed. . . It doesn't make sense to me."
Scott Wright, Troll's defence lawyer, said his client feels a sense of "overwhelming remorse" for what happened, but argued against a jail term, saying it should only be used as a last resort.
Troll – an electrician and family man – is already living with the guilt of what happened, said Wright. "Incarceration serves no useful purpose."
But the judge didn't agree, saying jail was needed to deter others from driving dangerously.
Outside the court, Lutes' family members said his loss is still keenly felt in his hometown of Orillia, Ont. and Nanaimo where he also lived, describing him as a well-known and charismatic man with a great sense of fun.
Sharon Lutes said the 45-day jail sentence was a fitting one for Troll. "Maybe he'll have time to reflect on what he's done," she said.