Health officials are stressing that it's safe to re-open schools next week, even though kids won't be sitting two metres apart and despite a recent rise in daily cases of COVID-19 being reported.
But Dr. Bonnie Henry and Health Minister Adrian Dix added it will be up to everyone in B.C. to double check their behaviour as fall starts, and make sure the spread of the virus is contained.
Henry said Monday the level of community transmission remains low in most of the province although recent weeks have seen a rise in cases in the Lower Mainland. The province's back-to-school plan is aimed at reducing the possibility of introducing the virus into schools, she said.
But she added that doesn't mean the rules for students in class have to be the same as they are for the general population.
Unlike a situation involving adults out in the general public, schools are a controlled environment, said Henry, and the same children will be in the same classes every day. "That will be in a small group, the same numbers of teachers and children and interaction is contained and limited," she said. "So it is a different situation."
Both the B.C. Teachers Federation and some parents have called for greater physical distancing in classrooms, and more online learning options. But the Ministry of Education has continued to stress its preference for a return to the regular classroom setting as much as possible.
Although students will likely not be sitting two metres apart – as recommended for members of the general public who aren't members of the same household – students will still be distanced as much as possible, said Henry.
This week, Henry also rejected the idea of shutting down sectors of the economy like restaurants and bars as a way to control the rising numbers of COVID cases.
"So what we have done from the very beginning is look at where we're seeing transmission, and we've adjusted the orders to try and address those issues," she said.
Henry said part of the problem is transmission of the virus is "happening in many different areas in our community. And we can't always put in orders to change those . . ."
About one-third of recent cases have come from household transmission, one-third have come from contact at private parties, restaurants and bars and the other third have come from workplaces or health care settings, she said.
As fall begins, it will be important for people to reassess their interactions with others, said both Dix and Henry.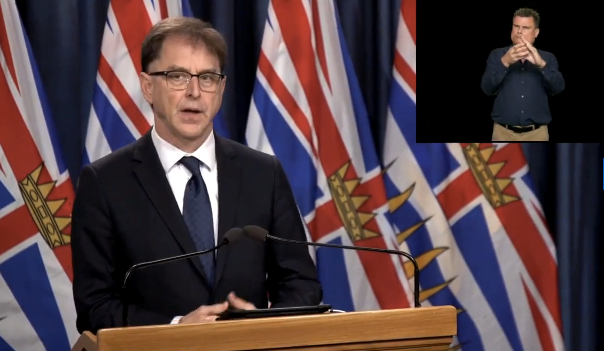 Limits on the numbers of people allowed at short-term rentals and at restaurant tables should be a guide within people's own homes, said Dix, which would vary, depending on the size of that space.
"If you live as I do, in an apartment of about 850 square feet, then the number of people that I could have as visitors in that home safely and responsibly would be a small number, indeed," he said.
"COVID-19 is aggressively knocking on our doors and we must not let COVID-19 in," he said.
Both Dix and Henry stressed, however, that recent hikes in daily case counts aren't reason to panic or comparable to the situation at the beginning of April in B.C.
"We have 28 people in acute care as compared to 149 on April 5," said Dix, adding there were 10 people in critical care on Monday "as compared to 72 on April 5. "This is different, but it requires us to dig in."
As of Sept. 2 there were 33 people in hospital with COVID-19 in B.C. Of those, 14 were in critical care. Seven of the people were in hospital in the Vancouver Coastal Health region, three of those in critical care. The rest were in the Fraser and Northern health regions.
According to the B.C. Centre for Disease Control, the recent rise in COVID-19 cases has primarily been among people 20 to 40 years old, with cases among younger adults 20 to 29 rising the most sharply since the beginning of July.