Vancouver-based democracy activists suggest more prominence be given to memorializing the Tiananmen Square massacre in the city now that Beijing's proposed national security law threatens an annual memorial in Hong Kong's Victoria Park.
The massacre, they say, shaped a major milestone in B.C. history.
"The horror of the Tiananmen Square massacre in 1989 directly and indirectly triggered two of the largest immigration waves in Canada, from 1990 to 1992 and 1996 to 1998," contends Ivy Li, member of the Canadian Friends of Hong Kong society.
"Terrified by the brutality of the dictatorial Chinese Communist Party, tens of thousands of Hong Kongers fled their home to start a new life in Canada," said Li.
Between 1987 and 1997, 225,000 people emigrated from Hong Kong to Canada, according to a Statistics Canada website outlining the biggest immigration waves in history.
Li says more prominent recognition of Tiananmen Square events could also help non-Chinese people better understand the shared values of much of the Chinese diaspora here in B.C.
"Not only did their arrival form an important part of Canadian history, they have shown a strong desire to be free and to live with dignity," said Li.
However, the governments of Canada and B.C. do not formally recognize how Tiananmen Square events in 1989 — coupled by the impending 1997 handover of Hong Kong — was such a watershed moment, particularly in B.C.
Li and other pro-democracy activists concerned about increasingly expansive powers of the Communist Party of China (CCP), both in Hong Kong and around the world, want senior governments to mark June 4, 1989, as a memorial day for the massacre that killed thousands students who had been protesting against the communist regime in Beijing when there had been an apparent opening in society for democratic reform. The massacre is now best remembered by "Tankman," an unknown man who stepped in front of a line of tanks in the square.
Meanwhile, Mabel Tung, founding member of Vancouver Society in Support of Democratic Movement, says the national security law criminalizes sedition against the Chinese government, and Hong Kong's annual June 4 memorial would be considered exactly that, so there is widespread fear, if not acceptance, in Hong Kong that once the law passes, the memorial will be outlawed.
Today in Hong Kong, authorities attempted to shut down the memorial for the first time in 31 years, citing COVID-19, however people defied the order and came en masse to the city's Victoria Park to light candles.
Hence, Tung says a more prominent public memorial to the massacre in Vancouver is necessary now, more than ever.
Over the last 31 years, Canadians with Hong Kong ties (or anyone else wishing to acknowledge the massacre for that matter) have gathered at two locations with small statues known as the Goddess of Democracy — at Forest Lawn Memorial Park in Burnaby and at the University of British Columbia (UBC).
Both memorials, likened to a mini Statue of Liberty, are inconspicuous — even more so at UBC after that Goddess was moved farther from the student union building upon renovations.
The statues are a place to gather when Hong Kong faces incursion by Beijing on the One Country Two Systems principle. For example, the UBC Goddess was decorated with a yellow umbrella in 2014 to protest Beijing's pre-screening of political candidates. And extradition laws proposed by Beijing in 2019 prompted further gatherings.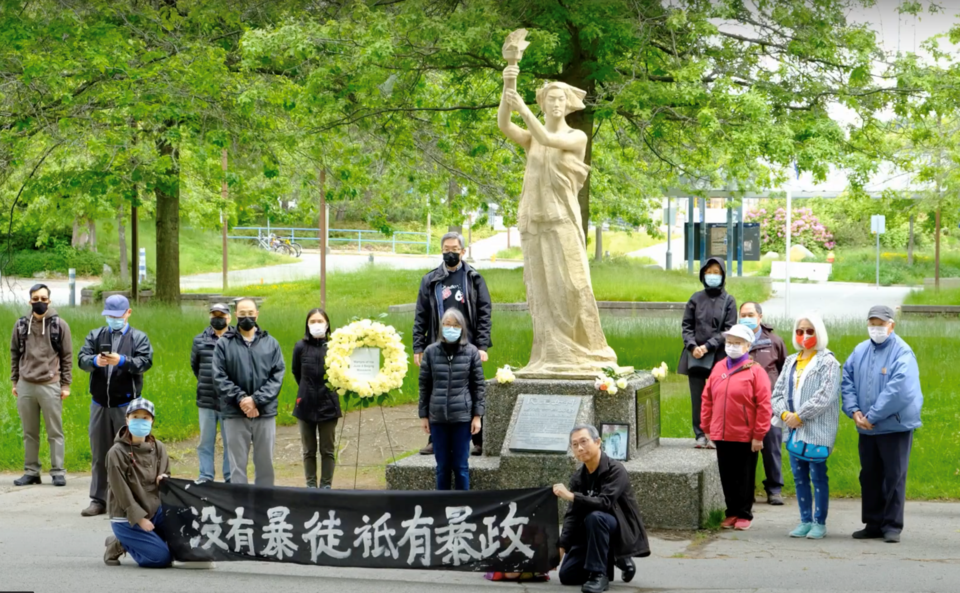 "I think we have to do more to recognize this statue as a symbol of democracy," said Tung. "In the future we have to take up a lot more responsibility to remember those people who sacrificed for human rights and democracy.
"Because Hong Kong is no longer able to do so."
But Li and Tung say politics is at play, as it was 30 years ago when the statue was erected at UBC, outside the city.
"We had a lot of problems putting it in Chinatown and the middle of the city and we were resisted by pro-China groups that opposed that decision. It's tough if we try another location, so this is the spot we got 30 years ago," said Tung, referring to pro-China groups as those associated with the Chinese Communist Party.
A 2018 feature on the statue by The Ubyssey reports how the Chinese Benevolent Association opposed its placement in Chinatown or elsewhere in the city.
As well, according to Ubyssey, "the Chinese consulate stepped in to directly lobby UBC. In an October 16 letter to then-UBC President Dr. David Strangway, Chinese Consul General An Wenbin called the statue 'an attempt to interfere into China's internal affairs and of hostility towards the Chinese people,' hinting that UBC's many joint programs with Chinese universities may be harmed if the statue went up."
Vancouver-Mount Pleasant MP Jenny Kwan visits the Goddess of Democracy, saying the statue is rooted in the UBC Chinese student movement. She says the two statues have served the movement well and was non-committal to a more prominent memorial in Vancouver's urban core, just as she would have to think about supporting a national day to commemorate Tiananmen Square.
She acknowledged the politics of the matter.
Kwan said there was criticism when, in 2018, she supported the commemoration of the Nanjing Massacre of 1937 during the Second Sino-Japanese War, which saw an estimated 40,000-300,000 Chinese deaths (depending on each nation's version of events) plus widespread rape of Chinese women. That massacre is important to the Chinese Communist Party.
"I called for the commemoration of the Nanjing Massacre because we know now the use of gender-based violence continues as a weapon around the globe. That massacre involves many, many people across the globe.
"People questioned why we would want to do it; how is it relevant to Canada even though Canada participated in that war," said Kwan. (While the country took no official part in that war, some Canadian-born Chinese conducted secret services for the Chinese side).
Kwan also differs from Li and Tung in that she is not convinced Tiananmen Square is specifically mostly responsible for the 1987-97 wave of Hong Kongese to Canada.
"Some people with the handover of Hong Kong might be tied to the fear of the Chinese regime; others might do it for economic reasons, for business reasons," said Kwan.
"It's speculation from the perspective immigration is complicated and people immigrate for all sorts of reasons. So I suspect it's a mixture of reasons why people immigrated here."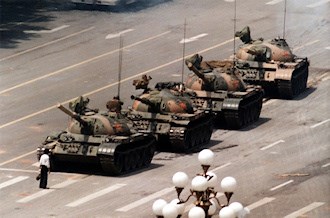 As for memorializing Tiananmen Square, Kwan sees political questions ahead as well.
"The same questions," such as the ones she faced over Nanjing, "will surface again; so I really have to think about if that makes sense."
When asked, Kwan said she'd also have to think about how the two massacres should be weighed in the context of Canadian history.
Nevertheless, Kwan has weighed in publicly on the national security law, signing a Hong Kong Watch petition for Western parliamentarians to express concern and opposition to the proposed national security law.
"This is a comprehensive assault on the city's autonomy, rule of law and fundamental freedoms. The integrity of one-country, two-systems hangs by a thread," the petition states.
Today, CBA vice-president Jun Ing said, "We're going to respect the CBA decision from 30 years ago."
Asked if there were ever a motion for a memorial at Vancouver city council, he said, "I guess we would have board meeting to determine if we'd oppose it."
That's because, "We have different segmentations and different views" among Chinese groups. As such, "It would be unfair for one person or a few to make a decision on behalf of everyone," said Ing.
The CBA issued a statement June 2 in support of the national security law, which they claim is a result of "radical terrorist" who "have seriously endangered the social stability of Hong Kong."
It states: "We hereby jointly declare that we support the implementation of the 'National Security Act of the Hong Kong District' in Hong Kong and the long-term security of Hong Kong's "one country, two systems". Hong Kong is an inalienable territory of China, and Hong Kong affairs are China's internal affairs."
Ing said there is contradictory information about what actually happened in Tiananmen Square and this would need to be addressed as well.
Li's concern over recognizing Nanjing, especially if Tiananmen is not recognized, is that she believes it is not nearly as significant to Canadian history as Tiananmen Square.
She believes the push to recognize Nanjing in Canada has been "fully endorsed by the Chinese Consulate" and groups that back the CCP.
To his day, just as it was in 1990, those groups are a roadblock to a more central and prominent memorial to Tiananmen Square in Vancouver and governments formally recognizing the massacre and its significance, said Li.
Adding to the relative silence in the Chinese community is CCP-controlled local media. "They too would not lend a voice to such proposals," said Li.
According to the 2019 Canadian Securities Intelligence Services report, "perpetrators of foreign interference in Canada are the People's Republic of China and the Russian Federation."
The redacted report states "countries that conduct foreign interference activities in Canada seek to control media."
Li and Tung's group hope to convince politicians who have not already been corrupted by Beijing influence campaigning over the years.
Tung said one attempt failed in 2018 when the group sought a public space for a plaque for deceased Chinese human rights activist Liu Xiaobo. The plaque was eventually attached to the Goddess of Democracy at UBC.
gwood@glaciermedia.ca