The banana peel is easy. Organics, right? But the dirty napkin? Is it garbage? Does it join the compost heap?
These small but meaningful decisions add up — especially in Metro Vancouver, which saw the disposal of single-use plastics climb in 2021 after a steep pandemic decline, according to two waste composition reports presented to the regional body Friday.
The share of personal protective equipment — especially masks, also increased last year.
Per capita, the amount of paper waste climbed 36 per cent to match plastic waste in 2021 — both now make up 19 per cent of the region's total.
But after climbing 45 per cent per capita in the previous year, compost remains both "the largest component of multi-family waste" and the best chance of reducing the amount of garbage that ends up in landfills and incinerators, according to the report.
Enter cute animals.
Subconscious lessons on how to recycle better
Yes, humans are a sucker for a cute face, concluded a recent series of B.C. experiments.
In a study published in the journal Environment and Behaviour, researchers from the University of British Columbia, Ocean Wise and the University of Vienna tested the influence seeing photos of struggling sea life could have on recycling habits.
First, they found a high-rise office building in downtown Vancouver. In pre-pandemic 2018, each floor still had about 100 employees on any given workday.
Some had cafeterias, others had communal kitchens. In each case, the researchers randomly changed the recycling stations on eight floors.
One group kept the old, not very impressive signs.
Another group had a standard but improved set of bin signs: organics, cans and bottles, recycling and garbage.
A third set of floors were shown signs advertising a pledge. People were asked to be "plastic wise to protect ocean life."
"Break your plastic pattern. Save our ocean," read the call-out above the standard sign and next to a hard-to-decipher starburst icon.
And in a final group, the researchers superimposed the message over animals in distress — turtles ensnared in blue plastic or dolphins trailing bags on their dorsal or pectoral fin.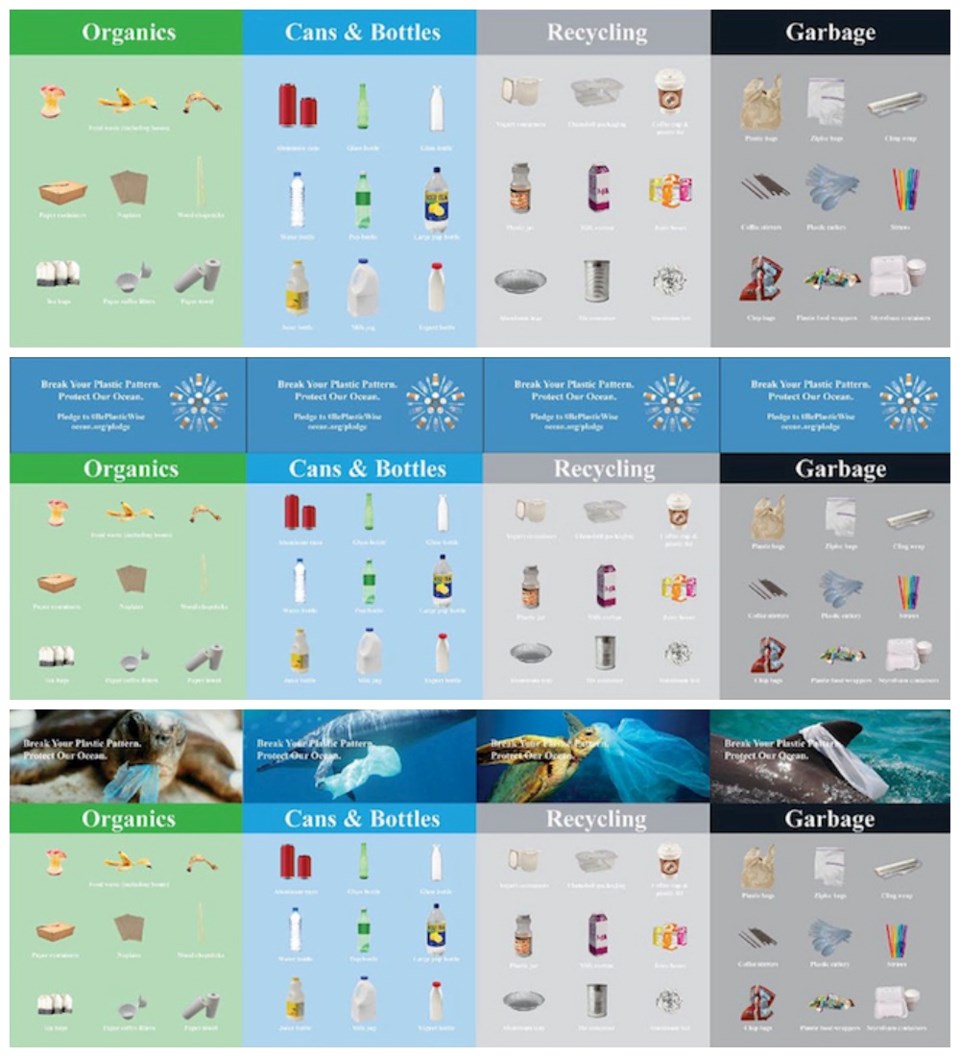 They waited six weeks. When they returned, the pattern was clear: "We found that the signage with the animal reduced plastic waste by 17%, the largest effect among the other conditions," wrote UBC lead author Yu Luo.
Most employees didn't even notice they had changed their behaviour. When the researchers interviewed them, only only five per cent said they had seen the posters, and only two employees said they had signed the pledge.
None said they had changed how they dispose of garbage.
"It is remarkable that we still observed a significant reduction in plastic waste in the signage [and] animal condition despite the fact that very few employees reported noticing the poster," wrote the researchers.
The results could offer a path forward, not just to make sure banana peels end up in the right bin, but also to reduce and recycle plastic waste at a global level.
Our growing plastic problem
An estimated 11 million tonnes of plastic currently enters the ocean every year, accounting for 85 per cent of all marine waste. If the current levels of growth fail to change, that's expected to triple over the next 20 years. By 2040, that would be equivalent to 50 kilograms of plastics per metre of coastline worldwide, according to a global assessment of plastic pollution from the UN Environment Programme.
But with the rise in plastic waste consumption since the start of the pandemic, other studies have estimated the volume of plastic entering aquatic ecosystems could climb to 53 million tonnes per year by 2030.
The consequences are sweeping for animals, humans and shorelines.
A variety of life is killed or maimed by plastics every year: getting ensnared in ghost fishing gear is a leading cause of death among North Atlantic right whales — one of the world's most endangered; seabirds eat plastics because it smells and looks like food; and sea turtles often mistake floating plastic bags for jellyfish, filling their stomachs and slowly staving them.
Even marine zooplankton at the bottom of the food chain was found to be ingesting microplastics, according to one study cited by the UBC and Ocean Wise researchers.
"Absorbing plastic debris by species at lower levels in the food chain can transfer microplastic to higher levels, which can eventually affect human health," they wrote.
Past research has found microplastics are inhaled, absorbed through the skin and consumed through food and water — all eventually ending up in the lungs, livers, kidneys and even placentas of people around the world.
Researchers from England's University of Hull released a first-of-its-kind study last year looking at the impacts of microplastics on human health. Looking at contaminated drinking water, seafood and salt, the researchers found "cell death and allergic reactions" as potential effects of ingesting or inhaling high levels of microplastics. Further research into how the body excretes the plastics is required to understand the true level of risk, noted the authors.
A patchwork of responses
Educating through signage is not the only avenue to reduce plastic waste across the world's aquatic ecosystems. Plastic bans have rippled from federal to municipal levels of government across Canada and the world.
Some cities have turned to charging money for a plastic bag or coffee cup lid. Most have some kind of deposit and refund program to encourage recycling.
The Vancouver study found the most disposed plastic items included candy and tea bag wrappers, chip bags, cutlery and lids, followed by plastic containers and plastic bags.
So to help them reduce waste even more, they recommended moving to purchase teabags without plastic wrappers.
But small nudges to alter human behaviour offer a low-cost tool that has shown to work. Better yet, a business, non-profit or city government doesn't need a huge budget or extensive red tape to paste photos over a recycling station.
Another benefit, note the researchers, "Unlike the previous approaches, a nudge does not prohibit the freedom of choice."
Without people realizing it, the tactic could expand beyond the recycling bin to cover products in the same way graphic warnings now come standard on a pack of cigarettes — something that has shown to work in places like Australia.
As the researchers put it: "Putting an image of marine mammals suffering from plastic debris on a water bottle… may discourage consumers from purchasing plastic products in the first place."