Recent data from sewage water sampling at the Lions Gate Wastewater Treatment Plant confirm what anecdotal reports have indicated: COVID-19 infections have recently ticked up on the North Shore.
"We've been seeing a bit of an increase," said Dr. Alex Choi, medical health officer for the North Shore.
Choi said the amount of COVID virus detected in local wastewater has been rising since about mid-July.
The virus levels still fall far below what they were doing previous peaks in infections, said Choi. The uptick also does not appear connected to any new variant.
Currently the variants most often detected in North Shore wastewater are XBB.1.16 and EG.5, said Choi – both offshoots of earlier Omicron subvariants.
Neither strain has been associated with more severe illness, said Choi, adding another key difference from earlier upticks is "the majority of our population has hybrid immunity" – from both earlier COVID infections and vaccinations.
According to wastewater data from B.C.'s Centre for Disease Control, the virus levels detected on the North Shore are still lower than those detected in other Lower Mainland wastewater systems.
Both province-wide and within the Vancouver Coastal Health region, infections, hospitalizations, critical care admissions and deaths associated with COVID-19 all increased between the beginning of August and beginning of September, according to the BCCDC.
Cases among people aged 60 and over have particularly increased.
"Unfortunately, COVID-19 is not going away within the foreseeable future, and will continue to circulate," said Choi.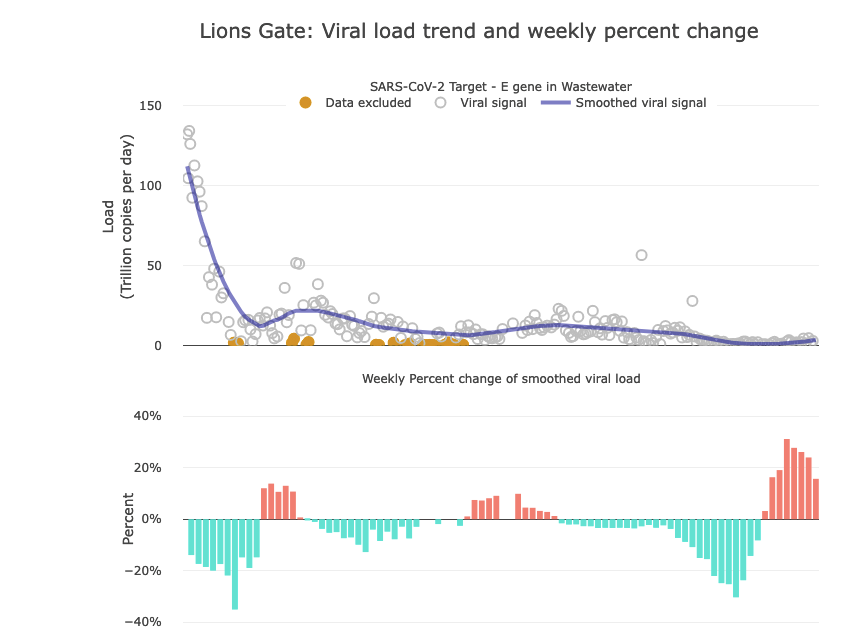 On Tuesday, Health Canada's regulatory branch approved Moderna's new Spikevax shot, which is formulated for the XBB.1.5 lineage of the Omicron variant. Pfizer-BioNTech has also submitted its version of the vaccine for approval.
The vaccine is expected to arrive in Canada soon with a fall rollout of the COVID shot starting in October. Shots will be available through pharmacies, doctors' offices or public health units.
The flu vaccine is expected to roll out at the same time. Health officials are urging everyone – and especially people who are older, pregnant or immunocompromised – to get their shots when they are available.
One advocacy group Protect Our Province is also urging B.C. to bring back mask mandates in health care settings and in schools.