Construction on the problem-plagued $1-billion project to build a new sewage treatment plant in North Vancouver has reportedly ground to a halt this week, as part of a contract dispute between Metro Vancouver and its primary contractor, Acciona.
Gears stopped turning on the massive infrastructure project this week after lead contractor Acciona Wastewater Solutions laid off a significant number of workers, leaving only a skeleton crew.
Sources told the North Shore News that Acciona has laid off more than 200 workers on the site in recent months, with the latest round of layoffs this week.
Work at the site was shut down on Wednesday, they said.
Metro Vancouver Commissioner and CAO Jerry Dobrovolny said in a statement the government had learned on Wednesday "without notice" that Acciona had "significantly reduced staff working on the project."
Sources told the North Shore News that Acciona indicated this week it had not been paid amounts owed by Metro Vancouver under its contract.
In response, Dobrovolny said the contractor has "fallen behind meeting key milestones," which are reviewed by an independent party.
"At this point, Acciona Wastewater Solutions LP has not earned additional payment. We have made an effort to work together, but we expect them to honour all of the contract obligations," he said Thursday. "Given they are years behind schedule for this project, we expect them to be increasing their efforts on site, not reducing them as we saw yesterday," he said Thursday.
The contract to build the treatment plant was reopened in 2019 to give the company two and a half more years to complete the project, Dobrovolny stated. Under the current contract, Acciona is supposed to complete the project by the end of 2023.
Dobrovolny added Metro Vancouver is now "actively assessing our options for how to proceed."
Nobody from Acciona was immediately available to comment on the situation.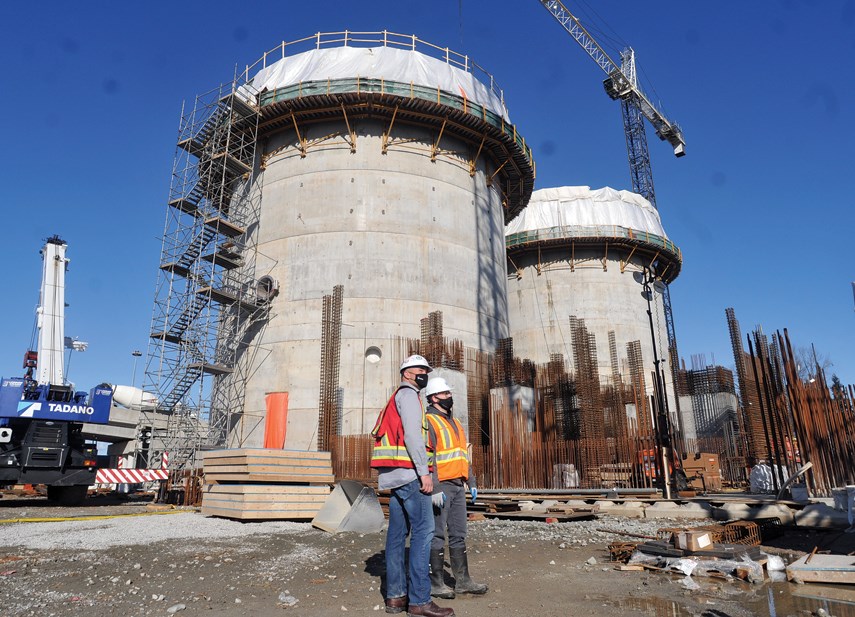 The construction of the treatment plant on McKeen Avenue in North Vancouver is already years behind schedule and millions of dollars over its original budget.
Just days before work stopped, Cheryl Nelms, general manager of project delivery for Metro Vancouver, and Dobrovolny gave an update on the project to local governments on the North Shore that hinted at possible problems.
Nelms said in a presentation to District of North Vancouver council the small size of the site, proximity to the waterfront and railroads, along with an "aggressive" construction schedule had "created some challenges for the contractor to be able to meet."
"It's a very large project. It's a very complex project. It's a difficult project to construct. And the contractor is definitely having difficulties," Dobrovolny said in the meeting Monday night. "As you know, the project is significantly behind schedule and over budget. And we're working hard to try to resolve the issues with the contractor. And those negotiations, discussions continue."
In March, Metro Vancouver released costs that put revised estimates for the project cost at $1.058 billion - over $100 million more than the previous cost estimate that had pegged the project cost at $882 million.
Originally, the sewage plant was supposed to be operational by December 2020 in order to comply with federal requirements to provide secondary treatment. Now, however, the project isn't expected to be finished until 2024.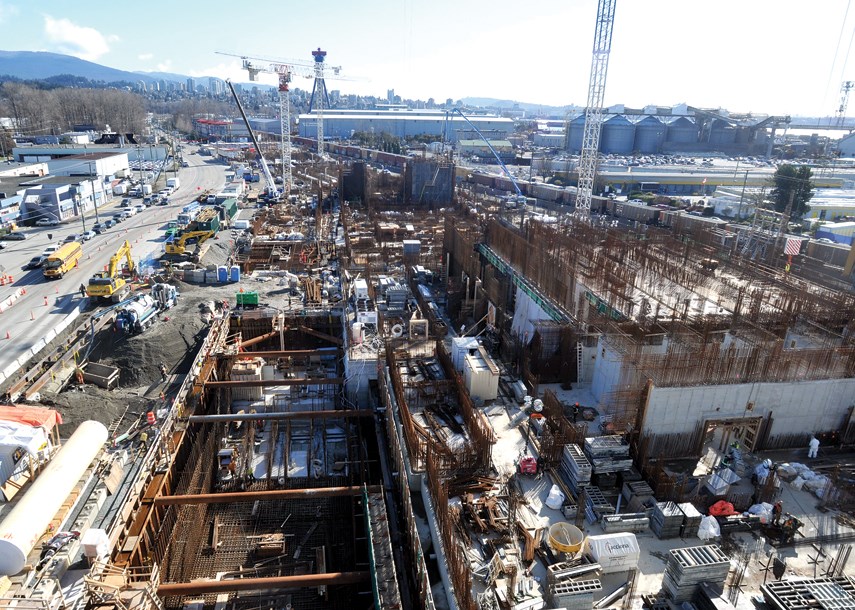 After public pressure from environmental advocates, the design of the plant was changed in 2019 to enable tertiary sewage treatment, adding $29 million to the project budget, then estimated at $778 million.
Cost increases are due to several factors, which have included geotechnical complications with soils on the site, said Dobrovolny at the time.
In April 2019 the District of North Vancouver slapped a stop-work order on the site after Acciona terminated one of its leading geotechnical engineering contractors, Tetra Tech. That resulted in Tetra Tech filing a $20-million lawsuit. Soil conditions on the site were a part of that dispute.
Since then, COVID has added another layer of challenges with slowdowns in supplies and requirements for additional on-site protocols.
Construction on the project was initially supposed to start in 2014, but didn't get underway until 2018.
The cost also includes preliminary design for decommissioning the site of the existing sewage treatment plant next to the Lions Gate Bridge and turning that over to the Squamish Nation.
The debate over replacement of the aging current Lions Gate primary treatment plant goes back many years.
For decades, the approximately 31-billion litres of waste being flushed into Burrard Inlet has been treated to only a very basic "primary" level – which essentially involves taking out the biggest "solids" through mechanical processes. In 2012, new federal government regulations spelled out secondary treatment – which adds bacteriological breakdown of waste – as the minimum standard required for sewage treatment, and set a deadline of December 2020 by which older plants had to be upgraded.
The tertiary system now being built on the North Shore is the same as the $775-million tertiary system recently completed in Victoria's Capital Regional District after four years of construction.
District of North Vancouver Mayor Mike Little, who sits on Metro Vancouver's liquid waste committee, applauded that approach on Monday, but added it makes construction more complex.
"These are incredibly complex projects. And the way we've done them in the past is no longer acceptable …" said Little. "And so we've made a commitment as a society to build a more complex process, one that will have less detrimental effect to the ecological environment in the area. But it does mean that it's a very complex facility to construct."