A North Vancouver community association put major emphasis on the word "community" recently, coming together to craft 450 COVID care packages for workers at Lions Gate Hospital and a local seniors care centre.
Last month a delegation from the Blueridge Community Association delivered the gift bags to the hospital and Berkley Care Centre to be distributed to staff members "who have been performing their jobs in extremely difficult and stressful situations for the North Shore community," according to association chairman Eric Andersen.
Berkley Care Centre was one of the North Shore facilities hit hardest by the COVID-19 pandemic, and is located in the Seymour area, near the boundaries for the Blueridge Community Association.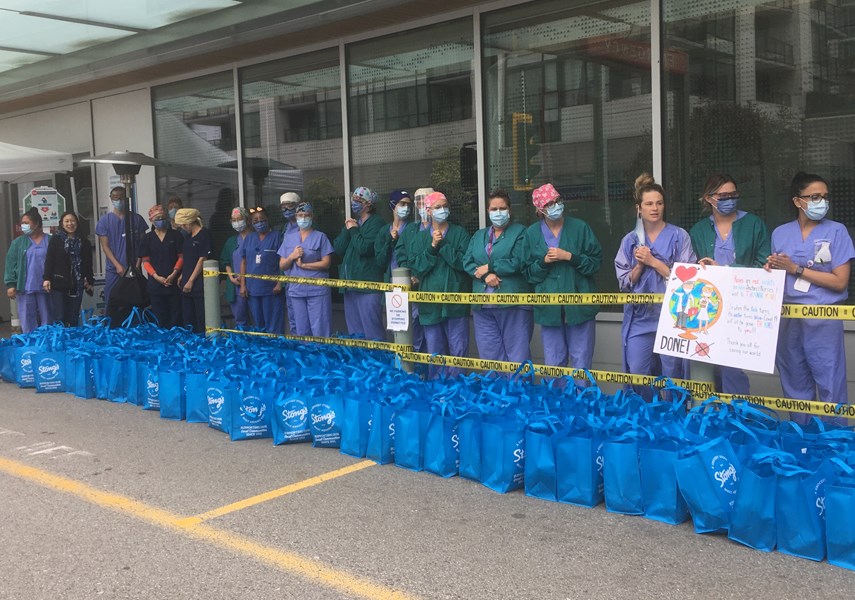 A team of eight volunteers from the Blueridge association collected the donations (in-kind and more than $6,000 in monetary donations) and, due to physical distancing guidelines, only three families were responsible for packing the 450 bags, 300 of which went to Berkley and 150 to Lions Gate. The packs contained a plethora of goods sourced from nearby businesses (you can see the full list below), including coffee, beer, cookies, and much more, as well as handmade cards for every bundle.
"It makes us all feel so much better knowing that we are not in this fight alone," said Berkley Care Centre manager Patricia "PJ" Jappy-Loker in a note to the North Shore News. "The smiles and appreciative words from the staff were great to see and hear."
Here are the products that came in the bundles:
-Stong's donations of bags, Cliff bars, La Croix drinks and chocolates
-Cards for everyone signed by volunteers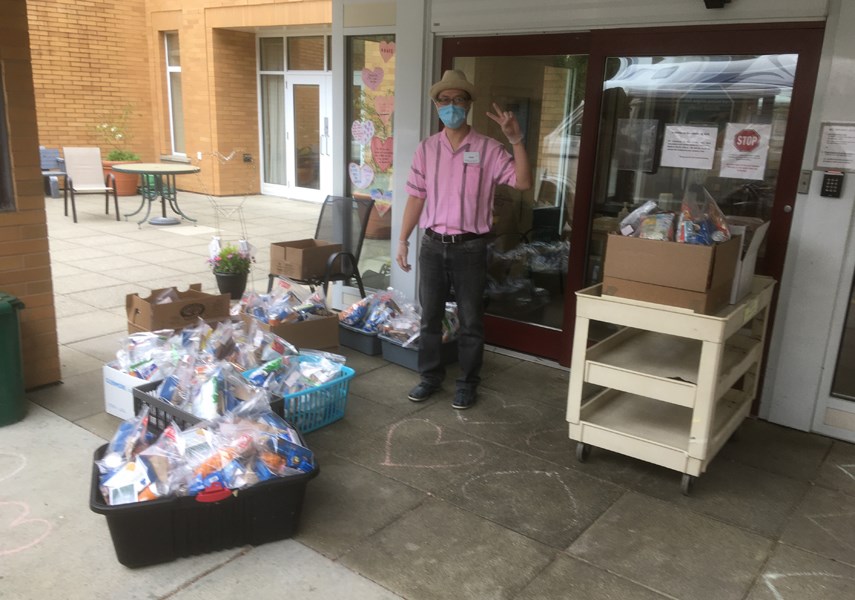 -Howe Sound Brewing beer
-Red Racer beer
-Bad Dog Bread cookies
-Boxes of Girl Guide cookies
-Savouries from Parkgate Farm Market
-Chocolates from Rene Rey Swiss Chocolate (one bar and two hedgehog chocolates)
-Recipe cards and thank-you cards
-M1 Sports Management water bottles
-Hand sanitizer
-Mary Kay mini hand creams 
-Gift certificates for Wild Trails Coffee
-Judy Killeen's light pens
-Plus other families made up cards, painted rocks, and gave other various donations (soaps, candles, chocolates, lotions, teabags, and a couple bottles of wine)