Multiple agencies are investigating after three mass fish kills in North Shore creeks, one of which has likely resulted in the extinction of a local population of cutthroat trout.
Streamkeepers groups say all three incidents were most likely caused by completely avoidable pollution entering ditches and storm drains.
The most serious of the kills happened Monday on Larson Creek in Horseshoe Bay when construction debris from a Ministry of Transportation and Infrastructure project seeped into the water, killing about 80 cutthroat trout.
"It's major. It's a major tragedy. We don't know today if there are any live fish," said John Barker, president of the West Vancouver Streamkeepers Society. "The creek just may have no life at all and they don't necessarily replenish themselves."
The Ministry of Transportation released a statement on the matter Thursday morning.
"The ministry is aware that the construction contractor was performing a pressure test on some equipment using clean water and disposed of the water within the project site where it could infiltrate to ground," the statement read. "This water unexpectedly caused erosion at the disposal area which infiltrated the ground and caused turbid water to flow underneath the surface to a nearby culvert and then enter Larson Creek. Unfortunately, the turbid water was harmful to fish downstream."
The ministry has put a plan in place to ensure that it does not happen again, according to the statement. But it may be too little too late, Barker said. Because cutthroat live in the same waterway their entire lives, each stream's population is genetically distinct from its neighbours. The debris has likely also killed any eggs from the next generation already spawned in the gravel, Barker added.
"They've lived for generations within a half a kilometre not being able to change," he said. "If there's a kill there, that's the end of it. It's gone and we may be facing that with Larson Creek."
According to a statement from Environment and Climate Change Canada, enforcement officers are investigating for possible violations of the Fisheries Act.
"I would fully expect the contractor to be held responsible for this and I would dearly hope to see action taken by the government in the way of charges. You can't just explain these things away with an excuse," Barker said.
On April 19, an Eagle Harbour Elementary teacher and her students were at Woods Creek when they noticed 40 or 50 dead cutthroat in Parc Verdun. It may be impossible to track down the original source of the pollution but Barker said it almost certainly flowed into the creek from the surrounding ditches or storm drains.
Barker said his only optimism for the cutthroat stock in Woods Creek is that there were survivors downstream that may eventually make their way up, but in the area around Parc Verdun even the worms on the creek bed were dead.
"Which means your insect life is probably compromised so for any future fish, there is no food source for some time," he said. "Everything in the path of that plume is gone."
North Vancouver's Mackay Creek also suffered a major loss in the last week. North Shore Streamkeepers' Ron den Daas was on one of his routine inspections Sunday when he noted dozens of dead cutthroat just south of Handsworth Road.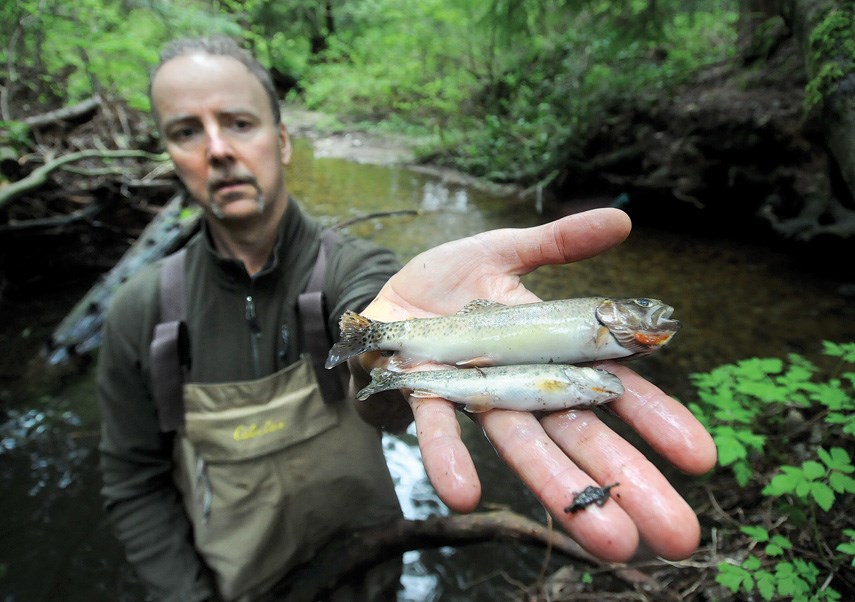 "There was about a one-kilometre stretch of the creek that had dead cutthroat trout in various pools along that section," he said. "One could speculate it was something that came through one of the storm drains but there's no way to know at this point."
Most often, fish kills of this type are caused by careless handling of chemicals near ditches or storm drains, den Daas said.
"I've actually seen a toxic spill go through Mackay Creek before in different locations so I was concerned this was happening," he said. "These chemical spills are generally more related to people not understanding that if they release water from their hot tubs … that water can cause problems for the creeks if it goes into the storm drains and or pavement sealer, any kind of paint or oil or antifreeze. And sometimes people think if they don't pour it on their property, it won't go into the storm drain but that's not necessarily the case."
There are coho salmon that spawn in Mackay Creek, although their run is endangered, den Daas said.
"It's high alarm because these are very small and threatened resident salmon and we're trying to protect them," he said.
The fish kills are disheartening, given the time and effort Streamkeepers have put into public education and habitat restoration projects, including the ones on the creeks where the fish kills occurred, Barker said.
 "It's weighty for Streamkeepers because of all the hours we put in and breathing hope into the community and we see the favourable results and then to have something like this happen, it's just such a massive setback," he said. "But we've got to speak for the fish and the habitat and keep going. We've got to find ways to stop people from doing this and be more mindful of the environment."