Editor's note: An update posted to the District of West Vancouver website after North Shore News deadline Tuesday, intended to clarify news reports of Monday's council vote, reiterates that a final decision on where to stop the B-Line in West Vancouver has not been made and summarizes council's five directives to district staff, which include exploring potential new options and reporting back to council with findings and public consultation results within 30 days. Staff is expected to report back at the April 15 council meeting.
The B-Line bus once scheduled to roll from Phibbs Exchange to Dundarave is now potentially slated to turn around at Park Royal – for now, anyway – following a unanimous vote of West Vancouver council Monday night.
West Vancouver staff will focus on the shopping centre as a terminus option for the controversial express bus. The decision, which followed a motion drafted by Coun. Peter Lambur, was made to keep Marine Drive's four lanes open to vehicle traffic while protecting parking through the Ambleside corridor.
But while the original B-Line plan was largely rejected, council voted 6-1 to explore a revised B-Line – provided it doesn't route around schools, require a priority bus lane, significantly impact residential neighbourhoods or require excessive parking loss.
The "middle ground" motion is a signal council is still prepared to explore transit alternatives, said  Coun. Craig Cameron, who put the idea forward.
But revisiting the B-Line is a "double-edged sword," countered Coun. Bill Soprovich, who cast the lone vote opposing Cameron's change.
"Where in all of this, would there be a turnaround position? Right now there's nothing available," he said.
Soprovich, who was frequently interrupted by applause from the gallery, asked why TransLink didn't propose a B-Line without priority lanes in the first place.
"I'm assuming, through all this . . . that in fact the transit line will be terminated at Park Royal," he said.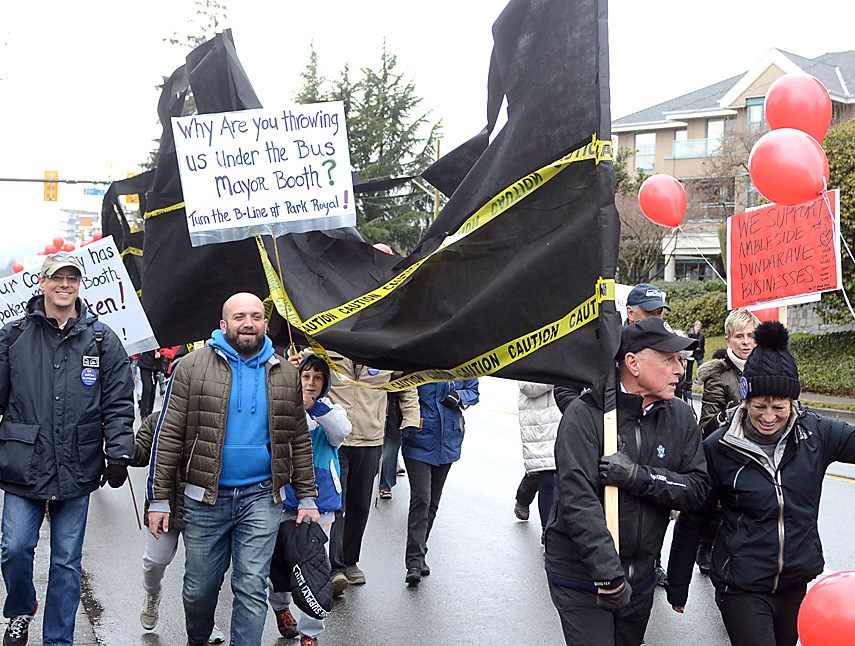 West Vancouver's official community plan, its community energy emissions and economic development plans all support the B-Line concept, noted Coun. Nora Gambioli.
Gambioli criticized Lambur's motion on the B-Line as premature, noting it was drafted prior to the conclusion of community consultation.
"We can't shortcut the process," she said. "We have to wait to see the results and the analysis. To do otherwise would be irresponsible."
Soprovich defended Lambur's motion, likening support for the B-Line plan to advocating a strategy to have water run uphill. Ambleside's vitality is tied to the business community, Soprovich said, underscoring the need to protect the seaside village's unique charm.
"We have a passion that is different than everywhere else in the Lower Mainland. I don't think we should be bullied in any way, shape or form by TransLink or anybody else to alter our position."
Coun. Sharon Thompson concurred: "I actually think the misstep was not doing this before we went out to public consultation."
There is a need to bring teachers and other workers into West Vancouver but a transit plan can't outweigh the needs of the community, Thompson said.
Noting the divisiveness surrounding the issue, Mayor Mary-Ann Booth praised Cameron's search for common ground. The conditions in his plan to explore an alternate B-Line ensure the Irwin Park community can sleep well while businesses can rest assured there will be no priority bus lanes.
"TransLink is open to these discussions so this is not a waste of time," she said.
"It's a waste of our time," a gallery member called in response.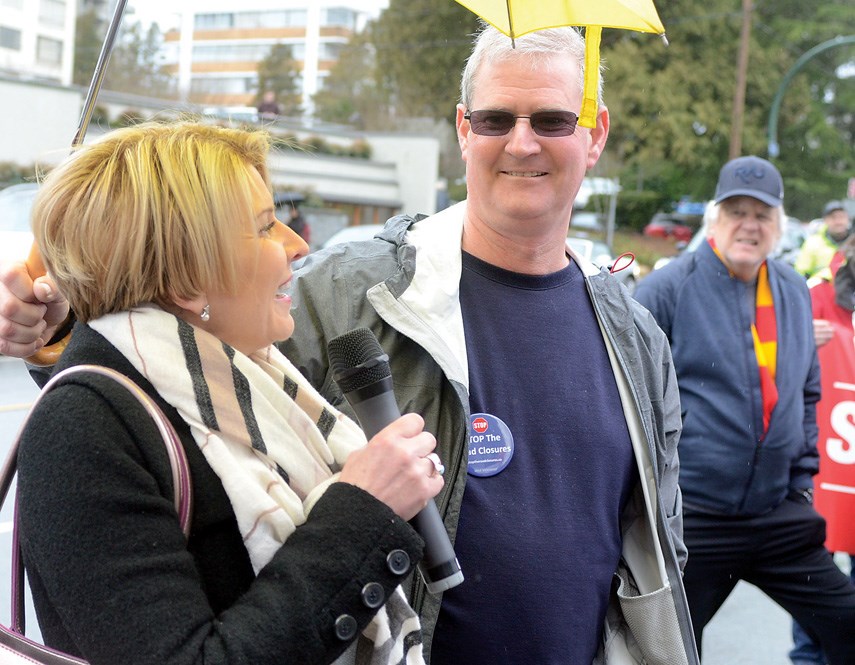 TransLink will continue to work with West Vancouver to provide transit options to alleviate traffic congestion, according to a statement from the transit provider.
Both Booth and Cameron addressed intimidation in the B-Line debate.
"Many (B-Line supporters) have been too intimidated to speak out publicly," Cameron said, eliciting disbelieving grumbles from the council crowd.
Discussion has been "almost tribal" while councillors have been branded: "idiots, dictators, prostitutes, corrupt [and] thugs," Cameron said.
"Frankly, I've never been so disappointed and ashamed of this community as I've been during this B-Line debate," he said before being momentarily drowned out by the crowd.
Moving forward, Lambur advocated addressing transit and mobility issues via a citizen-led advisory committee. "I'm encouraged by the new alliances forming within our community between residents and business groups," he said.
Soprovich also suggested West Vancouver contemplate expanding the Blue Bus fleet through greater TransLink funding.
"Why wouldn't TransLink help us?" he asked.
Any transit proposal needs to be embraced by the entire community, said Coun. Marcus Wong.
It behooves council to be more forthright about what the community wants to ensure West Vancouver gets the transit it deserves, Wong said.
Council's decision delighted anti-B-Line crusader Nigel Malkin.
"I feel awful about the whole thing, it's wasted a ton of my time," Malkin said, noting the difficult job faced by West Vancouver's mayor and council.
"I wouldn't want to deal with a person like me, I can be nasty," he added with a laugh.
During the B-Line debate, Malkin accused TransLink of fudging ridership numbers, posting a widely-viewed video on Facebook of mainly empty buses arriving in Ambleside to make his point.
Lambur also noted TransLink's ridership estimates "have been called into question."
The B-Line debate was rich in theatre, culminating with North Vancouver-Lonsdale MLA Bowinn Ma crafting B-Line themed-lyrics to the Beatles' "Hey Jude."
"West Van . . . I know it's new. But your workers, are counting on you. Remember, they come from places afar. Let's help them get . . . to West Van without a car," Ma wrote.
Her rhymes attracted the tenor of District of North Vancouver Coun. Jordan Back, who subsequently performed the song, releasing it on SoundCloud.
Well... I think @NVanDistrict Councillor @JordanBack just won this challenge with his rendition of #WestVan, #BLine. This...is one talented #NorthVan councillor. https://t.co/uw8VbBcve2

— Bowinn Ma (@BowinnMa) March 11, 2019
While City of North Vancouver Mayor Linda Buchanan previously blasted "NIMBY eruptions" for potentially derailing the planned express bus, Coun. Sharon Thompson defended West Vancouver's anti-B-Line contingent.
"This isn't NIMBYism," Thompson said. "This is people speaking to what's important to them."
The upside of a movement that included rallies, protests that shut down a lane of traffic on Marine Drive, and even a mock movie trailer lambasting Booth has been bringing a likeminded group together, Malkin said.
"It's a new beginning once this B-Line thing's squashed," he said.
The next community focal point should be at 2195 Gordon Ave., Malkin said.
The municipality purchased the parcel for $16 million in 2014 with the intent of developing affordable housing on the site. Noting its proximity to the community centre and transit, Malkin questioned whether subsidized housing is the best way to realize the site's high value.
It's a message he plans to take to council, he said, albeit with more diplomacy than the B-Line debate, which he likened to exposing the pig beneath the lipstick.
"If they push back and try to play the same games they did with B-Line, they are going to suffer," he said.
He also anticipated meeting with Booth on upcoming projects.
"You saw what happened with the B-Line; do you want this repeated? Because, guess what? We will do it again."