I'm standing in the vast, airy lobby of the new Argyle school, next to a large welcome pole that stretches to the second floor mezzanine.
Beside me are a wide set of stairs, and to the right, a hallway. I walk down the hall, peering through the glass into classrooms and enter a woodwork room, where a series of green drill presses sit. I enter a nearby classroom, peering around at the new desks and chairs set up there.
It's a strange feeling, walking through a brand new school alone. Especially one that hasn't been built yet.
No, this isn't a form of time travel. But courtesy of a set of virtual reality goggles, it's a remarkably lifelike way of experiencing what it will soon feel like to walk around the new Argyle Secondary.
Built by digital media academy students Triston Voth, 16, and Eric Balanecki, 15, the virtual reality tour offers students and staff a sneak peek into their new environment.
While virtual reality is most often used in video games to create lifelike environments, it also has other commercial uses, such as in real estate. "You can show people a house they want to buy" – including one that hasn't been built yet, said Balanecki.
When teachers suggested the rebuild of their own school as a possible "pre vis" project, both students were intrigued by the challenge.
To get the program to work, the teens had to get legal permission to use actual plans and a three-dimensional model of the project from the architects, which they then imported into a virtual reality building software program, Unreal Engine.
That sounds straight-
forward, but it wasn't, they admit. "There were lots of complications we ran into," said Balanecki.
Then they set to work coding in realistic details like what floor and walls would look like.
"It's definitely the biggest project I've ever done," he said. "We'd make it much more detailed if we had more time."
"It's like when you stage a home," said digital media teacher Murray Bulger. "You're staging it virtually. You can virtualize almost any environment you want."
In practical terms, using a VR tool to show what architectural details might look like in advance can be valuable, he added. "You can't build a house to test it out."
The Argyle VR program was a hit with teachers who had a chance to put on the goggles and go for a virtual stroll through the new school on a recent professional development day, said principal Kim Jonat.
Bulger said when he recently went for a tour through the partially finished school under construction, some parts of that were already familiar to him because he'd already seen it – in virtual reality.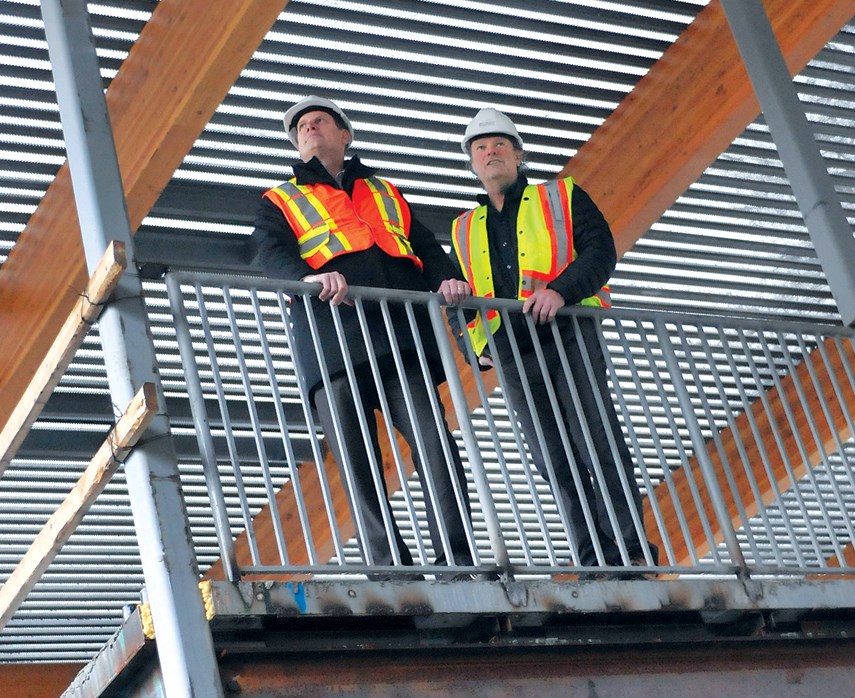 The teens plan to have a booth at the upcoming digital media youth expo being held from noon to 3 p.m. Feb. 1 at Argyle, where members of the public can test out the VR program and check out the virtual tour for themselves.
Back in the real world, crews are now dry walling the west wing of the new school under construction next to the existing Argyle, and working on interior finishing there while framing continues on the east wing, said school district spokeswoman Maria Spitale-Leisk.
The school district is targeting September 2020 as the date students will start classes in the new school.