A North Vancouver mother wept in front of a packed courtroom Tuesday morning as she described how her life has been destroyed since the death of her two-year-old daughter over five years ago, of apparent snake venom poisoning.
"My pain will never go away and I'll never stop hurting," said Vanessa Gonzales, holding an eagle feather while reading her victim impact statement in North Vancouver provincial court.
"I'll never be able to touch, smell or hold my baby close to me again," she said. " . . . My worst nightmare came true."
Gonzales spoke Tuesday at the sentencing hearing for Henry James Thomas, a 51-year-old man who was handed an 18-month jail term after pleading guilty to failing to provide the necessities of life in a bizarre case in which two-year-old Aleka Gonzales apparently died after being bitten by a snake while in his care.
An autopsy conducted after the toddler's death showed snake venom in her blood "at a level that would have been considered to be fatal," according to an agreed statement of facts entered into the court record.
A search of Thomas's home resulted in the seizure of a number of snakes, including North American rattlesnakes, according to the statement. The venom in the child's body was consistent with having come from a rattlesnake.
In court Tuesday, Crown prosecutor Brian MacFarlane described how the two-year-old had been in the care of Thomas – a friend of Gonzales – at his home on Seabird Island near Agassiz for about a week when one night "she began to suffer . . . what appeared to be a seizure, a medical emergency."
Thomas didn't alert emergency services or seek medical help, said MacFarlane.
Instead, he put the girl in her car seat in the middle of the night and drove to Gonzales' home in North Vancouver, over 100 kilometres away.
By the time he arrived at Gonzales' home the girl was already dead, said MacFarlane.
Thomas told Gonzales the toddler had fallen down earlier and seemed fine, but later when he went to check on her in her bedroom she appeared to be having a seizure, said MacFarlane. Thomas told Gonzales he tried to save the girl but he couldn't, the prosecutor said.
An autopsy showed the cause of death to be deep multifocal bleeding to the skin, bleeding around the brain and brain swelling, according to the statement of facts.
The little girl's body was covered with bruises, said MacFarlane.
MacFarlane said the most likely explanation is the girl died from snake venom. But he added the pathologist couldn't rule out blunt force trauma – both of which would show a similar pattern of injuries.
MacFarlane said Thomas was known to keep a large number of snakes at his home.
"Both the police and the Crown have struggled with what portion of blame Mr. Thomas is responsible for in the death of this little child," he said.
MacFarlane said Thomas's blame lies in his failure to contact emergency help when the toddler began having a seizure.
"What he did was essentially to ignore her injuries," he said, adding Thomas drove past many communities where help would have been available on his way to North Vancouver.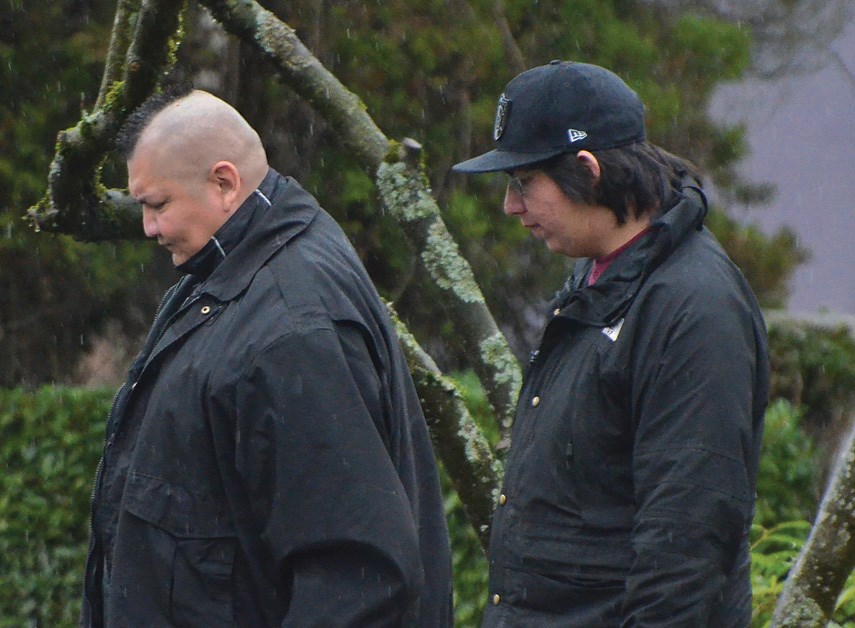 Phyllis Starblanket, Aleka's grandmother, also read a victim impact statement to the court. "There's a big empty spot in my heart that will never heal," she told the judge, weeping while holding an eagle feather. "All we have is the memory of a bubbly little girl who was ripped away from us . . . I still struggle every day."
Members of the RCMP who worked on the case were also in court Tuesday, with MacFarlane describing the case as "an incredibly long and involved investigation."
But he said the case was complicated because the exact cause of death could not be determined beyond a reasonable doubt.
Darrel Schultz, Thomas's defence lawyer, described Thomas as "devastated by what occurred that day and his involvement in it."
Schultz said Thomas believes Aleka must have stuck her finger into a small corner of a cage where the snakes were kept and been bitten.
"I'm so very, very sorry for what happened to Baby Aleka," Thomas told the judge before he was sentenced. "It is a pain I will carry all my life. If I could I would give up my life to have hers back."
With three months' credit for time already served in custody, Thomas will serve a further 15 months in jail.
Judge Joanne Challenger described Thomas's actions as a "gross and inexplicable failure in judgment."
In handing down her sentence, Challenger told the court, "The family and her community have asked this court for justice for Aleka."
But Challenger said, "Judges … cannot deliver the kind of judgment which might ease the pain of the loss of Aleka or bring her back."
She said for that, Aleka's community must look to the spiritual realm.
Outside the court, Sarah Rauch, a lawyer acting for Gonzales, said, "for my client those efforts will take forever."
The sentence "doesn't change too much for her," she added.
Other family and friends voiced anger at the sentence as being too lenient.
"He still gets to walk free pretty much," said Susan Landriault, a friend of the family. "He's just being babysat."
In addition to the jail term, Thomas will serve two years' probation.
While on probation Thomas must not have children under 16 at his residence except his own grandchildren, who must be in the company of their guardians. He must also not keep any "controlled alien species" as defined under the Wildlife Act.