It will take at least four years to build a replacement for the Inglewood Care Centre but the first step was taken on Monday night.
The District of West Vancouver council voted unanimously in favour of allowing public consultation to begin on an ambitious proposal by Baptist Housing. The vote means that the 699-unit, $400-million project can move into the next phase before the Taylor Way corridor local area plan is finalized as part of the official community plan review.
Council had said that until the review is completed, it would not consider new development plans unless they are of benefit to the wider community.
"If this doesn't qualify to go in front of LAP I can't think of a project that would," said Mayor Mary-Ann Booth, noting that municipal guidelines say considerations can be made if the project contributes to rental, non-market or supportive housing. "This is all community benefit."

COVID-19 has sadly illustrated how vulnerable residents of senior facilities can be, especially if they have to share a room, which some residents of the Inglewood Care Centre do. This proposal replaces the 230-bed facility that has reached the end of its life. It also creates three new buildings that provide a mix of public/private-pay options that allow people to stay in West Vancouver as they age in place, including people who cannot afford the more expensive options available.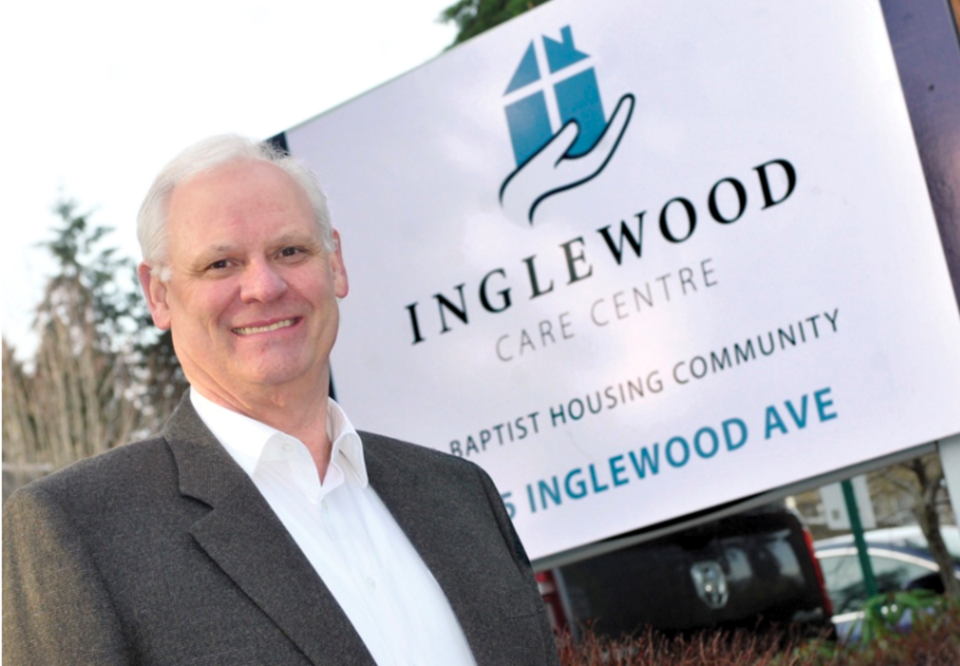 The proposal includes 105 rental suites for staff that, should not all suites be spoken for, will be made available to other people who work in West Vancouver and need an affordable housing option.
The phased proposal also includes:
• 69 new long-term private care units;
• 50 new private-pay assisted living units;
• 50 new affordable seniors housing suites;
• 70 new seniors independent living suites;
• 125 new seniors life-lease suites, and
• the possibility of a childcare centre.
Representatives from Baptist Housing and BC Housing made it clear throughout the evening meeting that the project has to be considered as a whole to be considered at all. In order to offer units at affordable and, in some cases, subsidized rates, Baptist Housing will need the income from suites with higher rates. However, Johnson said, as a non-profit corporation that is the sole owner and overseer of the project, any extra monies it earns will be used to help lower-income residents.
BC Housing chose Baptist Housing to be the new owner of Inglewood Care and provided it with $114 million to buy the 57-year-old building as well as three adjacent lots on the northwest corner of Taylor Way and Inglewood Drive. (Baptist Housing provided $14.5 million from its own revenues.) BC Housing is underwriting the costs of constructing the other buildings, along with the Canadian Housing and Mortgage Corp.
"In my over 30 years, I've not seen any significant investment like this from the province," Baptist Housing president and CEO Howard Johnson told council.
"It's not good enough to rely on hopes and prayers that someone will come down and build a new care facility without having to find a way to pay for it," Coun. Craig Cameron said. "It will fly as one piece or not as all."
Several councillors said that if the project doesn't go ahead, elderly residents would be forced to leave to find care facilities, forcing their families to have to travel long distances to visit them. Cameron's own family experience has also illustrated the high price that seniors are paying in the pandemic. He said his 95-year-old grandmother went from being a vibrant, engaged person who, when confined to her room without visitors, could not recognize family.
"The isolation and stress hastened her death," he said. "We need to do better. We need to build communities where seniors can live their last years in grace."
Councillors said that the community will have concerns which will have to be addressed during the consultation process, including building height, traffic, lighting and loss of trees.
"We'll be here for a very long time as a neighbour and we want to be a good neighbour," Johnson said of the efforts that will be made to mitigate the project's impact.
"Today is just a beginning of that consultation…. This is a framework," Michael Flanigan, B.C. Housing's vice-president of development and asset strategies, said. It's important that the development's process and rationale are completely transparent to the community.

As decisions are made, he said, the final results might not be what everyone wants but every effort is being made to ensure it's the best project possible.
Four members of the public spoke to the application; all spoke in favour. During the vote to approve moving to the next phase, Coun. Peter Lambur asked for an amendment to give approval to the Inglewood replacement only and to postpone discussion of the other buildings. No one seconded his amendment so the vote was on the entire project moving ahead. All councillors voted yea.
Baptist Housing will host public information meetings on Tues., Oct. 6 and Thurs., Nov. 5 next door at Har El, The North Shore Centre for Jewish Life, at 1305 Taylor Way. A virtual public information meeting is also being organized for Thursday, Oct. 29. Details for each session will also be available at baptisthousing.org/inglewoodredevelopment.
Martha Perkins is the North Shore News' Indigenous and civic affairs reporter. This reporting beat is made possible by the Local Journalism Initiative.