North Shore businesses and organizations are greeting the introduction of vaccine passports this week with a mixture of hope and trepidation.
Vaccine cards showing proof of vaccination are now required for a number of "higher risk" non-essential activities.
Those activities include entry into restaurants, pubs, bars and lounges, organized indoor events with more than 50 people, indoor group recreation and fitness classes, fitness centres, gyms and adult indoor sports. It also includes entry into nightclubs, casinos, theatres and indoor ticketed sports events.
For Ian Tostenson, a North Vancouver resident and president of the B.C. Restaurant and Food Services Association, the introduction of vaccine passports is good news for his members.
"We're happy because the alternative is we could have been faced with closures or business restrictions," he said – which has resulted in restaurants losing both customers and staff.
Tostenson said he hopes the public doesn't delay in getting their BC Vaccine Card. "It took me a minute to get mine."
Tostenson said early reports from North Shore restaurants were that the system was running smoothly. "So far, so good," he said.
He said he'd only heard of two cases of customers being denied entry – in one case a couple didn't have the right documents with them and in another a U.S. citizen was also unable to provide proof of vaccination.
Tostenson added his industry group has also asked the province to be tough on businesses required to have the passport that don't comply. The province has indicated fines will be levied on businesses that don't comply with the order, but few details have been provided on enforcement.
Most local businesses welcome the passport, particularly as it will provide reassurance to employees, said Greg Holmes, executive director of the Lower Lonsdale Business Improvement Area.
Vaccine passport system running well
Holmes said he visited several smaller coffee shops Monday morning (Sept. 13) and found in general, "it's going well" under the new system. Most businesses affected by the order have signs out front, and have been able to download the province's QR reader, which allows staff to verify customers' vaccination status, he said.
But he adds business owners are also feeling some apprehension about being left to implement the passport.
While larger restaurants already have hosts at the door, many smaller cafes don't, he said, and are faced with the prospect of extra work for employees in an already stretched labour market.
Some businesses are also concerned about the prospect of customers who disagree with the vaccine passport making a scene and taking it out on their staff, he said.
A couple of local businesses did receive emails from people angry about vaccine passport requirements containing veiled threats, said Holmes.
Security provided for businesses in lower Lonsdale
For that reason, the business improvement area has hired roving security guards to be on call for Lower Lonsdale businesses during the first week the vaccine passport is in place. The focus will be on conflict resolution in the unlikely event that's needed, said Holmes.
"We don't want some young server in a café, restaurant or bar have someone in front of them looking to pick a fight."
Chris Harrison, owner of CrossFit Lions in North Vancouver, said he supports the vaccine passport. "I'm happy to be part of the solution," he said. "This is the way to get my gym back to normal."
But Harrison said enforcing the provincial health order is yet another issue local businesses already hard hit during the pandemic will have to deal with.
Patrick Stafford-Smith, executive director of the North Vancouver Chamber, said that's a comment he's heard a lot from local business owners. "Everyone is in favour of doing whatever we can to make sure business can function," he said.
But he added, "It's already tough for businesses to manage COVID. It's an additional task for businesses to take on."
Checking vaccine cards an additional task for business
Many businesses were also hoping the vaccine passport rollout would come with greater capacity limits, he said.
A number of details about the program are still being worked out, he added, which adds to the challenges faced by businesses. "It's being pushed out very quickly."
Over at the Kay Meek Arts Centre in West Vancouver, executive director Rob Gloor said he's looking forward to a fall in which larger audiences can feel comfortable with the vaccine passport in place.
Larger theatre audiences planned
During the summer, the 500-seat theatre restricted events to 80 people, he said, but is now selling up to 250 seats for events.
"I think it will give our audience a greater confidence they are coming into a safer environment," he said of the passport.
Gloor said the checking of the passports will likely mean some lineups and "it'll take more time to get people into the building." It will also require additional staff, he said.
Gloor said he expects the majority of audience members will be understanding.
"I think people are ready to get back to life."
Local municipalities only finalized their own details about when vaccine passports will and won't be required after receiving the written order from the provincial health office over the weekend.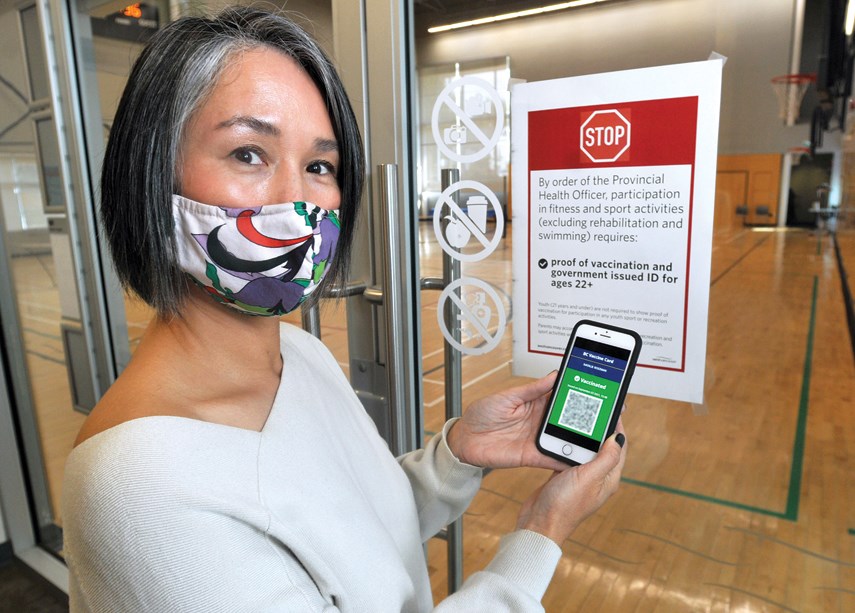 Adult sports and fitness programs require vaccine passports
Vaccine passports won't be required to enter community and cultural centres or the West Vancouver Seniors Centre, said district spokeswoman Michaela Garstin. They will, however, be required for any indoor adult fitness programs in North Vancouver and West Vancouver, including personal training, pilates, dance, hockey and basketball, among others. Swimming and rehabilitation programs are exempt from the passport requirement.
Under the provincial health order, youth under 22 won't have to show a vaccine passport to access sports activities, said Garstin. Parents also won't have to show passports while accompanying their children to and from activities.
Anyone organizing an indoor event will be required to ask guests to show vaccine passports.
The vaccine passports are being phased in over the next six weeks.
Paper cards can still be used until Sept. 26.
After that, the electronic B.C. Vaccine Card will be required.
To start out, the public will only have to supply proof of one dose of vaccine to enter businesses and events specified by the order. By Oct. 24, proof of two doses will be required.
In a press conference announcing the vaccine passports last week, Dr. Bonnie Henry, the province's medical health officer and Minister of Health Adrian Dix described the vaccine passports as a necessary step to protect the public while minimizing social and economic disruption.
No essential services will be denied, says Horgan
"We know that this is going to be challenging, there'll be bumps in the first little while," said Dix. "But it is important as a way to allow those people who are now protected to safely continue to operate their businesses, and not be subjected to the burden of restrictions that we've had to have in place in the past."
B.C. Premier John Horgan stressed nobody will be denied essential services because of their vaccination status.
"This is not about restricting people's rights. This is about giving more rights to those who've taken steps to protect themselves," he said. "There will be no services denied to any British Columbians as a result of the vaccine card. There will be no inability for people to go grocery shopping to go into retail establishments."
The vaccine passport for affected businesses and activities came info effect today, Sept. 13.