Miniature yet deliberate, Charlotte Lee's fingers trickle along the keys of a snow-white piano. Her eyes half trace the movements of her delicate digits, half trace the invisible story being told by the piece of music she plays.
The composition she plays is A Gentle Breeze – Charlotte's favourite – by Canadian composer Joanna Bender. On Nov. 12, the eight-year-old pianist will share the song, and her remarkable talent, with listeners at Carnegie Hall in New York City.
Lee will make the trip with three fellow students from Elite Piano Studios in West Vancouver – Cecilia Hu-Taylor, 7, Mike Cao, 10, and Lucia Diao, 14 – who will all compete in the soloists category at the Brooklyn Music Teachers' Guild Intercontinental Music Competition.
The grand adventure to the Big Apple will also include masterclasses from esteemed instructors, museum visits, a tour of a piano factory and a Broadway show, of course. Leading the way will be Elite Piano founder and head teacher, Nick Sergienko.
Apart from the pride in his student's accomplishments, the 40-year piano pedagogue draws special attention to the fact that this is the first year living Canadian composers will be featured in the event's prestigious program – with selections from Bender, as well as Stephen Chatman and Christine Donkin.
Participation at the Carnegie Hall event follows a successful run by Elite Piano students at other competitions this year, racking up wins at the North Shore Piano Competition and the Amadeus Piano Competition in Italy, where Lee won a first-prize trophy.
What's at the heart of Sergienko's success with young students?
The teacher's approach starts with assessing students' musical abilities, taking special note of their attention spans. Contrary to what you may think in the age of social media, Sergienko says these have increased over time.
"Every 10 years I notice the kids, they can start to do a little more because the level of concentration has increased a lot," he said.
Sergienko said he also focuses on boosting young students' self-esteem: "It's very important to students to believe in themselves, that they can do something."
He also places emphasis on making beautiful sounds with the piano, and connecting those sounds together to form phrases.
"It doesn't matter what kind of ability you have, if you don't know how to create beautiful sounds," Sergienko said. On the other hand, "even basic piano notes can give you beautiful, wonderful sound."
When it comes to learning to play songs, "I try to teach them to paint the picture … only, painting by sound."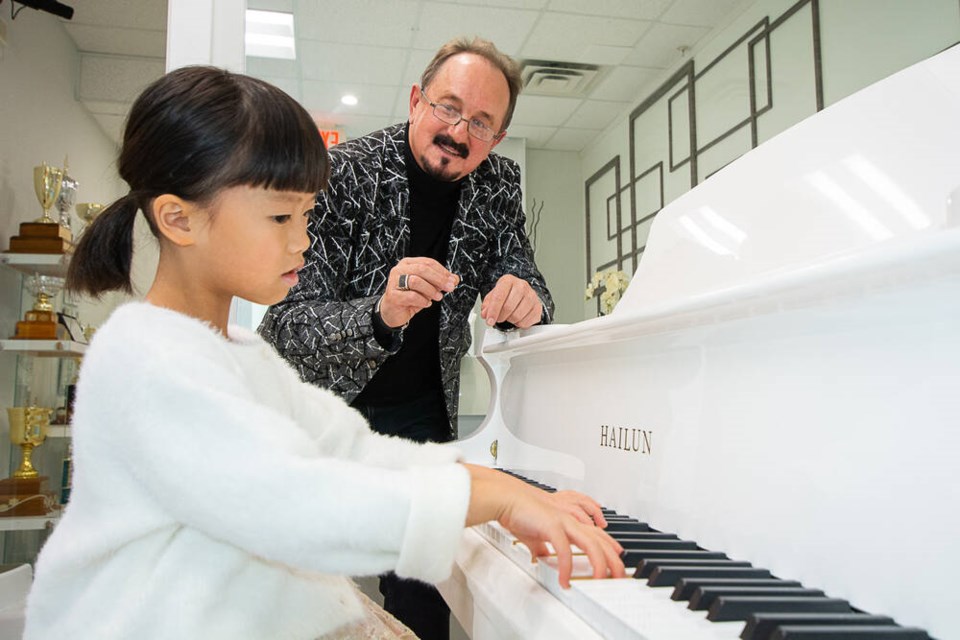 Precocious pianist Charlotte said she's excited to play Carnegie Hall.
"I'm going to play my favourite piece Gentle Breeze," she said, adding that the song's story starts with a gentle breeze that turns into a storm, then reprises back to its calm beginnings.
One of Charlotte's favourite parts of playing the song is using the piano pedals, which make the stormy section "more thundery," she said.
While the thought of playing in front of a crowd is intimidating to many, Charlotte shows little evidence of stage fright. In May she shared the stage with the North Shore Symphony Orchestra, during the regional piano competition. Charlotte was just seven years old.
"I like performing, especially when people clap at the end," she said.
After hearing the emotion and skill pour from the fingers of Charlotte and Sergienko's other talented pupils, it's easy to hear that his instructional methods are sound. Still, like any good teacher, Sergienko has a few tricks up his sleeve.
"He gives me stickers at the end of each class," Charlotte said.