It is 1938 and Germany's Third Reich has annexed Austria as part of Adolph Hitler's plan to unite all German-speaking people in one country. Following this so-called Anschluss, or union, military forces subdue all opponents and political dissidents, while Hitler's systematic decimation of Jewish people advances.
Members of the Jewish population are ordered to scrub the streets on their hands and knees, their property and bank accounts are seized, their shops plundered, synagogues destroyed, and thousands of families are deported to concentration camps.
Austria is being crushed under the Nazi regime of terror.
It is amid this horrible chaos and pivotal turn of events leading up to the Second World War that Hanne Wassermann realizes she must flee her home in order to save her life. It is a journey that takes her through Europe, New York and California, and sees her settle in West Vancouver – in a house near 29th Street and Marine Drive.
Hers is a story of persistence and survival that has captivated Krisztina Laszlo, archivist at the University of British Columbia Library's Rare Books and Special Collections (RBSC), who is thrilled the library has acquired the personal archives of Johanna "Hanne" Wassermann Walker, who died in 1985 without heirs.
In the fall of 2018, Laszlo and the head of RBSC Katherine Kalsbeek were offered first right of refusal of Hanne's personal items by a local bookseller, who was approached by a collector who had them.
With funding and other support from the Azrieli Foundation, Reesa Greenberg and the Clematis Foundation, Lorne Greenberg and the Lorne Greenberg Family Partnership, Anthony von Mandl of Mission Hill Family Estate winery, the UBC President's Office, the Faculty of Arts, the School of Kinesiology, and the Department of Central, Eastern and Northern European Studies, what remains of Hanne's fascinating history was able to stay in B.C.
The archive itself is extensive and includes a large number of documents, correspondence, print media coverage, photographs and artifacts that span more than a century.
"It's not just an archive," Laszlo is quick to point out, "it's a lived history. And not to shortchange other collections, but as an archivist for 20 years, I can say this is the jewel in the crown of our collections. Nothing has quite the emotional impact like this one does."
Hanne's remarkable life story encompasses both heroics and heartbreak.
 Born in 1893 in Vienna to a Jewish family, Hanne's first marriage to Dr. Gustav Wassermann ended in widowhood within a year of the couple's wedding. Hanne persevered and became a well-known fixture of Viennese high society during the 1920s and '30s.
A woman ahead of her time when viewed through the lens of today, Hanne was at the forefront of Wiemar culture – a social environment that emerged and flourished in the years between Germany's defeat in the First World War in 1918 and Hitler's rise to power in 1933 which provided fertile ground for intellectuals, artists and innovators from various fields.
Hanne, who was a proponent of physical fitness and the mind-body connection, had launched a school of gymnastics and printed health manuals for women, which earned her recognition from medical institutions and international fame.
Among her correspondents, friends and students were film stars, artists and members of the European aristocracy, including the Rothschild family, Lady Louis Mountbatten, Helen of Greece and Denmark, and actress and wireless communications pioneer Hedy Lamarr. Hanne attended lectures by Austrian neurologist and father of psychoanalysis Sigmund Freud.
Austrian-born photographer Trude Fleischmann, ranked among the most significant portrait photographers of the 20th century, was a lifelong friend and took a series of photos of Hanne's exercise poses. Hundreds of these are included in UBC's newly acquired collection.
By 1938 however, with all these achievements but the Nazis in power, Hanne found herself, at age 45, having to leave everything behind and start over. She fled Austria to England as a refugee with her then-boyfriend George Walker, an Irish citizen.
After giving fitness lectures in London and teaching in Brioni, Italy, Hanne sailed to New York with George in 1940, eventually making their way to San Diego. While in California, to contribute to the war effort, Hanne designed a series of slings to help transport injured individuals. She printed an information booklet and taught rescue techniques to military personnel at the Air Force base.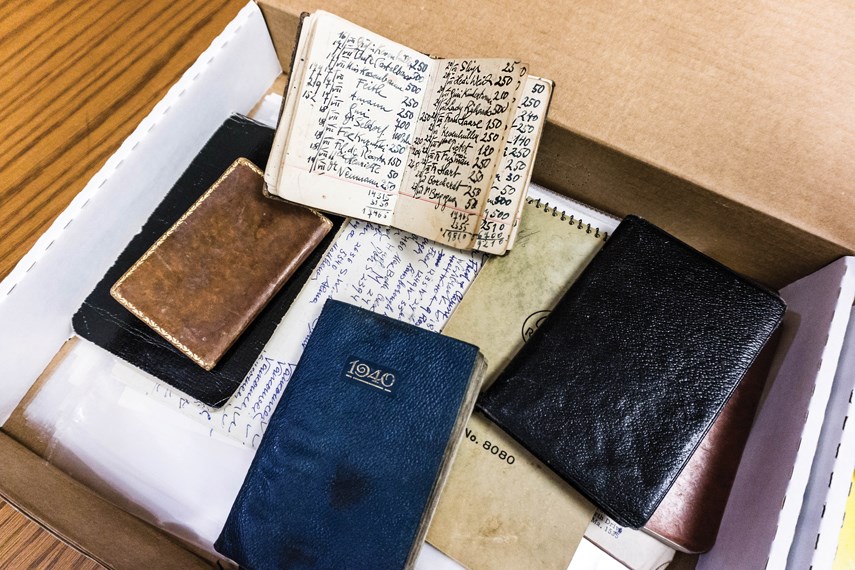 Hanne married George in 1943 and the pair emigrated to Canada, taking up residence in Vancouver and then settling in West Vancouver.
Hanne died in 1985, predeceased by George in 1981.
"He was the love of her life," Laszlo says. "They both lived into their 90s, and when George died, she was heartbroken."
Those on the North Shore would have known Hanne as a certified exercise teacher and physiotherapist, Laszlo says.
"They would have had no idea about her previous life or her success in Vienna."
Hanne never forgot, however. A large part of the archival documents detail her attempts to obtain compensation for the loss of her family's property seized by the Nazis. The archive contains letters from lawyer Gustav Rinesch informing Hanne of the details of her parent's estate and his work on her and her sister's behalf with the government of Austria.
The sheer size and breadth of the archive offers unique opportunities for research in many different areas, Laszlo says. For example, Holocaust studies, kinesiology, fine art and not least of all, the many untold, often mesmerizing, stories of women in history.
"Representation of women and their successes in the life of this province and the larger world needs to be celebrated, preserved and recognized," Laszlos says, adding that what sticks with her about Hanne is how full of energy she was and how she sought to care for so many people, from designing rescue slings to massaging bad backs.
"Everyone here at UBC who has come in contact with this collection is just in love with Hanne Wassermann Walker," she says.
Dr. Patricia Vertinsky, professor in UBC's School of Kinesiology, is particularly interested in the parts of the collection that involve Hanne's fitness methodology.
"What interests us in kinesiology is exploring the provenance of these exercise systems and then understanding the way in which Hanne brought them to Vancouver. She spent 40 years teaching them, first in Vienna and later in Vancouver, in people's basements and community centres – two completely different worlds."
UBC has hired a student to work full time over the summer organizing the collection. Lazso hopes it will soon be ready to be enjoyed by a wider audience.